15 Years Later, a Christian Bubble Still Protects 'Passion of the Christ'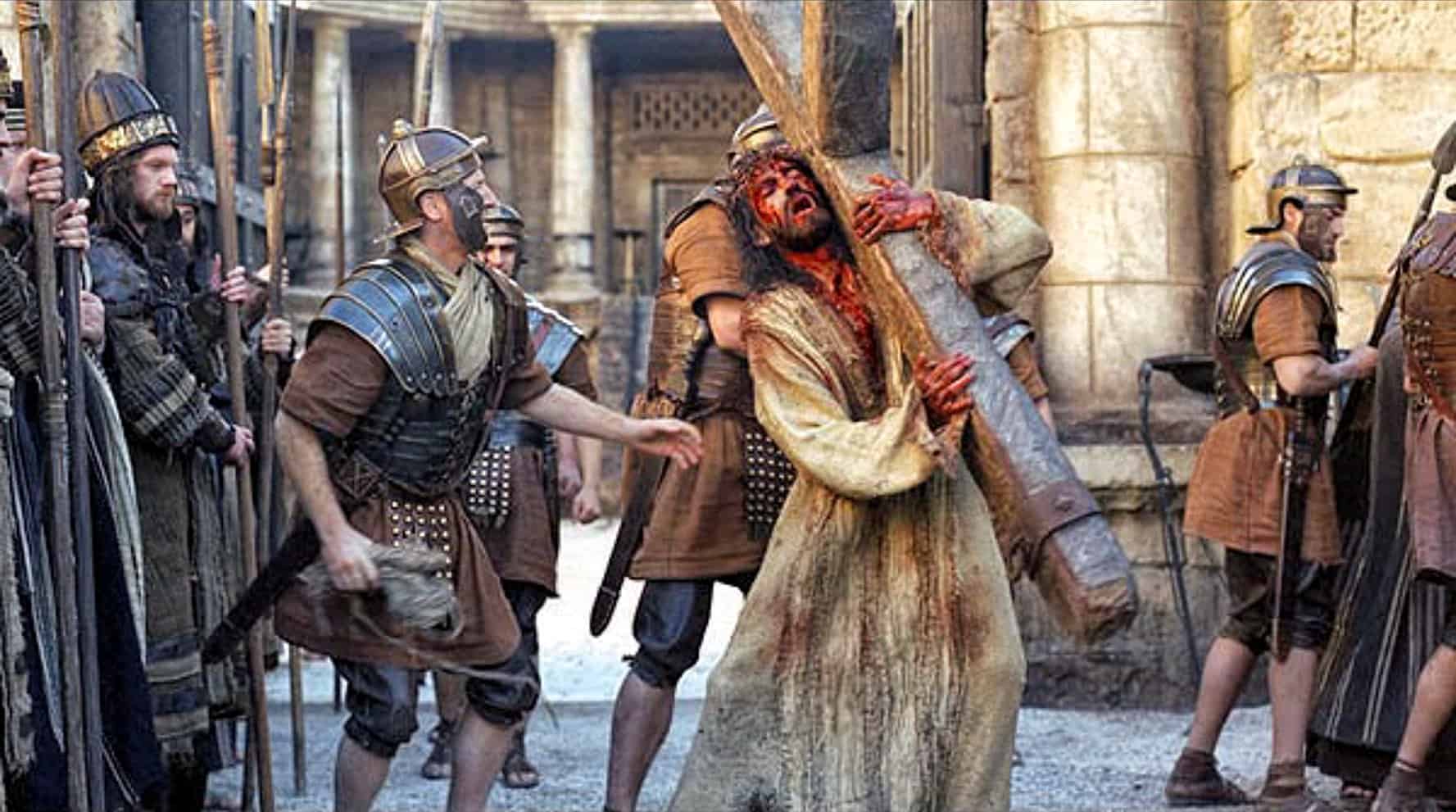 A reading from the Book of Rotten Tomatoes. We turn to The Passion of the Christ.
[lborder]
"The relentlessness of the whippings, beatings and hammerings of nail goes way beyond dramatic necessity and into some kind of S&M branch of fundamentalism." —Peter Bradshaw, The Guardian
"[Gibson's] film, virtually stripped of Jesus's incandescent views, is little more that a record of one of the thousands of barbarities committed by the Romans in Judea." —Stanley Kauffmann, The New Republic
"It's so relentlessly focused on the savagery of Jesus' final hours that it seems to arise less from love than from wrath, and to succeed more in assaulting the spirit than in uplifting it." —A.O. Scott, The New York Times
[/lborder]
Amen? When Passion came out 15 years ago, mainstream critics, to dodge the more obvious execution joke, burned it at the stake. The movie was eviscerated for what many saw as gratuitous violence, a lack of compassion from director Mel Gibson, anti-Semitic overtones and some loose narrative treatment that gives figures like Pontius Pilate, Judas and the devil himself (itself, in the movie's case) extra screen time relative to their presence in Scripture.
The criticism was widespread. Passion secured a 49 percent on Rotten Tomatoes and an even uglier 42 percent on Metacritic, which averages the scores and star ratings of several top film sites. Top critics on Rotten Tomatoes approved of Passion at an even paltrier 35 percent rate; this is where accusations of the movie being "torture porn" were loudest and angriest.
Negative reviews for Passion of the Christ strike a different tone than typical bad-movie takedowns. Rather than the craft-centric contempt that would mark a normal critical blast, many who opposes Passion assumed postures of outright disgust. The movie wasn't so much bad as it was offensive. It wasn't incompetently made so much as it was painful to sit through.
This specific vein of criticism, in an ironic way, actually protects Passion from the "right side of history" debate that haunts movies like Crash and Sixteen Candles, but benefits movies like Do the Right Thing and Moonlight. Because the naysayers isolate the film's subject matter, and that subject is in turn isolated from the movie's contemporary release, Passion of the Christ can't "age well" or "age poorly" like other movies, or at least, it's much harder to talk about in those terms. If anything, one has the sense that if a disgraced Mel Gibson was somehow given a shot to make the movie today, just about everything would be the same. Further, if that movie was released today to critics and the public, it would probably receive the same sort of reception, too. All this indicates the movie's perceived quality is more dependent on who's watching it rather than when, where or how.
Roger Ebert's review of Passion of the Christ is one of the few that seems attuned to this nuance, as it's one of the few in which the critic articulates the perspective they're bringing to the movie. Ebert was a Catholic altar boy who served during Stations of the Cross services growing up. He explains how this affected his experience with Passion:
[lborder]
For we altar boys, [Stations of the Cross] was not necessarily a deep spiritual experience. Christ suffered, Christ died, Christ rose again, we were redeemed, and let's hope we can get home in time to watch the Illinois basketball game on TV. What Gibson has provided for me, for the first time in my life, is a visceral idea of what the Passion consisted of. That his film is superficial in terms of the surrounding message—that we get only a few passing references to the teachings of Jesus—is, I suppose, not the point. This is not a sermon or a homily, but a visualization of the central event in the Christian religion. Take it or leave it.
[/lborder]
Ebert took it, awarding Passion four stars. He acknowledged and validated those who left the movie early or felt repulsed by it, but he also argued any discussion of the movie is dependent on theological considerations. Ebert wrote that while he was no longer religious, he saw in Passion of the Christ the idea that "it is necessary to fully comprehend [Jesus' sacrifice] if Christianity is to make any sense," and that idea gave the movie a foundation of belief Ebert he might have disagreed with, but still respected.
That inseparability between a viewer's context and their opinion of Passion is exactly why for Christians, the movie is probably the biggest thing to happen in Hollywood, and it's why the movie's legacy among Christians is so much more significant than its legacy among any other demographic. For many critics, Passion was a gratuitous Mel Gibson project that, though it made a ton of money, stands today as a faith-movie anomaly at best and an offensive ego trip at worst. For faith audiences, the story was—and is—much different.
Upon release, Passion of the Christ was above all a validation of the dream that Christians could advocate for the Gospel in Hollywood and not just survive, but thrive (no matter Mel Gibson's well-recorded not-very-Christ-like behavior). In 2004, the premiere was nothing short of ecstatic in the faith world. Joel Osteen showed the movie at Lakewood Church. Greg Laurie did the same at Harvest Christian Fellowship. Pope John Paul II saw the movie, and for a few wild days, it was rumored he had issued a papal artistic endorsement (later denied by the Vatican). Billy Graham and Max Lucado gave public affirmations, too.
When Passion went on to gross a still-astonishing $370 million in the U.S., setting a record for the highest grossing R-rated movie of all time that stands to this day. The figure was an unspoken affirmation in itself: See? See? People want these stories. In the years since, there have been two documentaries about how Passion brought untold numbers of people to faith, sometimes right there in the theater.
Beyond its anecdotal and material success, Passion of the Christ is generally seen among Christians now as the dream artistic outcome for a mainstream, faith-centered Hollywood movie. It takes faith seriously, but it communicates that faith through reality rather than contrivances, conveniences or plain old corniness. In its bubble of Christian adoration, Passion even weathers the accusations of exploitation, anti-Semitism and extra-biblical liberties because watching it with the gospel in mind puts those things through a different filter than watching it without. Even for Christians who had trouble with those aspects of the movie, Passion's purpose—obvious as it is—retains enough value to dissuade those viewers from the active discouragement that characterized other reactions.
Passion of the Christ's Christian bubble will last as long as it takes for the movie to be replaced as the pinnacle of faith in Hollywood, and 15 years later, that hasn't happened. The extreme reactions to this movie—in both directions—still affect the way the industry receives faith movies of its ilk, from pitch to production to press reactions. You might say that's the power of the gospel. Others would say it's the power of a torture scene. Whatever you think of the man, the movement He started is undeniable.
Tyler Daswick
Tyler Daswick is a senior writer at Relevant. Follow him on Twitter @tylerdaswick.