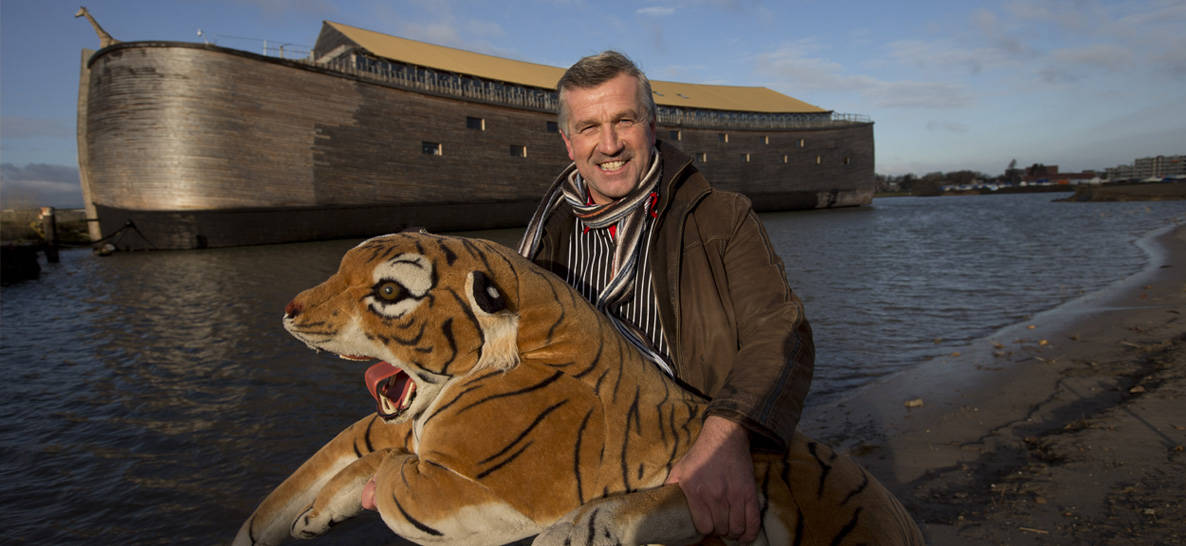 This week, the $101-million Ark Encounter finally opens in Kentucky.
Built by Ken Ham's organization Answers in Genesis, the 510-foot-long re-creation of Noah's Old Testament vessel sits 10 stories high and houses three levels of Bible-theme exhibits that Ham hopes will attract visitors from around the world.
Seriously, this is one big boat:
Ham told Forbes that the Ark is just the beginning. Soon, the site of the Ark Encounter could be home to one of the Old Testament's other great feats of engineering: The Tower of Babel. (Though, if we're remembering our Sunday school lessons correctly, that didn't work out so well the first time.)
Though it may be the biggest, the Ark Encounter isn't the world's first Bible-themed tourist destination. Here's a look at six more Christian theme parks and attractions that have also existed, just in case you're looking for another stop on your next road trip.
The Holy Land Experience

(Image)
Orlando's Holy Land Experience amusement park may be the only place on earth where you can watch a violent, mock-crucifixion of Jesus, climb a rock wall, play Bible-themed mini golf and eat a "Goliath Burger" all in the same day.
Owned by Trinity Broadcasting Network, the park is a weird mix of Florida-amusement park-style fun and Bible lessons: It's not only home to mini-golf and turkey legs, but also a "Scriptorium" Bible museum, televangelism studio and theaters that show Bible-themed productions.
Heritage USA
With waterslides, giant hotels and family-friendly attractions, the amusement park founded by televangelists Jim and Tammy Fey Baker was briefly one of the most popular tourist destinations in the country, bringing in 6 million visitors a year.
But, after several scandals rocked the Baker's PTL ("Praise the Lord") ministries, the park was closed in 1989, and many of the attractions sat abandoned for years. Since its mid-'80s heyday, much of the property has changed hands several times and has been used for a variety of purposes, mostly by other ministries.
Fun fact: Back in 1987, an image of Liberty University founder and preacher Jerry Falwell going down one of the waterslides—in a suit—won an award for excellence in photojournalism. So, yeah.
Holy Land USA

(Image)
Back in 1955, a devout Catholic lawyer from Connecticut named John Baptist Greco wanted to figure out a creative way to teach his community about the Bible. He founded a group called "Companions of Christ" that would volunteer their time to build re-creations of the Holy Land and Bible-themed attractions inside of an amusement park he called, obviously, Holy Land U.S.A.
Though it was a popular tourist attraction for nearly 30 years, it closed in the mid-80s and sat abandoned and neglected for decades. (Here's a really creepy slideshow of images taken inside the abandoned park in 2013). It was actually bought by another local religious businessman three years ago, with plans to possible reopen it in the future.
The Dutch Noah's Ark
Built by a Dutch carpenter named Johan Huibers, the Ark of Noah Foundation has big plans for their 230-foot-long vessel. It was set to cross the Atlantic and dock near the Paralympic Games 2016 in Rio de Janeiro this September where it would teach people about the Bible and raise money for underprivileged children.
Unfortunately, the trip may be delayed. Last month, the ark was being towed in a harbor in Oslo where it collided with a Coast Guard boat, sustaining massive damage. Thankfully, no one was hurt.
The Creation Museum

(Image)
Answers in Genesis, the same people behind Kentucky's Noah's Ark, have also created a massive museum dedicated to displays that illustrate their literal interpretation of the book of Genesis (mainly, that the earth is only 6,000 years old).
This is no Smithsonian-style venue, however. Along with traditional educational exhibits like dinosaur bones and a planetarium, there's also a zipline park, an interactive "mining sluice," petting zoo, camel rides and, of course, a Noah's Cafe.
Tierra Santa Buenos Aires

(Image)
Though the original plans for Buenos Aires' Tierra Santa was to be a full-on amusement park—with its own roller coasters—the Bible themed attraction is primarily home to plastic Bible scenes and super-ripped statues, as well as, scriptural reenactments (though, there is a water park right next door if you get bored).
Like some of the other parks on the list, the main concept behind Tierra Santa is that it's meant to resemble a version of ancient Jerusalem, with costumes, themed-food and, yes, mock-crucifixions.
The centerpiece of the park, though, is an animatronic, 40-foot-tall Jesus who "resurrects" from the side of a mountain every hour.