A Japanese Video Game Programmer Took His Best Shot at Fake American Names, and It's Excellent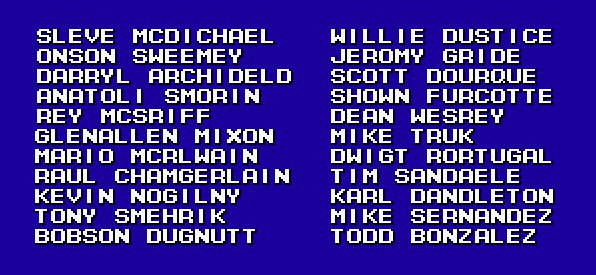 Back in the 90s, many video game companies were getting the hang of working with professional leagues to add real names and real teams to their lineups, allowing video game players to actually control their favorite athletes, leading to the mega-lucrative sponsorships of games like Madden NFL today.
But not every company was so lucky, and the Japanese video game company behind the 1995 Super Famicon game Fighting Baseball had no such partnerships.
That left them to come up with American names on their own, and the results are the best names you've ever read in your life.
fighting baseball for super famicom. some japanese guy had to come up with a whole league of fake american names pic.twitter.com/4lwzoBpg9f

— Largemann (@lrgmnn) December 27, 2016
Which is your favorite? Bobson Dugnutt is an early frontrunner, but don't discount Todd Bonzalez. And of course, how could we leave out Mike Truk? Dwigt Rortugal? And the more you like at Karl Dandleton, the better the name gets.
It's truly a list that keeps on giving, and before you start feeling too superior, just imagine an American trying to come up with fake, but real-sounding, names for Japanese athletes.