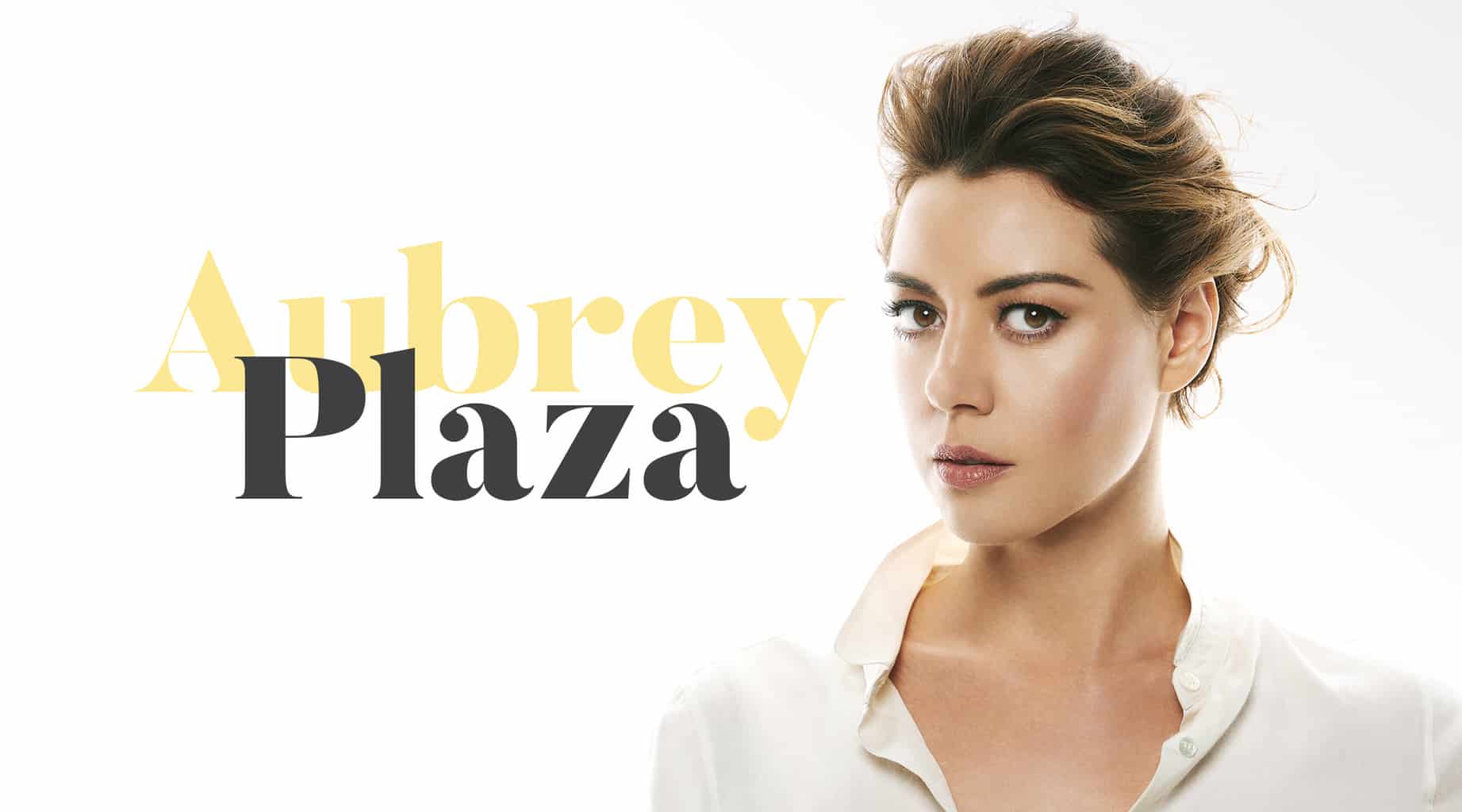 It's hard to say much about Aubrey Plaza's character on Legion without veering into spoilers. She plays Lenny, an ostensible friend of David Haller (Dan Stevens). But she also might not be a friend. She might not even be a she. We're not even 100 percent confident that she's real. If that sounds a little weird, well, that's the kind of show Legion is, which is why Plaza is so supremely well-suited for it.
After nearly a decade of playing quietly odd people whose weirdness makes them feel somehow more relatable, Plaza's left of center sensibilities are starting to feel mainstream. As society's understanding of mental health is starting to take some slow, lurching steps toward progress, Plaza seems uniquely poised for a new cultural norm: One in which the broad spectrum of mental and emotional health is more fairly and accurately represented. Slowly, with performances like hers, the stigma around these issues is beginning to fade.
She created and perfected a certain kind of character whose necessity in the pop culture canon seemed obvious the moment Plaza filled it. A sort of bizarro counterpart to the manic pixie dream girl (the manic impish goth girl?), whose effortless charm flowed from her lack of interest in charming anyone at all. She plays the sort of person who was too cool to be a nerd but was always more popular on Tumblr than in real life. That's the space that Aubrey Plaza fills, and it's why you think you know her.
"I think they would be surprised to see how different I am from those characters," Plaza says of her fans. "But they'll never get to see it because I will never show that."
She has a quick, self-deprecating wit that she uses during conversational lulls and anytime she feels like she might have said something too revealing. She has a keen understanding of her place in Hollywood, right now—as one of the breakout stars of a beloved sitcom; as the most fascinating character on Legion, one of current TV's most fascinating shows; as a high-profile woman in an industry currently under an enormous amount of scrutiny for how it treats women; and as an actress building a singularly astonishing resume of excellent, low-flying indie oddball films like Ingrid Goes West and Safety Not Guaranteed. But she's also got an eye on where she wants to be. And while a lot of that will involve her hustle, talent and rare ability to play characters with atypical mental and emotional lives, it's also going to involve an even brighter spotlight. In Hollywood, self-promotion and talking about yourself are part of the job, and most celebrities are naturals at it. Plaza is not.
I want to make a movie and star in a movie that is so specifically my sense of humor that no one else could have made it
"I'm so grateful that anyone wants me to talk about what I'm doing, so I have a positive attitude about it," she says. "But I did have a period of time where I had to kind of get over my negativity. I mean, it's so cool that anyone cares, and that anyone wants to hear about what's happening. So, I try to just focus on that but"—here, she starts laughing—"I hate it."
A WALK IN THE PARK
About one in five Americans wrestle with some sort of mental health issue, according to Substance Abuse and Mental Health Services Administration's most recent study. That's about 42.5 million people with issues that run the gamut from depression and anxiety to things like bipolar disorder. And while Americans themselves have grown more comfortable with discussing their mental health (nearly half of everyone in America with a reported mental health issue now receives treatment—a number that's been creeping upwards over the last decade), the representation of people with mental health issues on screen has been virtually nil or, even worse, fraught with offensive stereotypes. It does not bode well for the country that millions of Americans' most regular interaction with a person on the autistic spectrum is Big Bang Theory's Sheldon, for example.
And that's where Plaza comes in.
She was memorable in early roles on Funny People and Scott Pilgrim vs. the World, two films stuffed with memorable actors, but Parks and Rec—no slouch in the memorable cast department itself—is where she made a name for herself as an unparalleled master of deadpan delivery. She became an avatar of a new wave of 20-somethings who rolled their eyes at stereotypical millennial trends like yoga and would laugh in your face if you suggested getting an Acai bowl.
"The more complicated the part, the better for me," she says. "I'm really attracted to characters that have a lot of steps and a lot of complexity. I'm not interested in playing one-dimensional characters."
The relative mental and emotional stability of our media figures can lead to those with some sort of mental health issue—all 42.5 million of them—feeling even more ostracized than they already do. But there are signs that the tide is shifting, Jamie Tworkowski, founder of To Write Love on Her Arms, an organization that helps people struggling with depression, says.
"I think we do get to see a lot of evidence of change, a lot of positive change," he told RELEVANT on the 10-year anniversary of his organization. "Sometimes it comes at a cost. I mean, Rick and Kay Warren [the pastor of Saddleback Church and his wife who lost their son Matthew to suicide] are an incredible example of choosing to use their platform, their audience, their voice to say, 'Hey, this conversation needs to be had.'"
It's one thing to say it, but it's another thing to actually show mental health as being a regular, ongoing part of people's lives, and that's why on-screen representation matters so much. Netflix's recent hit 13 Reasons Why was a big step in the right direction, as was FX's surprise hit You're the Worst, but Plaza's poised to own the lane in a unique way.
Take the darkly comic Ingrid Goes West, in which Plaza plays the title character, who becomes obsessed with an Instagram star played by Elizabeth Olsen. Ingrid's obsession drives her to the brink and well past it, toward an inevitably grim conclusion. It's a statement about the interplay between our own emotional stability and how social media can set it reeling, and Plaza's performance anchors the whole thing, making Ingrid a sympathetic character without glossing over her very real issues. It's the sort of role that would have been all but unimaginable just a few years ago.
SHE IS LEGION
"I think roles for women are becoming more interesting and more complex," Plaza says.
That's good news for women who want to portray multidimensional characters and right now, Plaza is playing one of the most bonkers on television. There is nothing and no one else on television or any medium quite like Lenny, and Plaza makes sure of it with a performance that is in turns warm, ferocious, creepy and agonizing.
The show centers on David, a man in a mental institution trying to deal with his strange visions about him having immense power. Or are the visions actually memories? A team of strangers seems to believe he's actually a hugely powerful mutant, and David starts to think they might be right—or, then again, they might all be in his head.
"It feels like a very trippy, Kubrick-esque, psychological thriller," Plaza says. There are also some dance sequences (yes, dance sequences) that lend a surreal layer to an already very surreal show. This is a show that takes place largely within the minds of its cast, and those minds are varying degrees of healthy. Mental health is something Plaza thinks about a lot. You sort of have to, to hear her tell it.
"I struggle just as much as the next person with anxiety and depression," she says. "And I have a really hard time relaxing."
She says she's a workaholic, and that's part of it, but she's also open about the nature of the job she's in.
"I think there's kind of a lot of negativity, and a lot of kind of b******t that goes on out here," she says. "Movie sets especially can get really hectic and really toxic really fast."
This isn't just true of Hollywood. Dai- ly life in America is not conducive to a healthy mental perspective, and it's getting worse. According to the American Psychological Association, boomers on average rate their stress level at 4.3 on a scale of 1 to 10. Millennials rank their stress at 6, and overall, the majority of Americans say that stress has a negative impact on their mental and even physical health.
While there's no one root cause of mental unwellness, the situation is exacerbated by our lack of understanding about how to handle it. Simplistic advice ("Cheer up!") and ignorant questions ("Why are you so anxious?") lead to a further stigmatization of people with mental health issues.
Many churches are notorious for this—telling those struggling with things like depression to just "focus on God." But as psychologist and author Dan Allender explains, "The problem with the 'focus on God alone' trope is that it is not the primary message of Scripture … It is not that we are to focus on God and thus achieve mental health, it is that God enters the fray of mental complexity and makes His home not only among us but in us."
But there are real ways to manage mental health, and the more stressful and toxic your own environment is, the more important it is to make them part of your daily life.
"I kind of prioritize the work over everything else," Plaza says. "So, sometimes my health suffers from that. When I'm not doing that, I just try to really be gentle with myself, and just do a lot of restorative things as much as I can. It sounds really L.A. to say that but, it's true. I need to go on a hike every now and then to just clear my mind."
It wasn't always this way. Plaza says growing up in Delaware, her Irish Catholic family wasn't interested in "restorative things." "I did not grow up going to therapy," she laughs. "We didn't talk about our feelings."
But being in Los Angeles has convinced her to start taking better care of her own mental health, whenever she can. And her family? Well, they're coming around.
"It's just not the Delaware way," she says. "But they're definitely cool with it. I think."
MY BILLY MADISON MOMENT
"I'd really love to make my Billy Madi- son movie," Plaza says. "I need my Billy Madison moment. That's what I want."
Aubrey Plaza is entering that rarified strata of stardom where you're given a lot of leeway to what you want to do and for Plaza, that means writing her version of Billy Madison.
It's so cool that anyone cares, and that anyone wants to hear about what's happening. So, I try to just focus on that but"—here, she starts laughing—"I hate it."
"I want to make a movie and star in a movie that is so specifically my sense of humor that no one else could have made it," she says, her voice brimming with conviction. "That's something I really admire about Adam Sandler is just no one else could've made that movie. It's just so weird and ridiculous and amazing. I just respect that so much. I would love to make a big comedy that's all me."
It's easy to see why Plaza looks to Sandler as inspiration. Both have a knack for crafting lovably anti-social outcasts who seem to be at their best when they're furthest left of center. Both are famous for finding the warm heart of cool personalities and deploying empathy for them in surprising ways.
Plaza wants to introduce the world to characters who can't be stigmatized and don't fall into easy tropes. That's a major part of the conversation around mental and emotional health—that people can look, feel and act differently, and it's OK.
"It's all about trying to find the human, relatable side of those characters," she says. "All I have to work with is myself, my own life experience, my own memories, and my own approach and take on the world. So even if a character does things I would never do, I still try to find ways to be compassionate toward the characters and to understand where they're coming from."
Comedians have been ahead of this curve for a while, with performers like Robin Williams, Richard Pryor, Carol Burnett, Chris Gethard and, yes, Sandler and Plaza all displaying an empathetic gift for portraying characters outside the norm with genuine emotion. By taking on complex characters who don't easily fit any predetermined bubble, Plaza is helping the rest of us feel better about our own lack of labels. It's more authentic than the packages we're often handed by pop culture. In fact, Plaza says, that's what she'd tell herself if she could go back 10 years ago and talk to that girl in Delaware before Apatow, Poehler and Legion changed her life.
"I think that people—at the end of the day—are drawn to authenticity and to confidence," she continues. "I think that focusing on your weight or your looks or whatever is just a distraction. It's like, you can be successful exactly the way you are if you're just yourself and confident."
She pauses, and then sighs. "I feel like I read Meryl Streep say that somewhere."
Tyler Huckabee
Tyler Huckabee is RELEVANT's senior editor. He lives in Nashville with his wife, dog and Twitter account.