Avatar: The Globes Got it Wrong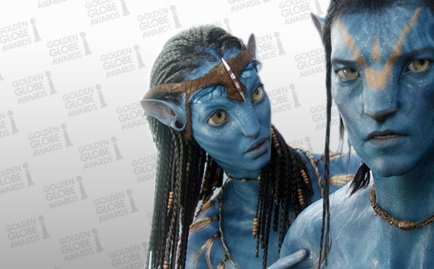 Last night marked the 67th annual presentation of the Golden Globe Awards. We realize that many of our readers have other things to do with their time besides watching an hour-long award show crammed into … four hours. We also understand the morning-after curiosity that drives these same readers to their computers to search the Web for the winners, losers and most memorable moments of the 2010 Golden Globes. There is no shame in this. In fact, judging from the amount of alcohol consumed at the televised portion of the event (let alone at the after-parties), there may be one or two celebrities who were present at the Golden Globe festivities who are, this morning, similarly trying to piece together what happened last night. And we suspect that in about a week, everyone will think "Did a movie with cool effects that copied the story of Dances with Wolves really just win a film award?"
But whatever reason led you to seek out a recap of Golden Globe night 2010, we've got it covered:
[Deep breath in] Glee took home the honor of best television comedy or musical, and series creator Ryan Murphy dedicated the win to "anybody and everybody who got a wedgie in high school." Which, if you've gotten a wedgie lately, it might be because you watch Glee. (We kid, we kid. It's a great show) Toni Collette won best lead actress in a comedy or musical for her role on Showtime's The United States of Tara and talked about being in the bathroom and missing the award presentation for her category the first time she was nominated. That may have been more information than we needed.
Alec Baldwin (30 Rock), on the other hand, was not present to accept his award for best actor in a comedy or musical and so balanced the aforementioned over-share by saying absolutely nothing. When Drew Barrymore accepted her award for best lead actress in the HBO miniseries Grey Gardens, she spoke of being in the International Ballroom at the Beverly Hilton Hotel since she was seven years old, prompting Matthew Weiner, creator and executive producer of best television drama Mad Men (and let's be honest: It really is the best television drama) to remember that he also visited the International Ballroom when he was seven—for a bar mitzvah.
Showtime's Dexter was also a big winner among television dramas, taking the awards for best lead actor in Michael C. Hall and best supporting actor in John Lithgow, and leading these recipients to reflect on acting as a dream job and the fun had "creeping out the entire country for the last six months," respectively. Which, of course, they did … particularly when we saw way more of John Lithgow than anyone ever asked for.
Julianna Margulies, receiving her first Golden Globe award as best lead actress in a television drama for her performance in The Good Wife on CBS, said she would bow down before fellow nominee Glenn Close (Damages), "but the dress would rip." And Big Love's Chloe Sevigny, winner of best supporting actress in a TV series, remains "eternally confused and forever grateful" that she was cast as a "Mormon, fundamentalist polygamist." Let's hope she's not typecast now.
[Pant … pant …pant … GASP!] As for films, Avatar claimed the awards for best director, James Cameron, and best drama. Its creators expressed gratitude for people who believe in blue people (literally blue, not oxygen-deprived) and for movie-making as the best job in the world. They also expressed surprise that their movie, essentially a sequel to FernGully, was so well received. OK, they didn't actually say that. But they should have. James Cameron also missed his chance to once again scream "I'm king of the world!" so we could all mock him.
Jeff Bridges, honored as best lead actor in a drama, accused the Hollywood Foreign Press Association of "really screwing up [his] underappreciated status." But, we suppose, the Dude abides. The Golden Globe for best actress in a drama was given to Sandra Bullock for her performance in The Blind Side. We're shocked she received an award for this and nothing for her work on Speed 2: Cruise Control.
Christoph Waltz (Inglourious Basterds) and Mo'Nique (Precious) received best supporting actor and actress honors respectively (and honestly, they were both so good in their roles there's nothing snarky to say), and Up in the Air's writing team, Jason Reitman and Sheldon Turner, was presented the award for best screenplay, despite the statement that the team is "still waiting for them to call Quentin Tarantino's name." Which probably should have happened; no one writes a Mexican standoff like Q.
[So … many … awards … tired …] The Hangover was honored as best comedy. Robert Downey, Jr. (Sherlock Holmes) accepted the award for best actor in a comedy or musical by listing all the people he had no intention of thanking for the honor, effectively thanking no one and everyone. Which, really, deserves an award in and of itself. Best lead actress in a comedy or musical for Julie & Julia, Meryl Streep, stated that she has "played so many extraordinary women that basically [she is] getting mistaken for one." Oh, and she wants to change her name … to T-bone. After T-Bone Burnett. Who rules, by the way.
The Disney/Pixar film, Up, won best animated feature and best original score, and also won Best Picture … oh wait, that didn't happen even though it should have because it was way better than the other animated film that won. Seriously, not that we're bitter, but Avatar? C'mon.
The Cecil B. Demille award was presented to Martin Scorsese for his impressive 30-year career as a film director, and Ricky Gervais fell short of being truly funny over and over and over, which is an altogether different sort of achievement.
[Pant … pant … pant … pant … pant] That's just about it for the Golden Globes: 2010 Edition. We hope you have enjoyed this rapid recap, but we're going to stop now before we pass out. Congratulations to each of this year's winners. For a complete listing, visit GoldenGlobes.org/nominations. And don't worry about us. When the 82nd Annual Academy Awards roll around in March, we'll be in perfect shape to hyperventilate … uh … recap all over again.