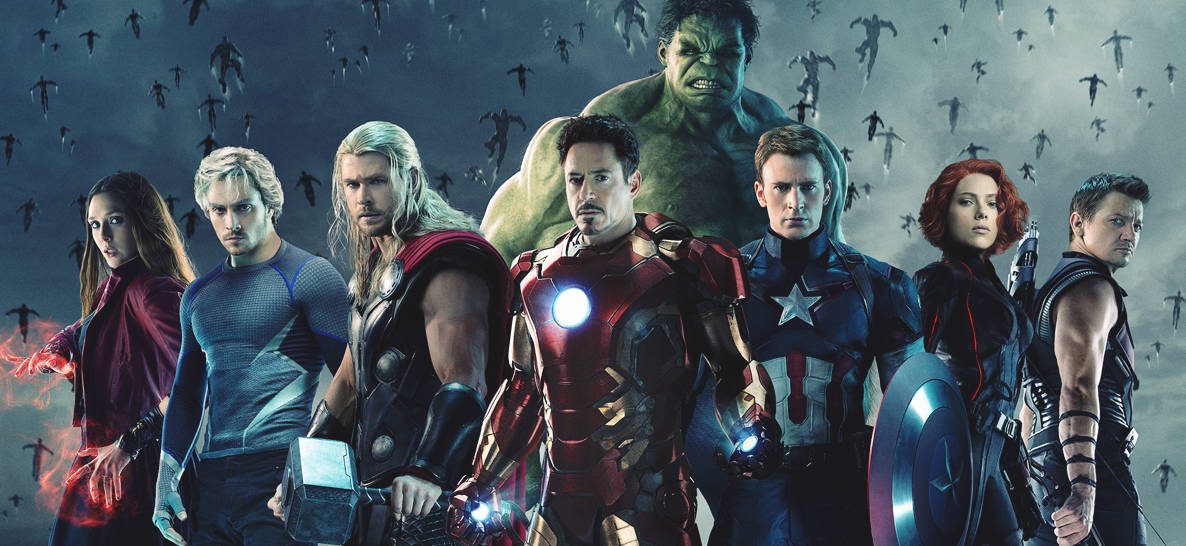 There's a scene in Avengers: Age of Ultron in which all our old pals are sitting around Tony Stark's giant skyscraper-turned Avengers hangout, taking turns trying to lift Thor's hammer, which can only be wielded by those who are "worthy." Thor chuckles as each of them fall before his hammer's magical bylaws, and the Black Widow is slyly dismissive of the boys' bemusement. They trade barbs with each other. They flirt a little. They swap save-the-day stories.
It's a great picture of what Marvel's movies, and director Joss Whedon's Marvel movies in particular, do so well. Whedon's ear for deft characterization manifested through snappy dialogue is unmatched, and you can tell these scenes interest him a lot more than the big, CGI-heavy action set pieces. Part of what made his first Avengers movie such a delight was how well he was able to merge these two sensibilities.
But then, with that first Avengers movie, a lot of the heavy lifting had been done for him. Thor had introduced Loki as a formidable villain. Captain America: The First Avenger had acquainted us with the Tesseract, Marvel's McGuffin of choice. There was hardly a character or concept in need of a full-scale introduction. All the plates had been introduced—Whedon just had to keep them spinning in unison.
His Avengers sequel, on the other hand, introduces an dizzying amount of new ideas, characters, technologies and even a whole new country, all while keeping all the current balls in the air. It has to be done, as per Marvel's plan to keep churning these movies out till Jesus comes back, and Whedon is game for the challenge.
The seams show a little (even I, an avowed aficionado of Marvel comic books, found my head spinning at a few points), but whenever the plot gets wobbly, the script has the good sense to let Robert Downey Jr. cut loose with a few wisecracks or Chris Evans reveal that his pop culture references still have some catching up to do.
When Whedon succeeds at putting his characters ahead of the demands of the plot, the movie soars. When the demands of universe building get in the way of his idiosyncrasies, it strains.
The plot in this go-around involves an artificial intelligence creation of Tony Stark's getting a little too smart for its own good. The program is named Ultron (voiced by with luxurious disdain by James Spader) and, after it determines that the only way to achieve global peace is humanity's extinction, it goes about acquiring the tools it needs for just that mission.
Two of those tools are a set of genetically modified twins: Wanda (Elizabeth Olsen) and Pietro (Aaron Taylor Johnson.) She has the power to warp minds and he's lightning quick, and they've both got a grudge against Tony Stark for sins he committed back in his arms dealing days. Ultron recruits them to his cause, and from there, we're off on a globe-trotting adventure in which Ultron is trying to build an army to destroy the world and the Avengers are trying to stop him.
That all results in some pretty spectacular gee-whiz action scenes, including a breathless duel between Iron Man and a mind-clouded Hulk, and a terrific finale featuring an army of Ultrons on a floating city (long story).
But any movie with a Disney-sized budget can conjure those cinematic rollercoaster rides. What has always set Marvel's movies apart are what happens in-between such scenes, and Whedon manages to give every character a moment to shine.
Jeremy Renner's Hawkeye gets a few chances to showcase his value beyond being the bow and arrow guy. Some much needed tension is injected by Captain America and Iron Man's conflicting views about which ends justify what means. An unlikely (and very Whedon-esque) romance blooms between two characters who have trouble figuring out if they're even compatible, emotionally and otherwise. And as Thor, Chris Hemsworth's greatest power is his expert sense of comic timing—his just-this-side of self-aware pomposity is mined for some of the movie's best one-liners.
One thing that does set Avengers: Age of Ultron's action scenes apart is the inordinate amount of time the good guys spend minimizing collateral damage. In almost every fight, Captain America directs a few Avengers to clear the area of civilians. The Avengers are as focused on keeping people safe as they are beating the bad guys.
It sounds sort of obvious, but it's a pretty clear response to Man of Steel and Star Trek: Into Darkness, which were rightly criticized for their gluttonous appetite for mass destruction. "Avengers" our heroes may be, but they spend most of their time defending, and it's a welcome key change from recent summer flicks.
Even more so than most comic book movies, Avengers: Age of Ultron is a real comic book movie. It plays fast and loose with reality, and delivers lines about "robot armies" and "greatest power in the universe" with dire sincerity. Those provide a few good fanboy moments, but Whedon's best instincts are for quieter scenes.
This will apparently be Whedon's last Marvel movie (the next Avengers movies will be helmed by Joe and Anthony Russo, who made Captain America: The Winter Soldier such a treat) but Marvel would do well to remember what Whedon brought to the table. Because when the credits roll, audiences care a lot more about who's saving the world than how they're doing it.