The Best Albums of the Year (So Far)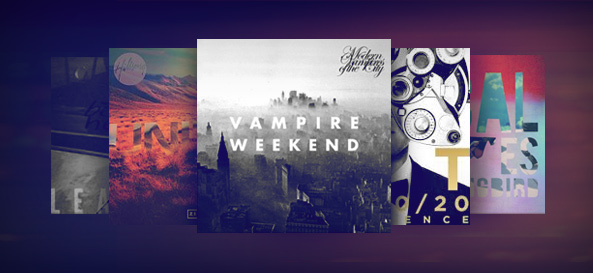 Well, here we are. Halfway to December, and lists like these are already hard. Any attempt to compile a Best Albums list is going to result in some painful exclusions, and we heartily welcome comments that start off something like "I can't believe you guys left out [fill in the blank]!" And that's all part of the fun—the hashing out of what will be remembered, what will be forgotten, what isn't getting enough attention and what's just hype.
10. Waxahatchee: Cerulean Salt
Waxahatchee is basically just Katie Crutchfield and a guitar, so it's saying something that even that old setup can still get you to sit up and take notice. In this case, the reason is Crutchfield's piercing lyrics and the way she delivers them with such bracing poignancy. On "Dixie Cups and Jars"—in which Crutchfield details a wedding reception for a marriage nobody seems to think will last—her line "I watched your dad give you away / I watched him drink the bitter taste in his exertion away" is sung so casually you don't realize how sad it is at first.
9. Charles Bradley: Victim of Love
Bradley was born in 1948, but you'll be hard pressed to find a more immediate album this year. He gets a lot of James Brown comparisons (he used to work as a Brown impersonator—just one of many strange facts about his life, and certainly one of the happier ones) but he also has an Otis Redding vibe. Bradley sings Motown like he's unaware it ever went out of style, and with enough skill and conviction to make you wonder why it did.
8. Hillsong United: ZION
You may be of the mind that you've heard just about all this modern era of worship music has to offer: big U2-like guitars and lots of shouting. Well, Hillsong United has heard your cry, and ZION is something different. It features some spells of deep intimacy from a band not previously noted for quiet moments. On "Oceans (Where Feet May Fall)", a lovely swell of arpeggiating guitars and percussion makes the repeated refrain "Spirit, lead me where my trust is without borders … lead me deeper than my feet could ever wander" sound not just worshipful, but filled with holy fear. It's a rarity in worship music: the realization of just how daunting these things you're singing are.
7. LEAGUES: You Belong Here
Thad Cockrell has been a beloved staple of Nashville's singer/songwriter scene for years, but with LEAGUES, it sounds like he's finally making the album he always wanted to make. Joined by Tyler Burkum (fun fact for CCM-heads: Burkum used to be in Audio Adrenaline) and Jeremy Lutito, LEAGUES makes some seriously fun music. It's undoubtedly pop-rock, but it brings an expertise and precision to the genre that it generally lacks. Just listen to "Spotlight" for 30 seconds, and determine if your head is bobbing with or without your permission.
6. James Blake: Overgrown
What James Blake has done, more than anyone else, is take the whole electronica thing that music nerds have been into of late and make it palatable for the masses. While less-talented purveyors of his particular brand of music tend to come off like they're singing with R2D2, you get the impression that Blake's songs are really songs. On "Life Round Here" (which has shades of Eminem's "Cleaning Out My Closet") the layers of percussion samples swell together so well that the mood conveys with absolute clarity what his haunting vocals sometimes muddle.
5. The Lone Bellow: The Lone Bellow
The Lone Bellow calls what they do "Brooklyn country music" and there are a few reasons that's a perfect description of their sound. The Lone Bellow is undoubtedly country, in that it has all the dusty, gusty, South-soaked anthems that the genre requires. But it sounds like country music by way of a bustling city, in which the nerviness of the 21st century quivers around the edges. The Lone Bellow are in the Mumford and Sons-led folk revival, but they're not of it. "Two Sides of Lonely" reveals a band that's not just a throwback to simpler times, but is a product of the here and now.
4. Local Natives: Hummingbird
Local Natives' follow-up to Gorilla Manor is everything a sophomore release ought to be. It improves on the things that made their debut such a revelation, scrubs away its imperfections and adds some thrilling new twists that showcase their evolution as musicians. On Gorilla Manor, songs like "Airplanes" showed you how good this band could be. Hummingbird finds the band fully realized and thirsty to grow.
3. Justin Timberlake: The 20/20 Experience
Justin Timberlake could keep the millions coming in for the rest of his life by recycling the "Sexyback" format, but he's far too savvy an entrepreneur and curious an artist for something that easy. He wants to be the biggest star in the world, but he doesn't want to sacrifice creativity on the way. The 20/20 Experience is the work of a man at the absolute top of his game. It's a sonically adventurous, commercially viable and ultimately unforgettable masterpiece.
2. Daft Punk: Random Access Memories
Seeing as the general consensus is that the '80s was a bad decade for music, it was a surprise Daft Punk would draw from it so heavily for one of this year's most anticipated albums. They're generally regarded as futurists—creating entirely new sounds instead of drawing heavily on old ones. But if music from the '80s had been crafted with this much care, maybe it would have a better rap. Or maybe Daft Punk are just smarter than we are about music in general, able to recognize beauty and immediacy where others see only bombast. They've crafted a virtually perfect album out of unlikely parts, and nothing stands out about it as much as its expertise. There's not a loop out of place, not a note wasted—everything just sounds like it belongs exactly where it is. You don't realize how rare that is until you hear an album like Random Access Memories. The result is dance music that can bring tears to your eyes.
1. Vampire Weekend: Modern Vampires of the City
When a band like Vampire Weekend releases an album like Modern Vampires of the City, you have to wonder if they can fully appreciate how much better it is than anything else they've ever done. For their first two albums, they've come across as mostly fun. Easy to like, but hard to love. However, on this third outing, they take a giant leap forward in every way a band can take a leap forward. The music is better. The production is better. And who would have thought Vampire Weekend would be capable of wrestling with questions about death ("Diane Young"), getting older ("Hannah Hunt") and God ("Ya Hey")? Nearly every song has a moment of true poignancy, in which the band says something deeply moving about the state of the world and the state of their own their own hearts. It would be remarkable from any band, but it's particularly notable from Vampire Weekend who, three albums in, has finally released the kind of album that not only warrants the hype, but actually makes the hype unnecessary. This band can handle themselves just fine.
Tyler Huckabee
Tyler Huckabee is RELEVANT's senior editor. He lives in Nashville with his wife, dog and Twitter account.