Biebs Is Bringing Back the WWJD Bracelet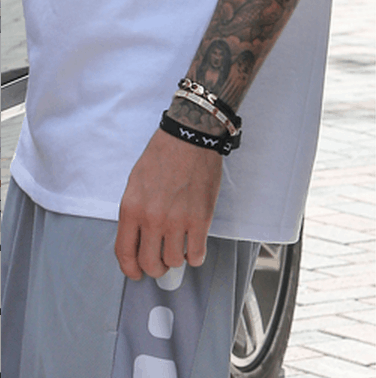 It's time to find your old WWJD bracelet, Beliebers. The pop superstar trio of Justin Bieber, Diplo and Skillrex sat down with The New York Times this week to talk about their new song "Where Are U Now," and if you look closely at a few brief frames around the 6:30 mark (below), you may notice that the singer is wearing a subtle piece of retro youth group fashion. That's right, Biebs is rocking a WWJD bracelet. A quick Google image search reveals that Bieber's been spotted wearing the church swag before, particularly earlier this summer.
Our online investigation led us to the far corners of the Bieber interweb, to outposts like Bieber-fashion.tumblr.com, showing that the polarizing pop star may in fact be actively attempting to bring back the bracelet every 15-year-old church kid had to have in 1998. Considering he recently chose a worship song by Bethel Music for one of his top jams, the fashion choice should be of no surprise. Who knows, there may actually be
Abreadcrumb and Fish T-shirt hiding in his wardrobe.