It's J.R.R. Tolkien's Birthday. Have You Ever Heard His Crazy Love Story?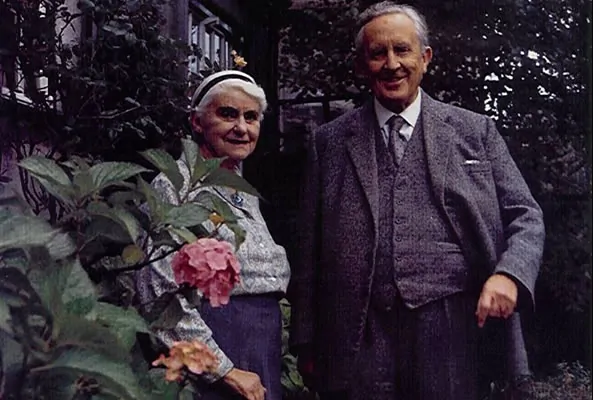 On this day in 1892, John Ronald Reuel Tolkien was born in modern-day South Africa, the son of a British banker named Arthur and Arthur's wife Mabel. You know Tolkien as the father of modern fantasy, a master of myth who would craft entire languages, histories and cultures as grace notes to his writing. The Hobbit and The Lord of the Rings were the only original novels he published in his lifetime, but even calling them "novels" feels reductive. They're an entire world. 
But his own life had plenty of adventure of its own. Tolkien's courtship of the woman who would become his wife, Edith Mary Bratt, had all the charm and drama of a Jane Austen novel.
Tolkien was just three years old when he, his mother and brother left their home in Bloemfontein for a trip to England. His father was going to join them, but fell ill and died, leaving the Tolkien family without a father, husband or income. They moved in with Mabel's parents and Tolkien grew close to his aunt, a woman named Jane who worked at a farm called Bag End.
"Ronald," as his family called him, cultivated an early love of botany, fairy tales and, above all, languages. His mother incensed her good Baptist family by converting to Catholicism, and Tolkien treasured that faith his entire life, though it became a huge obstacle in love. Tolkien was 16 when he met Edith. She was three years his senior, and a Protestant to boot. Their love was forbidden by Tolkien's guardian, a stern old priest named Father Morgan who considered Edith a bad influence on his young ward. Father Morgan told Tolkien that he could not talk or even see Edith until he was 21 years old. Remarkably, Tolkien abided by this rule. As he would later write in a letter to his own son:
[lborder]"I had to choose between disobeying and grieving (or deceiving) a guardian who had been a father to me, more than most fathers … and 'dropping' the love-affair until I was 21. I don't regret my decision, though it was very hard on my lover. But it was not my fault. She was completely free and under no vow to me, and I should have had no just complaint (except according to the unreal romantic code) if she had got married to someone else. For very nearly 
three
 years I did not see or write to my lover. It was extremely hard, especially at first. The effects were not wholly good: I fell back into folly and slackness and misspent a good deal of my first year at college."[/lborder]
The day before he turned 21, Tolkien wrote a letter to Edith, declaring that he'd never stopped loving her and wanted to get married. She responded with a bombshell: She'd gotten engaged to someone else since she'd heard nothing from Tolkien in years. Tolkien flew into action, boarding a train for Cheltenham, where Edith was staying with a family friend. She met him at the platform.
The two spent the day together, roaming the countryside. That very day, she sent her engagement ring back to her former fiancé and accepted Tolkien's proposal. They were married three years later, though she apparently left the Anglican church for Tolkien's Catholic one only grudgingly. They remained married until Edith's death in 1971, when she was 82 years old. Tolkien himself passed away nearly two years later. Of the couple, biographer Humphrey Carpenter wrote:
Just goes to show, whether in matters of writing an impossibly complex book or winning over the girl of his dreams, Tolkien wasn't a guy to give up easily.