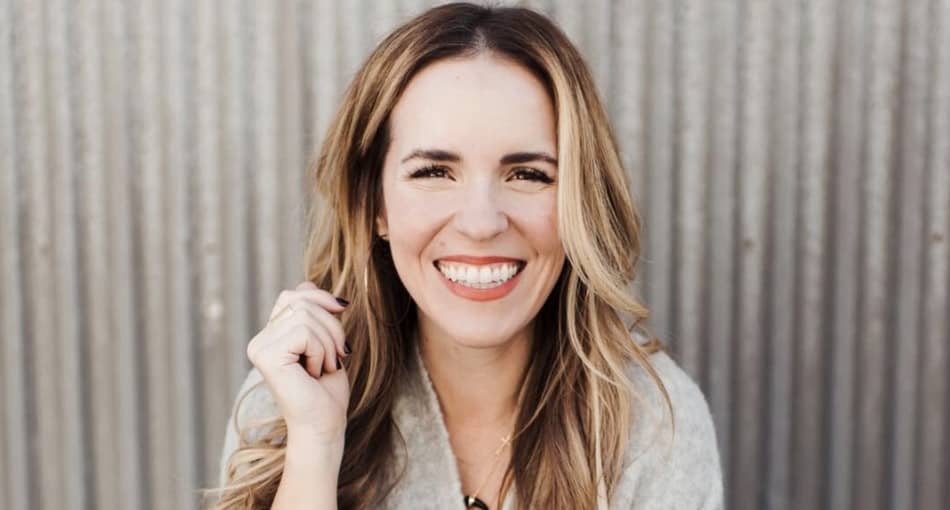 EDITOR'S NOTE: We'll be sharing one of our top ten most popular posts of 2021 every day for the rest of the year. Some of these stories are encouraging, some are infuriating and some are just weird, but hopefully all of them help illuminate a different side of God's Kingdom and the people in it. Today's post is our tenth most shared article of the year.
Rachel Hollis is a very successful author whose career has largely glanced off a surprising number of messes, from theological shortcuts to accusations of plagiarism. Hollis built her career off a bestseller called Girl, Stop Apologizing, and her public career has given her plenty of opportunities to live that mantra out — even when an apology or two might be in order. For example, drawing a comparison between herself and legendary abolitionist Harriet Tubman because she …has a house cleaner?
It all started last week, when Hollis posted a video to TikTok responding to a commenter who'd noted that Hollis was "privileged" and "unrelatable" for employing a house cleaner. Hollis acknowledged her privilege but also defended herself, saying she'd worked hard to be able to hire someone to clean her house, before going on a long tear about why she doesn't want to be "relatable."
"No, sis," Hollis said. "Literally everything I do in my life is to a live a life that most people can't relate to. Most people won't work this hard."
Hollis went on to say that the women she admires most in history were "unrelatable" and said that if most people could relate to her life "I'm doing it wrong." In the comments on the Instagram post, Hollis wrote "Harriet Tubman, RBG, Marie Curie, Oprah Winfrey, Amelia Earhart, Frida Khalo, Malala Yousafzai, Wu Zetian… all [sic] Unrelatable AF."
View this post on Instagram

There's a lot going on here including, primarily, what feels like a deliberate misunderstanding of what people mean by "relatable." The commenters saying they couldn't relate to Hollis weren't talking about her ambition or her work ethic. They were talking about a lifestyle that allowed to her to hire someone else to clean the house. The line between Hollis being a hard worker and being someone who can afford to have her house cleaned is not as straight and direct as she might like to think. If it were, maybe Hollis' cleaner wouldn't have to clean houses for money.
And that's ignoring what seems to have really drawn the most online criticism. It's one thing to cast figures like Oprah and the late Supreme Court Justice Ruth Bader Ginsburg as aspirational role models. It's another to invoke someone like Tubman — a Black woman born into slavery who dedicated most of her life to rescuing others along the same Underground Railroad she used. That level of activism is certainly unrelatable in many remarkable ways, not least of all to someone like Hollis.
The outrage to all of this was palpable, and Hollis posted another Instagram on Easter Sunday, attempting to clarify her statements, explaining that she wasn't trying to hurt anyone's feelings and, it must be said, throwing her team under the bus.
"I didn't respond to these things on Friday when I heard that people were upset. I listened to my team instead of my gut," she said. "I listened when they told me not to respond, to let it blow over. I listened when they said they would monitor the situation — which meant monitor comments." Hollis said her team had deleted comments from influential critics without her knowledge. That may be true, but any apology that gets involved in its own finger pointing is undermining its own contrition.
On Twitter, writer and frequent RELEVANT Podcast guest Kristen Howerton posted a lengthy thread critiquing Hollis' work. "It's no surprise that someone who preaches we don't need to worry about what anyone else thinks reveals themselves to be tone-deaf/lacking in empathy," Howerton wrote. "While we don't need to strive to please everyone, we DO need to have a balanced concern of how our words + actions affect others."
"No surprise that someone preaching meritocracy/the need to be self-obsessed with success without a lot of insight into values-based self-worth, believing she's exceptional while denigrating the worth of women who opt out of hustle culture."
Hollis struck paydirt by projecting plucky, "you go, girl" energy that was built on a foundation of neoliberal meritocratic adages given a feminist polish and whittled down for social media consumption for the Hustle Era. That's a viable business model in 2021 and we've all got to find ways to keep the lights on (or, in Hollis' case, the house cleaner paid).
But unfortunately, Hollis' bills are being paid by proverbs she's largely appropriated from other women — many of them women of color. In Hollis framework, most of this chatter ends up reinforcing the distinctly American notion that people who work hard get nicer things and live nicer lives. Contrary to Hollis' TikTok, many people in a culture as given to consumerism as ours find this notion of success very relatable. Whether or not they should is another matter entirely.