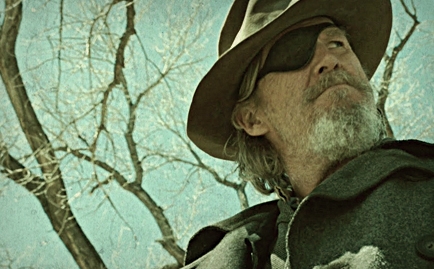 Joel and Ethan Coen have redefined much of American cinema in the 26 years since their debut film, Blood Simple, which was a brilliant yet wicked series of twists on the classic film noir style of movies. Their films have always been fresh and original, yet some have been big hits (No Country For Old Men, which won Best Picture) and others have been financial disasters (The Hudsucker Proxy, which is well worth catching up to). But they've been on a roll the last few years with Country, Burn After Reading, last year's Best Picture nominee A Serious Man and now, their new take on the classic Western novel True Grit.
"Novel?" you might wonder. Yes, True Grit was a book by a brilliant and reclusive Southern writer named Charles Portis, even though it's much more famous as the 1969 movie that finally won John Wayne an Oscar after decades of iconic performances. So how can the Coens make this film their own?
Well, for one thing, they never saw the other film, and are simply rabid fans of the source novel, which they adhere to much more closely in their new version of the tale. And secondly, they brought back Jeff Bridges, who brought to life what is perhaps their most famous character, The Dude, in 1998's absolute classic The Big Lebowski. Together the Coens and Bridges bring some new zest, and a whole lot of passion and fun to this tale of divine retribution in the Old West. RELEVANT caught up with the Coens and Bridges recently in Los Angeles to discuss their new film with them.
Hi, Jeff. You have a very iconic character in this movie. Why has the eye patch been moved from the left eye to the right eye?
Bridges: I'm a Commie.
Seriously, did you think about that? Did you do it as a statement?
Bridges: No, no, you know, we, the right eye felt good. Put it on the left eye, not so good. Put it on the right eye, this feels good. "What do you think, guys?" We went back and forth like that, you know.
Did you have any hesitation initially taking on a role that was made famous by John Wayne himself?
Bridges: Well, I was curious why these guys wanted to make that movie again, and I think it was Ethan who I talked to first. He corrected me and he said: "No, we're not making that movie. We're making the book as if there wasn't any, you know, no other movie ever made kind of thing." We were just referring to the book and I wasn't familiar with the book. He said, "Well, check that out and tell me what you think." I read the book and then I saw what they were talking about because it's such a wonderful book and it suited them so well. And what a great character. You know, most Westerns have that strong, silent type and here's this boorish, you know, loud guy. So that was going to be a lot of fun, I thought.
Tell me if I'm reaching here, but the more I thought about the movie, the more I realized it's less a Western than it is a really, really dark comedy. And then for the actors, you were dealing with a script that was very stylized. Can you talk about tackling the dialogue?
Ethan Coen: Less a Western than a dark comedy. Well, there's certainly a lot of comedy. There's a lot of humor in the Charles Portis novel. It was one of the things that attracted us to the novel and the idea of adapting it. And we wanted to [let] the humor in the book sort of come through in the movie. That was important.
Joel Coen: And the dialogue, too. I mean, the kind of formality of it and the floweriness of it also is just from the book. Again, that might be a question for the actors. That was the first thing Jeff mentioned, noticed and liked, the kind of foreign-sounding nature of the dialogue and the lack of contractions. It wasn't a problem for us. We just lifted it from the book. I don't know how the actors feel about it.
Bridges: Yeah, it was more like doing American Shakespeare. There's sort of almost like an iambic pentameter. There's a musicality and a rhythm to the dialogue. It's so specific that you really, you know, you're working very much with what's on the page. There's not endless rewrites throughout production. It's such a specific script that it's about trying to hit certain notes, maybe in a reverent falloff at the end of a line. That's where the brothers were so amazing. It's such a gift to be able to give some sort of lateral idea to an actor that "oh, I didn't hear the musicality of the line like that" and just the scene blossoms, completely changes and becomes darkly humorous or odd or quirky or wonderful, bizarre. But it's a very structured piece I found in that respect. Charles Portis has such a specific vernacular of the period. It's so authentic, in my mind. Because most people were probably, you know, pretty illiterate back then. They were maybe schooled on the King James Bible and that really infused the way they spoke, and I think a lot of Westerns missed that.
Somebody smart pointed out that (SPOILER ALERT) Maddie's in peril but not in real danger until she kills a man, until she takes a life and then she falls into the pit and awakens the sleeping serpents. So in telling the story, was that something, the sense of consequence, something that was important to you to relay? Is that something that was attractive?
Joel Coen: Somebody mentioned earlier—we were talking just a little bit about this sort of Western genre—how sort of conscious that was. As we mentioned in other contexts a couple of times, one of the things that struck us about the novel, just generically, was that what we took away from it, more than a Western, was the sense of it almost being this youthful adventure story, or kind of fitting into the genre of what you might call young adult adventure fiction or something like that. … In connection with that, you often have this kind of Perils of Pauline kind of action at a certain point, where one thing just leads to another. So that's I think closer to the way we were looking at it.
So it's not a morality tale?
Joel Coen: Well, that's certainly an element of the story and the novel, but I wouldn't associate it with her killing a guy and then falling into a pit with snakes. Yeah, I mean, I wouldn't, I don't think that's where it comes in.
At the beginning of the film when you open with a quote from Proverbs and the girl has a sort of divine sense of mission to get revenge or justice for her dad, was that something inherent to the book? It seemed kind of new for your guys' work. Was anything common on that level of the story line for the Coens?
Ethan Coen: Yeah, it's in the book. I mean the opening voiceover is taken directly from the book. The reference to that particular proverb is in the beginning of the book, not as an epigraph but in the context of her speaking and her narration. And the divine sense of mission is definitely a big part of the story. So in every respect the answer's yes from the book.