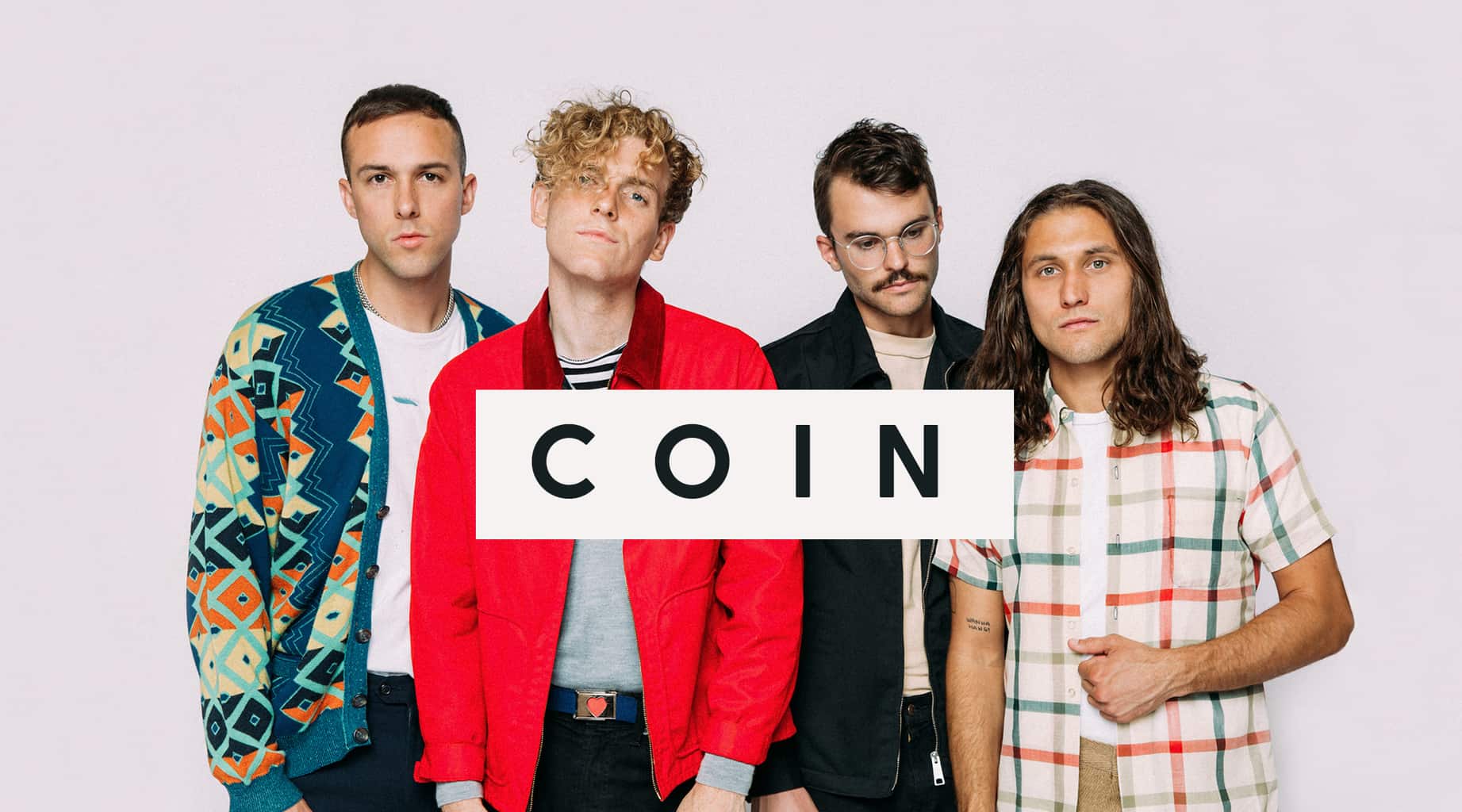 WHEN BANDS PERFORM LIVE, playing new music is a big risk. The crutch of familiarity, that oh-my-goodness-they're-right-in-front-of-us crowd energy goes out the window in favor of a bold all-in gamble: Will the fans go for these, too?
Touring their second studio album, (aptly titled) How Will You Know If You Never Try, COIN played aggressively, but they never bluffed. The Nashville band shredded their new stuff. They put up. They want their fans to do the same.
"Watching people cling to this new music and feel it for the first time is surreal," lead vocalist Chase Lawrence says. "You forget about the power of live shows. In the past, [the crowd] would be like, 'Can you play 'Talk Too Much' one more time?' but it's cool to see people attracted to something they've never heard before."
Of course, "Talk Too Much," the band's most popular song and far-and-away most streamed on Spotify, was a staple
of the new setlist. But so was the non-album single "Growing Pains," released in February. "Growing Pains" keeps up the group's smirking lyrical style and color-blast pop hooks; it's fun but savvy. The band has found its lane.
That took some time. COIN's 2015 self-titled debut established the formula, but didn't innovate much past the introduction of the group. Nothing's wrong with it, but nothing aims to kick your ear off, either. How Will You Know If You Never Try pushes more chips to the center of the table. It's a leap ahead.
"You don't want to throw out the playbook altogether, but you do have to reinvent," drummer Ryan Winnen says. "We know the moments our consistent fans like, and we know what will excite the new people, too."
For a 6-year-old band to place its focus on the subtleties instead of the broad creative steps most groups their age are working through is impressive, but COIN's always come across sharper than their sometimes "aw-shucks" sound portrays.
Their live shows, for instance, flex some serious adult muscle. The songs might be boyfriend material, but these guys are husband-material performers. Lawrence leaps and clambers all over the stage, but he doesn't waste a step. Behind him, Zachary Dyke (bass), Joe Memmel (guitar) and Winnen are dynamic supplements. They're crisp, but they know when to flip the switch. These guys can jam.
Putting together such a calculated rock show takes hours of refinement, and that's what COIN did. For the new tour, they put in a steady 72-hour week of rehearsal sessions, going nonstop for 12 hours at a time. All the practice is about damage control.
"It's planning for the worst, and the worst does happen every once in a while, but we're totally ready for it," Lawrence says. "We're open to anything, but in an ideal world, I would like to keep [things] pretty structured in my brain because I'm not trying to freak out in front of a bunch of people."
"The preparation allows us to provide the energy that we do," Winnen adds. "Because if we weren't so well-rehearsed going into this tour … we wouldn't be able to exert ourselves and play so mindlessly, effortlessly."
COIN compares live shows to muscle memory. If you don't have to think about the music, you can think about the crowd. You can make room for spontaneity and randomness and insanity. In the past, randomness was cruel, like when the venue manager at their first live show told them they needed to quiet down or when animatronic wolves started howling in the middle of a casino set in Vegas (yep, that happened). Now, randomness takes the shape of more pleasant surprises, like last year's performance at Atlanta music festival Music Midtown. COIN realized for the first time people were singing along to their music.
"It was the biggest crowd we had ever played for independently, where people had showed up to see us," Winnen says. "It's hard to describe it. It felt real. Hearing that many people sing a song we wrote a year before … was really special."
The band realized that's exactly what live music is supposed to be: responsive and communal. They see some of their fans line up outside a venue the day of a set and stick their phones through the doorway to record the rehearsal and learn the songs they haven't heard yet. Those fans go absolutely nuts during the concerts themselves.
Live music is at its best when the crowd takes ownership over the band and treats it as their own. That's a community, and that community gives the band space to just stop trying so hard.
COIN's new music is simpler, a self-described "de-evolution" back to something less meticulous. They say it's the least over-thought thing they've ever done. "Growing Pains" released more-or-less in demo form, and while they acknowledge the risk in that, they find it freeing, too.
"A year ago, even six months ago, we'd have treated this song like it's the only one that exists," Lawrence says. "You get so deep and feel so much pressure, you just have to surrender. We realized it's just a song, another piece of the puzzle. We didn't think twice about it."
COIN is done playing it safe. Now they're dealing. Time to call their bet.
Tyler Daswick
Tyler Daswick is a senior writer at Relevant. Follow him on Twitter @tylerdaswick.