Colony House is Learning to Love the Hard Times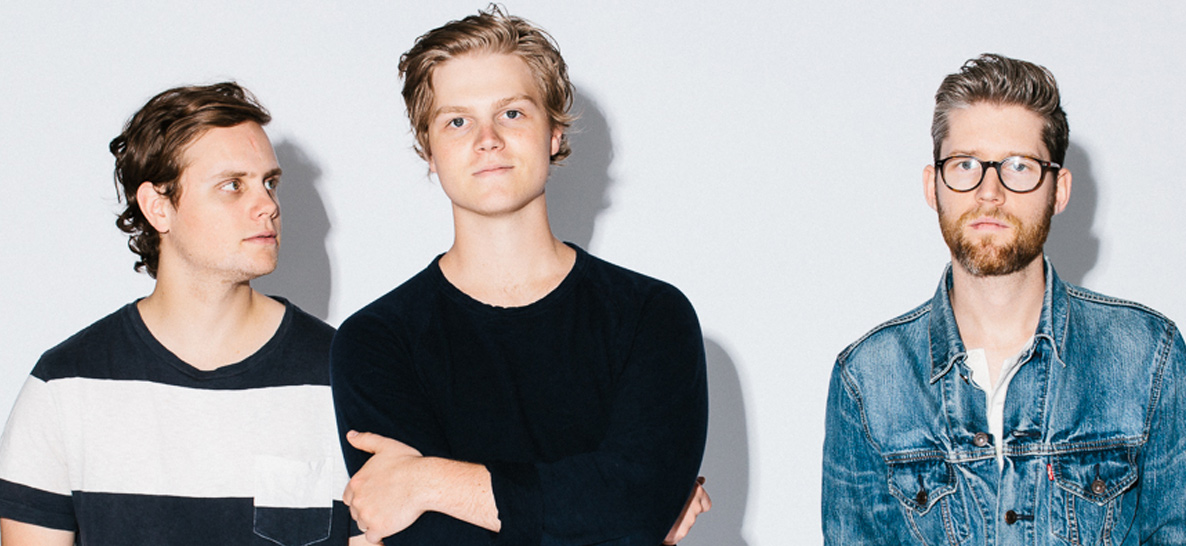 Before Colony House had even put out their first full-length album, When I Was Younger, in July, they had already played several sold-out shows and had their singles featured on music tastemakers such as NPR and The AV Club.
One listen to the band's single, "Silhouettes," will show you why. The Tennessee three-piece makes music that is stick-in-your-head catchy, but not shallow—the lyrics address self-doubt, heartbreak and struggles we've all faced, offering hope for making it through the challenges and growing as a person.
The band, made up of Caleb Chapman, his brother Will and friend Scott Mills, has been working hard—and seeing that work pay off. But even as they gain recognition, they're trying to keep the bigger picture in mind. We talked to Caleb about motivation, vulnerability and the hope in the midst of hardship.
Q: In terms of writing songs, what kinds of things inspire you?
A: I have a family that I love spending time with and I have friends that are really near and dear to my heart, and I've lost family and I've seen my friends lose family and my in-laws walk through a loss. So life in general and being heavily focused on the relationships are what drive me to write songs. Usually I gravitate toward the struggle in life. Because that's what I struggle with and fear.
I think a big part of the evolution of my songwriting on this record is finding the positives and the beautiful things and coming from that angle as opposed to starting from heavy burdensome angle. Even though they both might end with something hopeful, I think it's about where you start, on these songs at least. On this new record, we challenged ourselves to approach these stories through a different lens, even if they're telling a similar tale.
Q: When you're writing about other people, does that ever scare you? Because you don't know how those people are going to take those songs. Do you run these things by these people before you put them out there?
A: Yes, I have a very strict policy on that because it's very personal. I definitely have to test my love songs on my wife, because if she doesn't OK them, there's no way I could play that love song with a clear conscience.
There's a song on this record called "Won't Give Up" that I wrote on behalf of my brother. My brother plays drums, so there's no mic in front of him, so he doesn't get to tell his story. I took the liberty to write his story in a song, and that was a very nerve-wracking thing. I probably had the song written for two years before I ever played it for him, because I just felt like this was a song I needed to write and I didn't know if this song was just meant for the four walls in my house.
I played it for my wife and I played it for Scott Mills (the other guy in our band), and they felt like, when the time was right, it would be necessary for Will to hear it. The time that was right happened to be when we were recording the record in the pre-production. I played that song, and my brother said it needed to be on the record. So that was the check mark I needed. Since then, we've been able to play that song live occasionally when it's right. It's a powerful song that means a lot to all three of us.
Q: You're in a band that's blowing up right now, and it seems like it would be easy to lose yourself in the process at the expense of those quiet and powerful moments. Have you felt that?
A: We have to remind ourselves constantly why we do this. It isn't to sell records. We want to support our families, we want to support ourselves—but it's to move people. I mean, I wasn't there when music was created, but it definitely wasn't created then to sell records, it was created to inspire and move people.
We have three and a half minutes in a song to inspire someone, to move someone, to make someone feel something more than they would if they were driving down the road in silence. And not to say that silence doesn't play its part, because if silence didn't exist than music wouldn't need anything. I think we try to remind ourselves there's a weight to the time we have with an audience, and there's weight to the time we have with listeners, whether we're in front of them or they're on the other side of the radio. We want to make the most of that, because you never know if this career is going to last two years or 20 years, and so living in the moment is a very important piece to the equation.
Q: You grew up in a musical family, which probably gave you a lot of different ideas about what having your own band would look like. How has it turned out to be different than you expected?
A: My dad plays Christian music, he plays in churches, in places where he felt very called to play. I wasn't sure exactly how he would take it when we decided that that's not exactly where we're going to be playing music. We tried playing at churches a lot, and for some reason it wasn't working. That was just not where we felt like we were supposed to be at the time. That's what I feel like at this point a band needs, to feel inspired when they're playing to people, whether it's 10 people or 100 people.
My family is our biggest fan of what we're doing, they've agreed with every decision we've made, and we couldn't ask for anything more than that.
I know this path is going to shift and change. It's going to continue to mold itself as we figure things out. We're going to make mistakes. There's going to be things we learn from, but that's one of the beautiful things about life: You make a mistake, you course correct and you learn from it—and somehow something beautiful comes from those gnarly things that can happen. We've enjoyed our plans not working so far, so we're just going to leave it up and figure it out as we go.