Don't Get Sidetracked by the White Jesus Statue Debate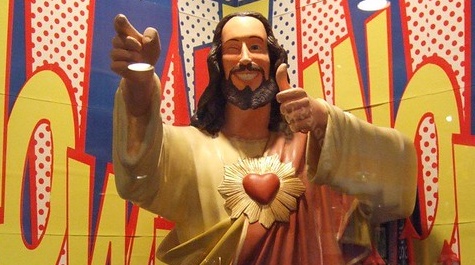 https://twitter.com/shaunking/status/1275106946916499456?ref_src=twsrc%5Etfw%7Ctwcamp%5Etweetembed%7Ctwterm%5E1275113067555303424%7Ctwgr%5E&ref_url=https%3A%2F%2Fwww.theroot.com%2Fajax%2Finset%2Fiframe%3Fid%3Dtwitter-1275113067555303424autosize%3D1
On Tuesday, social media got into one of its little tussles regarding a hot topic that was both at the center of a few different ongoing American debates and yet, somehow, not really connected at all. It involved statues of Jesus which were, according to at least some pundits, in danger of being pulled down by protestors currently calling for the removal of confederate and slaveowner statues across the country. The idea is that some of these protests have started down a slippery slope that can only end with tearing down statues of Jesus. This has led to a confounding dust-up that has muddied the waters of an actual, urgent conversation.
It all started with conservative pundit and CPAC figure Matt Schlapp, who took to Twitter to ominously predict that "Statues of Jesus are next."
Statues of Jesus are next. It won't end. Pray for the USA

— Matt Schlapp (@mschlapp) June 22, 2020
Now, on the face of it, this is absurd. The current conversation in the U.S. is about Confederate memorials and statues that honor slaveowners. The argument for removing such monuments is clear, obvious and fairly straightforward. These monuments are part of a painful, ugly legacy of oppression, injustice and treason. There's no reason they should be given a place of honor in the country when there are far better ways to preserve a more accurate picture of history. Jesus was not a confederate soldier and did not own slaves. Why even bring him into this?
Schlapp's dubious prediction probably would have gone unnoticed except for one person: Shaun King. King is a writer and activist who's been a public supporter of Black Lives Matter. He took Schlapp's bait and said that yes, actually, the statues of Jesus should be on the list. "Yes, I think the statues of the white European they claim is Jesus should also come down," he tweeted. "They are a form of white supremacy. Always have been."
King's tweet caused a predictable stir, with numerous pundits tweeting some fearmongering version of "told you so!", even as nobody was rushing to join King.
It's fair to say that depictions of Jesus as a white man have indeed been used as a tool of colonialism and white supremacy, conflating Christianity and whiteness in a way that's done a great deal of harm to the Gospel. Historically, thousands of cultures from Japan to Zimbabwe to indigenous groups in America have depicted Jesus in their own culture as a way to make the story more real and personal to their time and place. What separates the depictions of a European Jesus is how often he was deployed as a weapon of conquest — a way to subdue people of other cultures and races spiritually as well as physically. It's a problem that the Church has never truly reckoned with.
But, importantly, that's a conversation distinct from the confederate monument debate. "White Jesus" is another symptom of white supremacy — a hateful ideology that can't help but see the world through its own lens and has a hard time accepting the fact that Jesus did not look like a California surfer in a white robe. Does the Church need to do a better job of separating Jesus from the myth of whiteness? Absolutely. Might that mean finding a new context for certain troubling depictions that swap the real Jesus for a harmful fairy tale? Possibly. Does that have anything to do with the people in the streets demanding justice for Black lives? Not really.
As the Root's Michael Harriot says "While I cannot speak for Black America any more than Shaun King, I would humbly suggest that Black people are perfectly willing to tolerate images of Jesus that slightly resemble Michael Bolton in return for the small favor of white people not killing us."
There is value to removing symbols of white supremacy, the confederacy and slave-owning from places of honor in America, but the movement here is around Black lives and unjust policing. That's an important conversation, and most of the people trying to bring statues of Jesus into it aren't taking it nearly as seriously they should.