'Everything Sucks!' Represents the Best and Worst of High School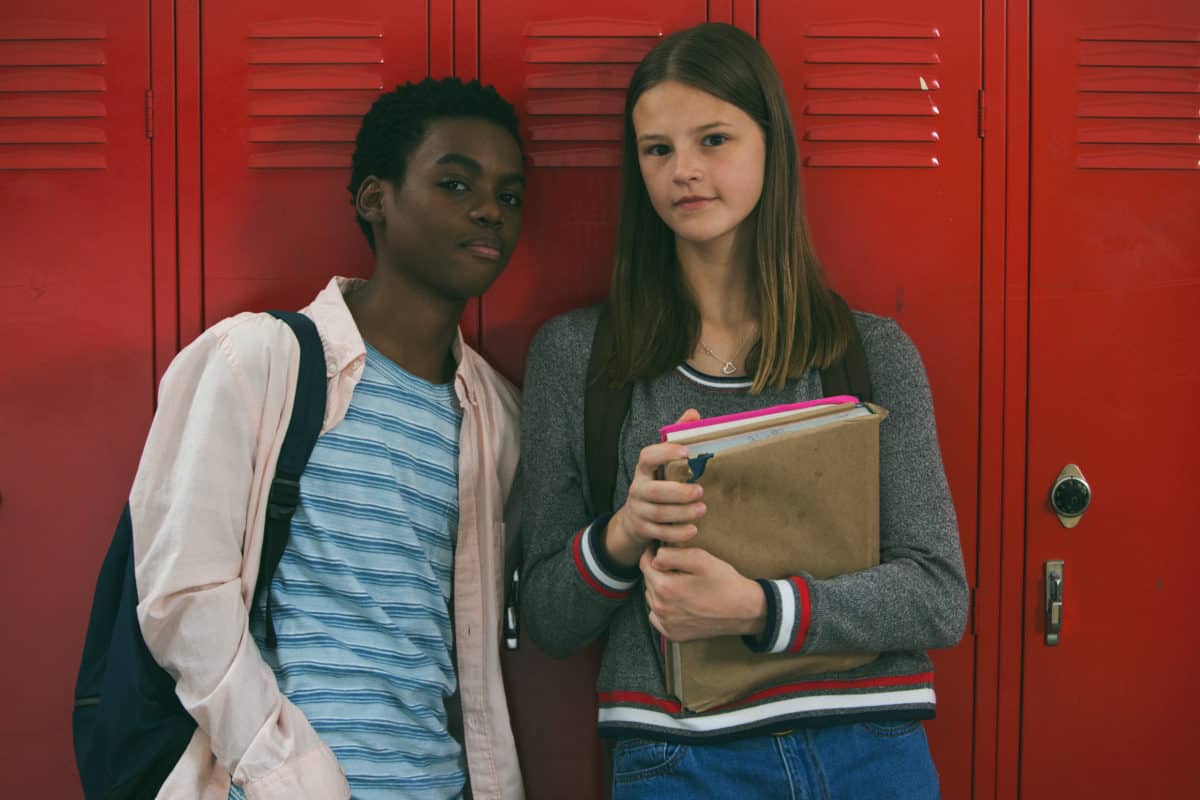 High-school underclassmen have really dumb senses of humor. They laugh at the mention of private body parts and movie quotes. Make no mistake, both of those things are still hilarious in adulthood, but there comes a point where the jokes stop being derivative and start being original. In other words, teenagers eventually grow into their own identities, and Everything Sucks! does exactly that over the course of its 10 episodes.
Everything Sucks!, in case the tidal wave of references in the promotional material doesn't tip you off, is a high-school show that takes place in the 90s. The kids drink Frutopia and Surge, they love Oasis and Nirvana, and they're excited for the upcoming Star Wars prequels. For the first few ingratiating episodes, Everything Sucks! is so determined to be "the 90s show" that its references suffocate its characters, and the insufferable try-hard tone might send you back to the Netflix homepage sooner than later. It's rough.
The aggressive 90s-ness covers up some compelling characters in the early episodes. Everything Sucks! attempts the same "slice of life" approach Freaks and Geeks embodied in 1999, but it constrains its perspective to just two students: Luke and Kate, two a/v club members from single-parent households. Luke's the main character, but Kate's the star.
While every other kid is slotted into a teen-movie trope and made to spew period cliches, Kate has dimension, sincerity, and emotion from her very first scene. Peyton Kennedy gives a breakout performance, and graciously elevates every actor placed across from her. She glows, and her radiation is so infectious that the show begins to learn from her easy pathos and become something sweeter, more assured, and more genuine.
Around the fifth or sixth episode, Everything Sucks! finally drops the schtick and goes all in on its characters. It gives a few sidekicks real emotional arcs, and it makes you believe for the first time these kids have full lives when they're not on camera. The Christian-raised Leslie gives a hilarious confession about making out with her camp crush "all summer," foul-mouthed dork Tyler struggles with a reading disability, and punk-rocker Oliver debates dropping out. They're cliches, but they're full-bodied cliches, and they work.
The only true flaw in this show's transformation from try-hard freshman to savvy senior is that while its window into Boring High School (yep, it's really called that) becomes more populated, the frame itself doesn't really grow. We're talking about theater kids and the a/v club here; that's it. No jocks, burnouts, or student government butt kissers. It means the school never quite feels like a real place, and that means the consequences of the character's choices (a spilled secret, an embarrassing moment, a nasty rumor) don't go very far. That's not what high school is like. If you mess up in high school, everyone knows about it, and everyone makes you pay for it.
The best thing that can be said about Everything Sucks!, however, is that it does understand one fundamental aspect of teenage life: As much as it's about finding who you are, it's equally about sharing that found identity with the world. A key character in this show struggles not with the changes they feel in themselves and the way they see others, but with revealing that change to their friends and family. It's really, really wise, and the show's best moments come at those critical junctures where the character has to make a decision to present themselves as they really are, or keep it hidden.
In that way, the arc of Everything Sucks! as a show unintentionally reflects the arc of self-discovery and revelation we all experience. Most people start high school thinking they have to be one thing, and they end high school knowing they are another thing. Everything Sucks! thought it was going to be the 90s show, the temporal sweet spot between Stranger Things and Freaks and Geeks, but it ended up becoming its true self: a sensitive, focused teen drama.
But also like life, the next step for this show is to continue finding comfort in that new identity. Everything Sucks! leaves no doubt there are ambitions for season two, and the success of that season will hinge on whether it leans harder into its natural inclinations or regresses into those fake-feeling and exasperating early-episode antics.
Because unlike self-discovery, self-honesty is a process that takes your whole life. The world doesn't stop putting you in positions where you have to decide to conform, adapt, or stay the course, and navigating all that perception, reputation, and truth is a continuous challenge. But, there's encouragement here, because as Everything Sucks! teaches us, that endless formation is how we realize the best version of ourselves. Everything might suck now, but there's a path forward, and that—as the show would put it—is pretty copacetic.
Tyler Daswick
Tyler Daswick is a senior writer at Relevant. Follow him on Twitter @tylerdaswick.