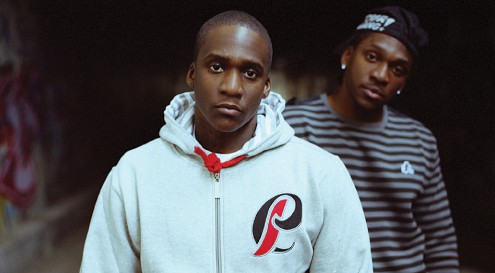 Hip-hop duo The Clipse has long been known for telling some of the toughest, grittiest tales in rap. Most of their songs are about selling cocaine, threatening and, um, "harming" people who hamper their ability to sell cocaine and spend money. So it's not just a little surprising to hear that Malice, the older brother half of the group, has revealed a newfound faith in Jesus. We recently spoke with him to hear his perspective on his faith, regrets, the "rappers-find-Jesus" phenomenon and where he'll go from here.
HOW WOULD YOU DESCRIBE YOUR FAITH?
I would describe my faith as a believer and lover of Jesus Christ. I can't dress it up any other kind of way. I believe in Jesus and I believe He died for me, and if I was the only one on this Earth that He would have done it just for me. So, that's where I stand.
Q: DO YOU REGRET YOUR PAST RAPS OR ACTIONS?
Well, I believe God's plan is perfect. And even when we do things that make no sense, when you do all wrong or whatever, if you believe, [there] will definitely be some good to come out of it because He's going to have His way. So, as far as regretting things, I try not to harbor any guilt or condemnation, but I would love to think that if I could do it all over again, I would definitely not go the route I went. And even if it's not so much for myself, because honestly I've been blessed, but I've seen people fall all around me. I've seen friends and people that I knew die and go to jail. It very well could have been me.
WHAT ABOUT THE PEOPLE WHO THINK, "OH, THIS IS JUST ANOTHER RAPPER WHO'S TRYING TO REVIVE HIS CAREER BY CLAIMING TO BE CHRISTIAN"?
I don't feel I have to prove anything to anyone. And whatever people think, that's their right. You know how the world is—it's just going to keep on thinking and it's going to keep on criticizing and it's going to chew you up and find the flaw in it. And that's cool. I think I'm even guilty of it. I'm not trying to play that game with anybody. And maybe, it could be 10-20 years later and some people still won't be convinced, so that's really not my focus. But I will say I am a believer in Jesus, and I know without Him, I am absolutely nothing and not worth anything. I make no bones about it, and I'm not trying to play a role. I'm taking it day by day and doing the best I can.
WHERE DO YOU GO FROM HERE?
I still plan on making music. Of course it's going to be different. But it's still going to be real and true to me. And The Clipse still plan on making music. I heard somebody say, "He quit rapping" or, "He's doing gospel music now" or whatever. And the thing about that is, I don't think I would. I respect any vehicle that worships the Lord. I don't think my platform would be gospel music. But I enjoy it. I listen to it. But I'm a rapper who is Christian. I don't know if that means the same as "Christian rap" or whatever. I think I would do a disservice switching my platform. I think I'm going to reach those who identify with me and know where I come from and can relate to me. I'm not going to try and play somebody else's position. I think everybody plays their part and, especially when it comes to glorifying God, whatever arena you're in and whatever you excel at and whatever He's blessed you with, you know, you've gotta use those tools. And that's just what I plan to do.