Here's What You Need to Know About the Green New Deal, the Latest Proposal to Save the World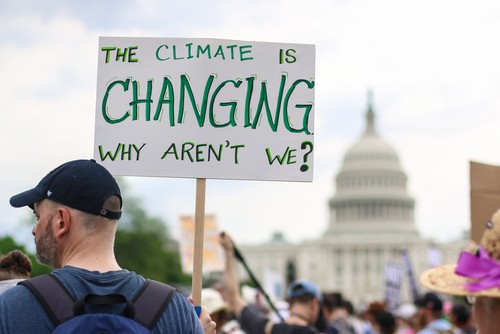 Look, the climate is not in great shape. This isn't a big revelation. The glaciers are falling apart. The bees are dying. Something bad is definitely going down in the rainforests. The clock is ticking on climate change and several decades of apathy haven't exactly helped, but today, a few members of Congress are introducing a bold plan called the Green New Deal in an attempt to slam the breaks on the United States' contribution to climate change. Here are the details.
The massive policy package would enact sweeping changes that would almost entirely restructure the U.S. economy. The Green New Deal is, to put it mildly, a bold plan. Although freshman Congresswoman Rep. Alexandria Ocasio-Cortez says it's not quite bold enough. "Even the solutions that we have considered big and bold are nowhere near the scale of the actual problem that climate change presents to us," she told NPR. "It could be part of a larger solution, but no one has actually scoped out what that larger solution would entail. And so that's really what we're trying to accomplish with the Green New Deal."
Ocasio-Cortez has gained an enormous amount of attention as the face of the proposal, but the ideas of the Green New Deal predate her by almost two decades, and have been proposed in places like the San Francisco Chronicle and the New York Times. A version of these ideas was even included in President Barack Obama's 2009 stimulus. The policy changes picked up steam in recent years as concerns about climate change became more mainstream.
The Green New Deal would have large ramifications for everything from energy generation to transportation. It also aims to supplement its changes by creating jobs in innovative sectors for minorities and low-income groups who may be disproportionately affected by the proposed changes.
The bill calls for "meeting 100 percent of the power demand in the United States through clean, renewable, and zero-emission energy sources." In other words, the Green New Deal would aim to completely eliminate the United States' carbon footprint within the next 10 years. That's an extremely ambitious goal even by the standards of climate scientists. NPR spoke with Jesse Jenkins, a postdoctoral environmental fellow at Harvard's Kennedy School, who agreed the United States needs to go carbon-neutral but said 2050 would be a more feasible target than 2030. Even that, Jenkins said, would be an "enormous challenge."
Among the Green New Deal's other goals are things like "upgrading all existing buildings" to make sure they're as energy efficient as possible; eliminating "pollution and greenhouse gas emissions… as much as is technologically feasible" on American farms; expanding electric car manufacturing and building a high-speed rail to reduce or even eliminate the necessity of air travel; and a job guarantee "with a family-sustaining wage, adequate family and medical leave, paid vacations and retirement security."
Now, this is a non-binding resolution, so even if Congress passes the Green New Deal, nothing would necessarily happen besides a broad affirmation of the general aims. Its advocates agree, however, that even the bill's odds of passing are on par with a snowball's chance in our planet's rapidly expanding deserts.
For starters, the Green New Deal is sponsored by some of the House's most progressive members, which is sure to set off some partisan infighting. Even Republicans who have expressed concern about climate change, like Florida Representative Francis Rooney, aren't feeling the Green New Deal. More moderate Democrats like Speaker Nancy Pelosi have expressed skepticism as well ("the green dream or whatever they call it," she told Politico). The gains Democrats earned in Congress in November's midterm elections were largely carried by centrists who will most likely be nervous about backing policies as bold as those proposed in the Green New Deal.
The bill's supporters say big problems require big solutions. The thinking goes if the United States had taken climate change seriously back when it was first theorized as a looming problem (an eerily prescient New York Times piece foresaw the ugly consequences of fossil fuels way back in 1956), more incremental changes could have been tolerated. But several decades of inaction mean the proposed solutions have to be bold ones. It's the difference between tapping the breaks when you're 100 yards from a cliff and slamming on them when you're 25 yards away.
So, yeah, the Green New Deal will almost certainly go nowhere. But the bill's supporters hope that by proposing impossibly ambitious policies, future measures might be willing to meet them halfway. If your goal is to be responsible with the planet, you might as well dream big while staying in line with the commands given to us by God in the Bible. That's a line of biblically sound logic Ocasio-Cortez is pretty familiar with.
You shouldn't need a Bible to tell you to protect our planet, but it does anyway.

(h/t to @RELEVANT mag for source excerpts that I adapted for the previous tweet)

— Alexandria Ocasio-Cortez (@AOC) January 23, 2019