Heroes at NBC Have Swooped in and Saved 'Brooklyn Nine-Nine' for a Sixth Season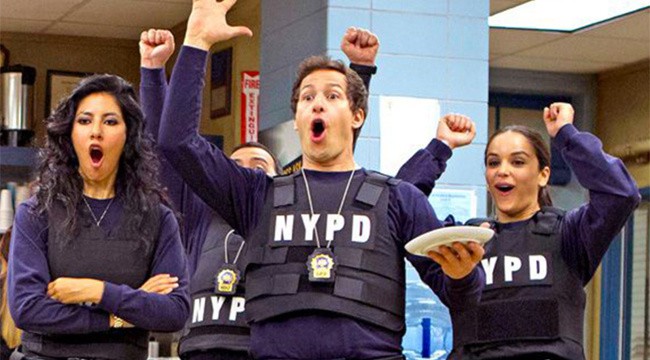 Last week, FOX had Brooklyn Nine Nine turn in its badge and gun, canceling it after five seasons of exceptional sitcom television. The internet mourned, and now, NBC has come to the rescue, picking up the beloved comedy for a 13-episode sixth season.
Hulu was apparently also in talks to pick up Brooklyn Nine-Nine, but they passed like a bunch of cowards.
"Ever since we sold this show to Fox I've regretted letting it get away, and it's high time it came back to its rightful home," NBC Entertainment chairman Robert Greenblatt told Variety. "Mike Schur, Dan Goor and Andy Samberg grew up on NBC and we're all thrilled that one of the smartest, funniest, and best cast comedies in a long time will take its place in our comedy line-up. I speak for everyone at NBC, here's to the Nine-Nine!"
NBC's 2018-19 season is now a bit more stacked than usual, with Nine-Nine coming alongside The Good Place (also from executive producer and co-creator Mike Schur) and new comedy Abby's, about a bar in San Francisco.
Sometimes, the guys up top do something good for once. Here's to the little guy, and here's to the Nine Nine.