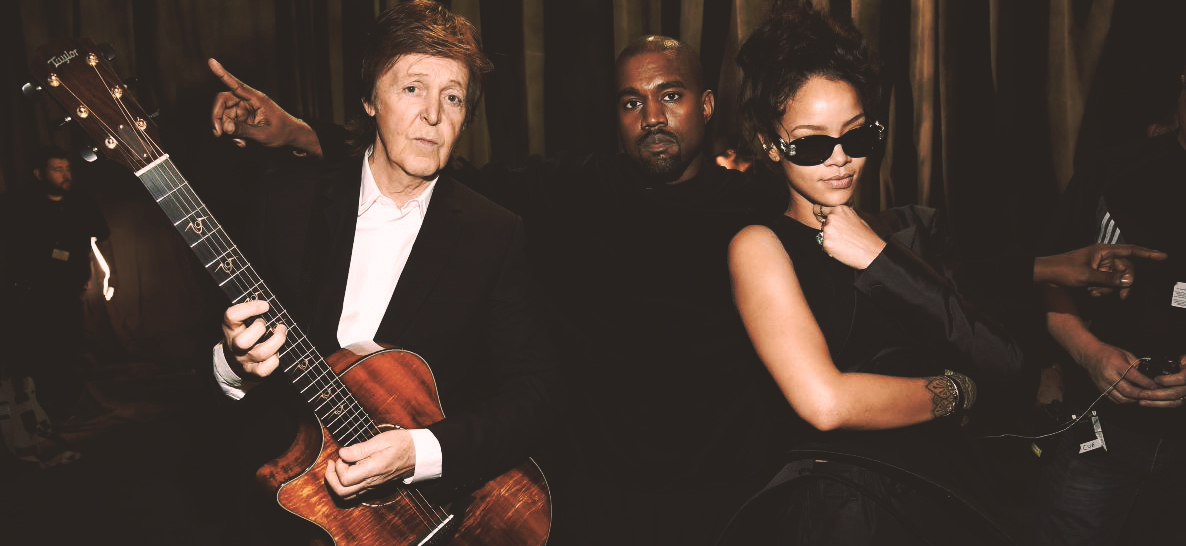 Next time someone tells you about how all this new media is killing our attention spans, remind them that the Grammy Awards broadcast was almost four hours long.
Of course, just because something is long doesn't necessarily make it good, and the Grammy Awards are a textbook example of that. Sunday night's broadcast was a bit of a slog even by award show standards, with many of the performers opting for slower, more somber songs (kind of like how this year's Super Bowl commercials kept things pretty mellow. Is everyone OK? Is the entertainment industry going through something right now?).
Here is our breakdown of the night's highs, lows and one moment that doesn't quite fit into either category.
The Highs
Ed Sheeran, John Mayer and Electric Light Orchestra: "Mr. Blue Sky" and "Evil Woman"
Neither Sheeran, Mayer nor ELO are particularly reliable when it comes to consistently delivering the goods live, but their team-up made for some kind of crazy alchemy at the Grammys. When he feels like it, Mayer is one of his generation's better guitar players.
Hozier and Annie Lennox: "I Put a Spell on You"
Absolutely the performance of the night. Hozier's "Take Me to Church" was pretty dutiful and middle-of-the-road until he brought Lennox out and the whole thing went into a different stratosphere of soul. And then Lennox dropped right into a hypnotic, hair-raising rendition of "I Put a Spell On You." It was a great, powerful, gonzo moment in an evening in dire need of one.
Kanye West, Rihanna and Paul McCartney: "FourFiveSeconds"
This trio makes up three of the dozen-or-so most famous people in the world, so it's to their credit that they kept their performance of "FourFiveSeconds" simple and low-key. Rihanna really doesn't need many stage tricks—man has yet to invent a pyrotechnic light show as electrifying as her stage presence.
Sia and Kristen Wiig: "Chandelier"
At this point, just about everyone has tried to do that "Chandelier" dance alone in their room. Kristen Wiig actually makes it look pretty good.
Prince
A few artists tried to weigh in on the New York City and Ferguson protests last night, but Prince—who only had one award presentation speech to work with—trumped them all with his simple "Albums, like books and black lives, still matter." And he did it while
looking like a Fruit Roll-Up. Beyoncé, John Legend and Common: "Take My Hand, Precious Lord" and "Glory"
These two songs were almost a medley, with Beyoncé closing out her rendition of Rev. Thomas A. Dorsey's famous hymn by handing the stage over to John Legend and Common for their Selma anthem. It ended things on a high, beautiful note.
The Lows
Jessie J and Tom Jones: "You've Lost That Loving Feeling"
Giving a classic like "You've Lost That Loving Feeling" to Jessie J is a little like asking Danielle Steel to help Melville rewrite Moby Dick.
Adam Levine and Gwen Stefani: "My Heart Is Open"
Here's a little trivia for you: "My Heart Is Open" is actually a Maroon 5 single that came out this year. Yeah, we had to look that one up too. Levine and Stefani are both gifted performers, so why were they saddled with a mediocre, utterly forgettable ballad? Did someone else cancel last minute?
Madonna
Nobody, least of all Madonna, seemed all that into her matador-themed show.
The Grammys In General
Complaining about award shows is almost perfunctory at this point, so we'll keep this short but, seriously, what on earth? It is an incredible time to be alive and listening to music. Right now, a teenager in upstate Michigan has access to almost the same tools for musical expression as Rick Rubin does in his Brooklyn studio. Popular music is filled with terrific, dynamic performers saying important things. The likes of Kendrick Lamar, Lecrae, Drake, Adele, Hillsong United, Jack White, Kacey Musgraves and The xx are all major artists with huge followings capable of putting on incredible shows. Taylor Swift, Haim and Charli XCX were actually there in the Grammy audience, for crying out loud. St. Vincent won a Grammy, and currently has more rock and roll energy in a lock of her hair than AC/DC has left in its entire lineup. Lecrae, also a Grammy winner, could have delivered a razzle dazzle hip-hop performance, if anyone in the Grammys had the sense to ask him.
The Grammys are forever trumpeting how grand and meaningful they are (the phrase "the biggest night in music" is feeling more desperate all the time), but they seem completely out of touch with today's musical landscape. To quote another major performer who has had a famously stormy relationship with the Grammys during his career, "There's something happening here, but you don't know what it is, do you, Mr. Jones?"
The In-Betweens
Kanye West: One of the few people committed to giving people something to talk about during the Grammys was Kanye West. After Beck won a surprise award for "Album of the Year," Kanye fake-hijacked the stage—threatening to recreate his infamous "I'm gonna let you finish" moment with Taylor Swift. It got a laugh out of the audience but, as we found out later on the red carpet, it was not a joke. Kanye was genuinely upset over Beyoncé's snub, and he wasn't shy about it.
Beck needs to respect artistry and he should have given his award to Beyoncé, and at this point, we tired of it. Because what happens is, when you keep on diminishing art and not respecting the craft and smacking people in the face after they deliver monumental feats of music, you're disrespectful to inspiration and we, as musicians, have to inspire people who go to work every day and they listen to that Beyoncé album and they feel like it takes them to another place.
We have discussed, at length, Kanye's seeming inability to say something that matters without being a jerk about it. He is forever tripped up by his own brash bravado, and leans so heavily on the "truth" side of the "speak the truth in love" equation that it's hard to even hear what he's saying through all the ego. None of that makes what he says wrong, per se, although expecting Beck to give back his Grammy might be a little over the top. But Kanye frequently finds himself in a position the Church has regularly found itself in—saddled with something he feels the world should listen to, but unable to say it in a way that makes people want to listen.
It was too gruff and egotistical to count as a high, but it shouldn't be dismissed outright either. Beck's Morning Phase was a good album, but it was not the best album of the year (you know our thoughts on the best album of the year). Of course, it's been an awfully long time since the Grammys handed out awards to people who actually deserve it. Kanye's call for reform probably won't be heeded until someone a little more diplomatic than him starts to say it, but, when that day happens, we'll have a Grammy Awards much more worth everyone's time.