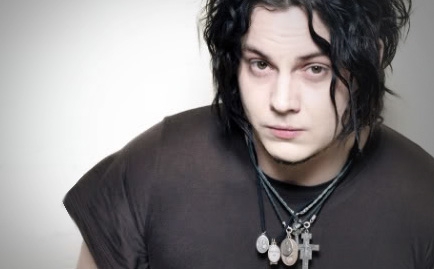 "I think it's boring to be myself," Jack White says.
Well, that's easy to see. Just try to find a person who has already embodied more "roles" in life than Jack White. Guitar icon. Rock innovator. Performer. Producer. And at one time, he even nearly became a priest. Yet, it's his three very successful bands that the 34-year-old multi-instrumentalist is best known for, and somehow he manages to be in each of them simultaneously. Each projects a totally different image: the childlike, primary-colored madness of The White Stripes (whose new live album, Under Great White Northern Lights releases today), the earthy porch-stomping of The Raconteurs, The Dead Weather's stormy Goth-blues.
"In all my songs, I take on roles and play characters. It's a unique way to explore ideas and decisions I might not think or make in real life," White says.
He's not an actor and these roles aren't fake … maybe they aren't even "roles," really. These are people and caricatures White really wants to be—fully and intensely—if only for a time. And, if only for a time, these are the characters he is.
Like Johnny Depp. Like Bob Dylan. Like David Bowie. Like Picasso. Jack White joins a long line of artists who—because of their fame, their intense creativity, their hard work—get to be whoever they want to be. He gets to be all the things he wants to be; and he gets to be all of them at the same time because, frankly, he has a record contract. And his own studio. And his own label.
"I never take it easy," White declares in "I Cut Like a Buffalo," the third single—and what he calls his most personal song ever—off the first album from his third band, The Dead Weather (got that?). A rare glimpse into the mind of the busiest man in rock music? Perhaps, but it remains a mystery how much of the real White we get to see in each slashing of an instrument and in each rashly composed note. He himself might agree.
"It's a really interesting philosophical debate to decide how much of yourself you want to be when you get up in the morning and when you're in front of other people," White says.
A really interesting philosophical debate? Yes. But one that also begs the question: Just how much of the real Jack White is left? Is there even a real Jack White underneath all those characters?
The Philosopher-Priest
White grew up in a sprawling Catholic family, the youngest of 10 children (a psychological study for its own day). Both of his parents worked for the Archdiocese of Michigan, and White, who served as an altar boy in his youth, contemplated the priesthood in his teens. When he found out his guitar amplifiers might not be welcome at a seminary, however, he balked.
"I feel strongly connected to God," White says. "My roots are Catholic by default. I can take elements from Buddhism or other religions and see the similarities and differences in those, and learn from those, but at the end of the day, I don't care as much about man's interpretation of religion. What I care about is what God tells me directly."
He's expressed interest in the writing of Carl Sagan, the American astronomer who frequently wrote about the interplay of religion and science, and this past November, White announced his label would be issuing a version of Sagan's narration of "A Glorious Dawn" on vinyl. He also popped in to a philosophy society meeting at Trinity College in Dublin for a surprise lecture and Q&A about his more reflective pursuits.
White says his interest in philosophy, particularly that of Karl Marx, is driven by his perspective on sociology and his experiences in various communities.
"If I were living in isolation by myself, I wouldn't care as much about other people, but I think there's a communal aspect to why we're all put here together. The prevailing attitude in America today is so 'survival of the fittest.' We're all about being out for ourselves instead of being out for our family. It all comes back to how you look at others and how you look at life on a very direct level."
White might also be one of music's deepest thinkers. Spiritual allusions in his music are prevalent and cryptic, including the New Testament-quoting title of the Stripes' 2005 album, Get Behind Me Satan. Lyrically, they run from the jarringly punitive (If you're testing God, lying to His face, you're gonna catch hell, on "Catch Hell Blues" by The Stripes) to the mysteriously tender (You know why you love at all if you're thinking of the Holy Ghost, on "Dead Leaves and the Dirty Ground").
The Homebody
As tremendous as White's professional involvement is, it's his personal life that often makes headlines. He's perhaps as well-known for his eccentricities as his sparse garage sound.
But for all that, White says it's his wife and children who give his life the most meaning.
"To be with my kids every morning is such a blessing. It makes you start life all over again. It's the best type of fulfillment, to see God in their eyes every moment you spend with them. The way they look at life is so innocent."
For his hectic schedule and all his work in the industry, White finds grounding in his family and their perspective.
"Trying to balance your life is a giant puzzle. My wife and children are always on my mind; it's a whole different lifestyle than when I was living on my own in my 20s. I'm looking at life from my son and daughter's angle, and that reminds me of what's important." He also perseveres by remembering the rich and responsible debt of his craft as a musician.
"As songwriters, we've taken over the creative process from the writers and the poets who lived 100 years ago," he says. "Pop music has responsibilities on its shoulders it doesn't even understand.
"There's a message underlying everything you create. There has to be, or there's no life to it."
This article is excerpted from RELEVANT magazine.