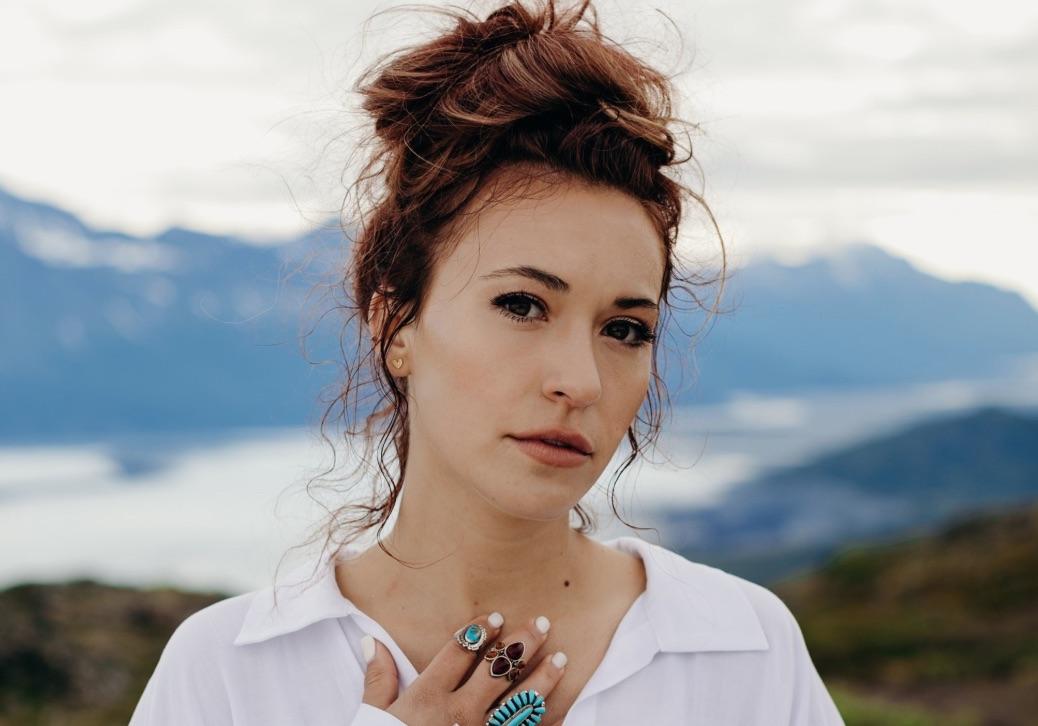 This feature was originally published in issue 96 of RELEVANT Magazine. 
Lauren Daigle couldn't believe she was hiding in the bathroom. She loved being around people. She could —in her words— "make friends with a brick wall," but right then she felt she could barely stand another conversation. What was wrong with her? Nashville was her dream. Three years ago she had been waitressing at Chili's and now her worship album was one of the most acclaimed and successful in the genre. How could she possibly consider leaving it all behind?
"The music thing was going 900 miles per hour," Daigle says. "I reached this place of complete burnout. I knew music was too much of my DNA for me to leave, but I felt I needed to be rescued in that moment. I had lost too much of myself. But I think God met me there. You're never as lost as you think you are."
That rescue mission is at the heart of Daigle's second studio album, Look Up Child. Distinct, soaring and raw, Look Up Child is Daigle's homecoming: to Louisiana, to the music she loves, to a deeper relationship with Jesus. It doesn't sound like other worship albums. It doesn't really sound like a worship album at all. And that could mean giant, momentous things for Daigle.
The album's been featured on Apple Music gatekeeper Zane Lowe's coveted "World Record" playlist, it debuted at No. 3 on the Billboard Top 200 chart, and it has garnered attention from outlets diverse as People and Rolling Stone. This fall, her face graced Spotify's giant digital billboard in Times Square. Look Up Child is perhaps the best worship album of the year, and one of the best albums of the year, period.
Daigle has obvious mainstream appeal. She exudes energy and magnetism, with a speaking voice like a party invitation and a singing voice that takes you somewhere else. She's a southern girl from Louisiana, but she's taken herself far beyond the bayou. She's cosmopolitan and worldly. She swam with sea turtles off the coast of Hawaii. She's been cliff-diving over crocodile-infested waters. She's eaten wildebeest (it tastes like roast beef, she says).
Daigle grew up in Lafayette, Louisiana, and stayed in the South through her early 20s. After she graduated from Louisiana State University in 2014, she went to Nashville to record her debut record, How Can It Be. From the out- set, the record—an impassioned and purposeful worship collection—was acclaimed in a way few debuts are, cleaning up "Song of the Year" awards for its titular single and earning New Artist of the Year honors for Daigle throughout 2015. It was by any definition an arrival, but the record had legs, too. The album sold over 1 million copies.
I was trying to find home in a million different places… God has a way of reminding you who you are.
In a single year, Daigle went from a talented up-and-comer to a complete star. There wasn't just demand for her music; there was demand for her. For a while, that was OK. She can make friends with a brick wall, remember?
"I'm a passionate liver," she says. "People say I'm an extremist, and I'm going to put myself on the frontlines. For me, it's fun."
That's when Daigle's life in Nashville hit 900 miles per hour. She was touring and performing and meeting fans and trying hard to wrap her head around all the change in her life. At the same time, she had a message to deliver in her music and a heart to serve people. Her boundaries collapsed.
"Given the trajectory of all this," she says, speaking on her rise to fame, "you don't have time to comprehend what you've experienced. I was becoming overwhelmed by the things that were meant to bring me joy. Something was off-kilter."
That's when Daigle, one of the best and brightest young voices in music, started hiding in bathrooms. She first told herself she wanted out. Then she told herself she couldn't possibly quit. That's when she says God stepped in.
"I was trying to find home in a million different places, but my heart was right there," she says. "Just because my surroundings changed [in Nashville], didn't mean the core of who I was had to change. God has a way of reminding you who you are. My life felt like an optical illusion. When you're up close you can't determine what it is, but when you step back a little bit, you can see the whole thing right in front of you."
So Lauren Daigle stepped back. She went home to Louisiana. It changed her sound, her performance and her perspective. It somehow made her even better.
Lafayette, Louisiana, lies in the heart of Cajun culture. The air in that part of the country wraps around you. It weighs down the cypress trees and the insects and presses everything toward the ground. Lafayette's prairie-like land is split by canals, and these drift more than they flow toward the Mississippi River and out to the Gulf of Mexico. Downtown, the lights glow from the bar patios and nightclubs, and everything looks ethereal and spirit-touched. You hear music most days, at most times, and the music is free in every sense. It pours out into the street and fills every corner and rises up, thick and hot. It doesn't drown you. You float.
"In Louisiana, you go into any music place, and it's alive," Daigle says. "You sit on the street corner and there's a trombone player playing something funky, and the saxophone leans in and says, 'Oh yeah, let me tell you what I think about that.' Then the drummer says, 'Let me set both of you straight.' There's just this communication and energy. It's so much fun. I missed that."
When Daigle was touring How Can It Be, she realized the difference between writing music for a message and writing for a mode of delivery. How Can It Be carried a message she loved, but as she sang those songs night after night, the delivery became less satisfying. Back home in Lafayette, however, the message of the music and the delivery of that message were unified. Music there was a conversation. It was a two-way street, always.
Tapping back into that dynamic was at the center of Daigle's recovery. She distinguishes recovery and rest. She explains that people need time to recover before they can enter true rest. That's when you experience rejuvenation, and that was the reward of her homecoming. In that place of true rest, she could start making music, and in that place, the music would sound different from anything she had done before.
Daigle and her producers sourced Look Up Child from Cajun soul. They studied artists like Roberta Flack and Lauryn Hill and the late Aretha Franklin. They listened for the conversation inside the music, and they heard it when the artist was alone at a piano or when they fronted a full band. When Daigle talks about it, she sometimes speaks in contradictions.
The music can "steal a moment with simplicity," she says, but at the same time, "I wanted to sweat when I get off-stage." Soul music asks: Why not both? Daigle and her producers chose to record with an orchestra.
"I wanted the instruments to lead the way on [Look Up Child]," she says. "We wanted to make it timeless, so in 20 years people could say it's relevant, and it could've been relevant 20 years ago, too. It had to have height and width and expansion and vulnerability. It's not that we set out to run away from How Can It Be, but it's just the place I was in. You learn from your art."
While Daigle and her team adapted the delivery, the lyrics and message that resonated so well on her debut had to be preserved, but evolved in kind with the sound. Daigle recorded all of her vocals with just a piano instead of an over-the-top demo. Then she and her team added the orchestral instrumentation over the top so it supplemented the song.
"We wanted to keep it like a prayer," she says. "What would I be saying to God if I was just sitting in my room? We had to make sure the lyrical depth was potent, because to me, songwriting is giving people a prayer to sing, words in their mouth that were there, but they didn't know how to access. You enter the song with one color in the kaleidoscope, but it's not until the song is out of your mouth that you see the whole scope."
Daigle wrote Look Up Child like a diary. It's personal and intimate and anecdotal, but like that soul singer at the piano, it's also encompassing and enormous and sweeping. Daigle wrote about her time in Nashville—often wrote to her past self in Nashville—and about her return to Louisiana and her journey back toward the core of her identity. In that way, Look Up Child can serve as both the prayer you didn't know how to say and the prayer Daigle has been trying to say for the past three years.
songwriting is giving people a prayer to sing, words in their mouth that were there, but they didn't know how to access.
Six months passed between Daigle's departure from Nashville and the beginning of Look Up Child. In that time, she stepped away from work entirely. She wrote a list of 26 things she wanted to do before she turned 27 and started crossing things off, tapping back into her inner adrenaline junkie. She went skydiving and rode in hot air balloons and started working on her scuba certification. She went deep-sea fishing and saw hammerhead sharks.
"I just went to live life, move back home and get out of the industry space," she says. "When I came back [to the music], it was a pure, honest, authentic expression. The songs write themselves first, but the songs start to write you after a while. Once the song is out there, it hits even more profoundly than when I was writing it."
And now that she's back inside the industry, with reviews and award nominations landing around her and a nationwide tour in full swing, Daigle's made some changes. She takes breaks now. She flexes her schedule. After a meeting with her producers or an interview with press or a meet-and-greet with fans, she takes at least 10 minutes for herself. She isn't hiding in bathrooms anymore.
"The going definitely had to stop," she says. "This is all a constant, evolving process, it's an ebb and flow with sustaining yourself. Things move at maximum speed, but you have to choose to be intentional and learn from each moment. Even in the moments when you feel lack, even in the moments when I've completely handed myself over to this machine, I'm never too far gone. God is the anchor."
That's why for Lauren Daigle, Look Up Child will in its way be timeless. It's as much hers as it is ours, and as she goes from inevitably famous to obviously famous, it will be there as a reminder of that anchor. As she leaves home again, she has a part of home with her, a totem so distinct and local and pure that it can be transportive. Its delivery is of a place and of a time, but its message isn't.
Turn the album on. It might be a homecoming for yourself.