'Annabelle Comes Home' Director Gary Dauberman on How His Movie Explores Christianity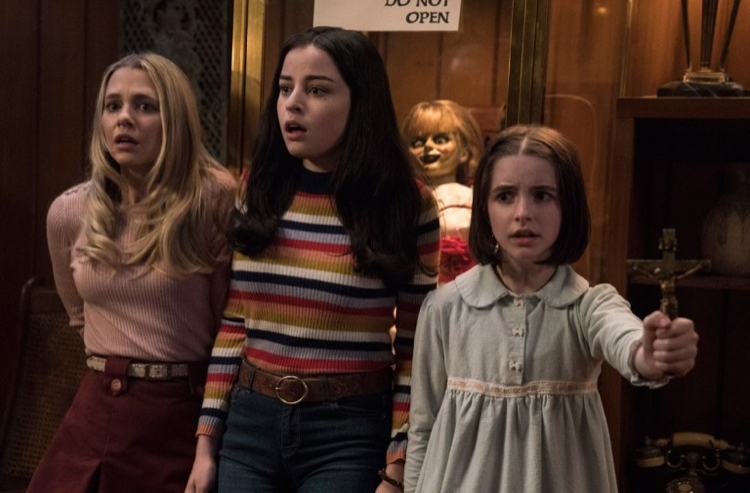 This week, Annabelle Comes Home takes the Conjuring franchise to a new level and a new generation, as the intrepid investigators of the paranormal, Ed and Lorraine Warren, bring their daughter Judy into the business of spooks, ghouls and, in this case, a malevolent doll.
The Warrens are once again played by Patrick Wilson and Vera Farmiga, while newcomer McKenna Grace plays Judy (you last saw Grace as young Carol Danvers in Captain Marvel). They're based on a real family, and once again, it's their devotion that grounds this franchise, no matter how otherworldly the frights themselves get.
Gary Dauberman, who handled writing duties for most of the other entries in Conjuring's Annabelle spinoffs and the latest It movies, is in the director's chair this time.
He's vocal about his own faith and explained to RELEVANT why he thinks Christians have taken to the Conjuring movies, how the Warrens' faith is portrayed in Annabelle Comes Home and how horror helps "reveal the good."
The Warrens are the beating heart of the franchise. Obviously, Judy takes a little more of a major focus in this one but are there any other new dynamics that you got to explore in this movie between them as a family in particular?
Yes, and that was something that excited me. When we first meet them in the movie, they're finishing up a case, the one that we saw in the first Conjuring. I wanted to really just see what they were like as on the drive back, you know? What's the conversation as a married couple they're having, and what's it like for them to be just parents?
There's a moment in the movie where Lorraine says "Hey, Judy, can you grab the cereal dish before you — oh, forget it. I'll get it." It's such a mom thing to do and to see Lorraine Warren just be a mother, it felt like we hadn't quite seen that before. I liked peeking behind the curtain which I thought was a cool dynamic we hadn't yet seen.
Based on your understanding of the Warren family dynamic and your conversations with the actual family members, how much did this thing take over their lives? Were they a normal family or did their entire existence revolve around stuff that goes bump in the night?
They tried hard to give a normal life for Judy but, that said, I think they were self-aware enough to know what they did was not normal. But then, what is a normal life? I know they just knew what their life was, and I know they tried to provide stability for Judy while still having the experiences they were having out on the road.
Even when things get really bonkers in these movies, I can still see a little bit of my own marriage in their relationship.
Oh, I think it's a huge part of the appeal. It really resonates with me personally as a parent and as a husband.
There's so much out there in the world of relationships disintegrating or relationships on the precipice, but the Warrens have a strong foundation as husband and wife and as mom and dad. That never the thing that's in jeopardy. Maybe their lives are in jeopardy, but the relationships themselves aren't. I find that refreshing when compared to a lot of other things out there. Their drama happens externally with the investigations but internally there really isn't any. They are a loving, supportive couple and a loving and supportive mom and dad which you know I really admire.
There's been a divide that's perceived between the entire genre of horror and what we'll call American Christianity, but I know that the Warrens themselves had a robust faith life. Is that something that's explored in this movie?
Yeah. I think it's something that's explored in all the Conjuring movies, which is why I think it connects to the faith-based audience: the belief in the good beyond ourselves and the good within ourselves is the thing that ultimately vanquishes the evil.
The thing I always like to think about is that there is evil out there, so must there be good. I think these Conjuring movies enforce not just the evil, but they also reinforce the good and how the good can come from within us and within the people we surround ourselves with.
That's something that's interesting about these movies for people who are raised in the Christian tradition. Whether or not they continue to believe in demonic forces in their adult life, they're certainly raised around the idea that this is a very real power. It can make it a lot more frightening than just, say, a monster movie.
Absolutely! I think that's also what helps ground it as well.
You know, the Warrens really did go out there and investigate these things and these were some biblical evils. I think that's what helps amplify the fear. I don't think a little bit of fear is a bad thing either. I think it just helps us figure out what the good is.
At the end of the day, when the credits roll on this movie, when people walk out of the theatre, what do you hope the movie leaves them thinking about or contemplating? What is the general mood or theme that you hope you leave them with?
One of the things I like about horror is that collective experience, that communal experience of everybody getting in the same room and experiencing the same fears, the same terrors, the same laughs, the same humor.
That's what I would love for people to experience with this movie: that sense of remembering that they had this collective experience. We live in a world where it's so singular; we're watching something on our phone that no one else can see or watching things by ourselves. I wanted to give people a sense of adventure with this movie. Like a ride where the audience's gasps and laughs become almost a part of the story in a way. That's something I really hope to achieve with this.
Tyler Huckabee
Tyler Huckabee is RELEVANT's senior editor. He lives in Nashville with his wife, dog and Twitter account.