How 'Children of Men' Hid a Hopeful Message Inside Its Apocalyptic Background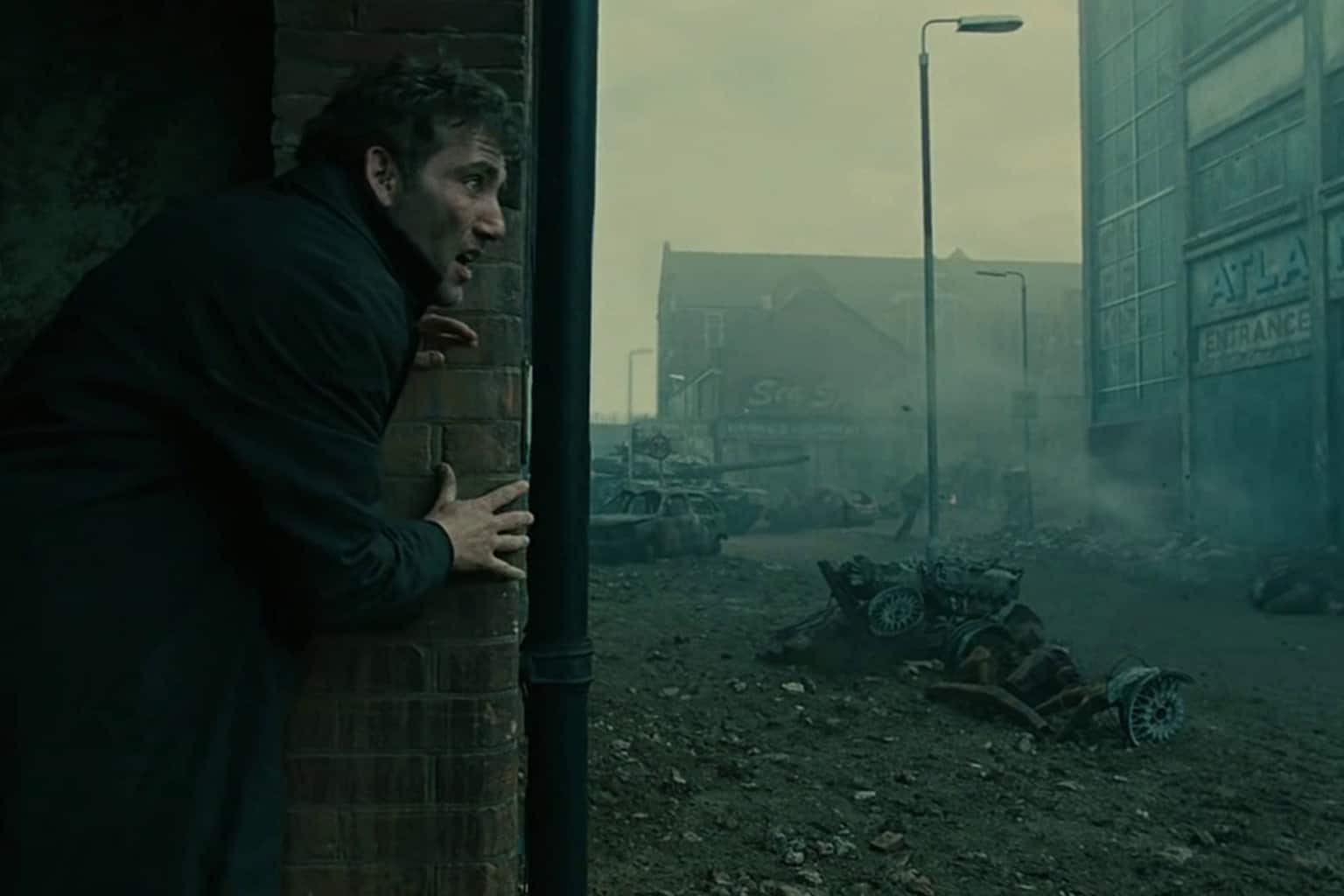 In Unpacking the Apocalypse, RELEVANT contributor Mary McCampbell explores the end-times of pop-culture for truth, meaning and insight into the human experience.
---
Alfonso Caurón's 2006 film Children of Men shows a dystopian London that, in some ways, looks like today. We see vulnerable, caged refugees trying to regain their humanity.  We see the residents behave more and more like animals. We see non-stop chaos. But this is all part of the background that Children of Men's protagonist, Theo Faron, must navigate in order to protect hope and life in the late capitalist wasteland.
In his commentary on Children of Men, philosopher Slavoj Žižek claims: "The true focus on the film is there in the background." This background is grey, dirty and full of desperate people. Like so many apocalyptic narratives, we see the attempts to bring heaven on earth via technology have failed. This future is primal; wild animals run freely in "civilized" London and the city's residents trade their humanity for the most basic survival strategies. Yet in this same sordid background, grace and hope are hidden and will be revealed.
The familiarity of Children of Men is harrowing, but this makes its glimmer of hope even more profound. This film is a parable for our divisive American landscape. Although we do not walk through burnt out, body-filled streets, we encounter chaos and dissonance almost every time we turn on the news or go online. Our social and political selves are fractured and fragmented, and it can be hard to be hopeful in the midst of this backdrop. Even if the horrors we see are not our individual experiences, we are aware of the refugee children in cages, the people of color being "policed" in inhumane ways and the fear of "the other" infiltrating our collective cultural mindset.
Zizek explains the background of Children of Men must stay as the background to impact the viewer: "If you look at the thing too directly, the oppressive social dimension, you don't see it," he says. Perhaps we can't see injustice and oppression in the foreground because they become normalized. When we see shocking images in our Facebook feed, how quickly do we become used to it?
Catholic author Flannery O'Connor shares a similar sentiment. In one of her essays on Christian art, she explains a Christian artist will find "distortions which are repugnant to him" but that "his problem will be to make these appear as distortions to an audience which is used to seeing them as natural."
O'Connor is aware her readers are often immune to patterns of sin, injustice, spiritual ugliness. In her writing, she uses violence and shock to help us see the distortions. Although not a professing Christian, Children of Men director Alfonso Cuarón understands he needs to also disorient his audience in order to capture their attention. He does this by saturating the film's backdrop with reminders of oppression.
Cuarón plays with our expectations from the very beginning of the film. As it opens, we hear a news report but only see a black screen. Once the picture appears, we see Londoners fixated on a broadcast about 17-year-old "Baby Diego," the youngest human on earth, dying unexpectedly. As we see images of the world mourning, we learn Diego's life was sacred because of an infertility plague that has signaled the end of human civilization.
When we first meet Theo Faron—whose name alludes to the Greek phrase "to bear" or "to bring out God"—he leaves a coffee shop before it explodes, just seconds later, in the background. For Theo, it seems like a routine occurrence. His chief mission in the film is to help smuggle a young pregnant woman, Kee, to safety. It's significant Kee's safe passage is in the hands of Theo, who will "bring out God" as the protector and enabler of the miracle birth. Kee herself is from the background. She's a pregnant "fugee," an outcast, and Theo must help bring that which is hidden—her secret child—to the foreground.
Zizek argues Children of Men is not about Theo's character development, but how he "becomes a prism through which you see the background more sharply." In this sense, Theo 's role is more of a conduit than a traditional hero. He plays a prophetic role, announcing and enabling the more important story of this miracle child coming out of the darkness.
We do see Theo's empathy and selflessness grow throughout the film, but this is from the impact of symbolically "fathering" Kee's unborn child. We learn Theo has lost a child himself, so his attachment to Kee and her child is both personal and missional. Theo's presence in the foreground is used not for its own sake, but to grow our empathy for those in the background: the mother, the miracle child, the oppressed that need the hope they provide.
Children of Men was adapted from a novel by Anglican crime author PD James, and although a good deal of the book's Christian imagery has been diluted, we can still see a Christian message of hope in the midst of the movie's despair. The infertility plague in the novel and film is both physical and spiritual. In the brutal movements of the film's characters, we sense a spiritual paralysis that leads to social isolation. Members of society are sectioned off in cages or buses based on class and ethnicity. Almost everyone is out for themselves. Even when Theo and Kee link up with a resistance movement, Theo overhears a resistance leader share dark personal motives for aiding the miracle mother and child. This is a "survival of the fittest" world. Does God exist here? Perhaps he is there, but hidden, in the background.
In the film's climactic moment, Kee has given birth to the miracle child and Theo must smuggle her through a war zone to safety. The violence previously contained to the background comes to the foreground. Blood splatters on the camera as Theo guides Kee and the baby through an abandoned prison. They try to walk silently between the flying bullets, but the child cries and they are discovered. The fighting stops.
As Kee, Theo and the child descend a staircase, soldiers put their weapons down, fall on their knees and cross themselves. The sacredness of life, birth and resurrection are ushered into the foreground. As the "holy family" walk through the war, "Fragments of a Prayer" by composer John Tavener adds to the fullness of the scene.
But it does not last. Within moments, the baby is forgotten. After the group has moved out of sight of the militants, the fighting continues and the holiness of the moment is pushed, both literally and metaphorically, once more into the background.
But that does not mean all is lost. Because the group is forgotten, they can blend in with the background, but their hiddenness does not signal their end. The miracle child is still alive, and the group manages to escape.  They set out in a boat and head toward a ship that will be their salvation, but in the midst of their quiet rejoicing, Kee learns Theo is shot. He has become a sacrifice, but his job has been done. He protected Kee and her child so the hope they represent could enter the foreground.
Children of Men is both harrowing and hopeful. It shows us the transcendent is often hidden in the background, in places deemed unholy. It's a reminder that in the midst of chaos and despair, there is hope for revelation.
Mary McCampbell
Dr. Mary McCampbell is Associate Professor of Humanities at Lee University, where she teaches courses in postmodern theory and fiction, film and philosophy, and cultural studies. She is currently working on a book titled Postmodern Prophetic: The Religious Impulse in Contemporary Fiction.