Are movies back? Depends on who you ask. A Quiet Place 2 cleaned up handily in theaters, while In the Heights has struggled. We're still trying to figure out exactly what it means to go to the movies after a year of Netflix, Hulu, HBO Max, Disney+ and all the rest.
But movies themselves are definitely back, with an enormous collection of great films headed for the theaters this year. Maybe you'll want to see them there, with an audience, just like the old times. Maybe you'd still feel more comfortable watching them from the comfort of your own couch (in many cases, studios are trying to figure out ways to do both with their releases.) But of everything waiting in the wings yet this year, here are the ones we're most excited about.
The Green Knight
The Green Knight was one of the first victims of 2020's COVID theater closure, and remains one of this year's most intriguing films. The adaptation of the ancient poem follows Sir Gawain, one of the King Arthur's knights, on a strange and mysterious quest to fulfill his oath and preserve his honor. While most modern Arthurian movies go for summer blockbuster energy, David Lowery's goes all in on arthouse vibes. Dev Patel will star as Gawain himself, and Erin Kellyman, Alicia Vikander, Sean Harris, Joel Edgerton and Barry Keoghan will round out the rest of the cast. Can't wait.
Eternals
There are three — count 'em, three — new Marvel movies this year that all promise to be pretty entertaining, but we're most interested in Chloe Zhao's effort, which looks like a strict departure from the MCU house style for Zhao's more naturalistic aesthetic. Plus, with a cast that includes Angelina Jolie, Brian Tyree Henry, Salma Hayek, Kumail Nanjiani and Gemma Chan, Eternals is shaping up to be one of the year's more intriguing movies, with or without the Marvel stamp.
Dune
Dune has tripped up no less gifted a filmmaker than David Lynch, so giving the book's adaptation another shot takes real guts. But, hey, Denis Villeneuve has proved to have an excellent head for cerebral scifi in movies like Arrival and Blade Runner 2049. Timothee Chalamet, Zendaya, Oscar Isaac, Josh Brolin, Dave Bautista and Jason Momoa round out a truly stacked cast, but the real star appears to be the stark desert vistas and endless hills of treacherous sand — and the things that lurk beneath. If Dune doesn't work, it'll at least be a gorgeous-looking misfire.
Last Night in Soho
Just what is going on in the trailer for Edgar Wright's Last Night in Soho? Sitting somewhere between a time travel flick and a ghost story, Anya Taylor-Joy appears to be in for one wild ride and possibly not a very happy one. But Wright's movies are well-known for spectacular set design, with movies like Scott Pilgrim VS the World, Baby Driver and Hot Fuzz fully committing to their strange, idiosyncratic worlds.
West Side Story
The second 2021 musical about finding love in New York City is a remake of one of the most iconic American movies of all time. That's not always a recipe for success, but this one comes from Steven Spielberg, one of the most capable directors this country has ever produced. Leonard Bernstein and Stephen Sondheim's classic certainly has the story and the music to be a modern day hit. If anyone can get it over the finish line, it's Spielberg.
No Sudden Move
Steven Soderbergh, the mastermind behind the Oceans trilogy and a huge collection of modern filmmaking miracles, returns with this Don Cheadle vehicle about crime and double crossing in Detroit. Soderbergh has a unique gift for sharp crowd pleasers, directing films with a rhythm all to his own. And when you've got a supporting cast that includes Kieran Culkin, Benicio Del Toro, Brendan Fraser, David Harbour and Jon Hamm, you don't need to drag us to the theater. Can't wait for this one.
The French Dispatch
You're probably either completely disinterested in this one or very interested in it, depending on your tolerance for Wes Anderson. We're in the latter camp, since Anderson's most recent output is growing in both sophistication and craft — The Grand Budapest Hotel is among the best movies this guy has ever made. The French Dispatch sports a phenomenal cast (Anderson can always wrangle a good cast) and is apparently more of a hodgepodge of various stories related to the titular magazine, which is fictional though evidently based on The New Yorker.
The Harder They Fall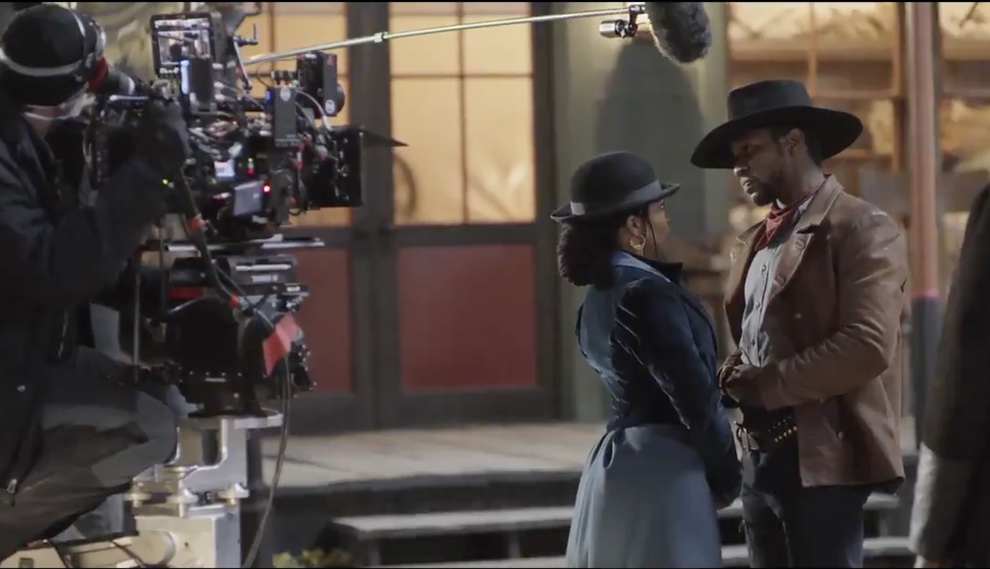 Stretching the rules here a little because The Harder They Fall won't actually be in theaters. This will be a Netflix watch, which is unfortunate, because everything about it screams theatrical release. Jonathan Majors, Idris Elba, Zazie Beetz, Lakeith Stanfield and Regina King star in this Old Western about a man getting his gang together to exact vengeance on his parents' killers. It's the feature filmmaking debut of British musician Jeymes Samuel and has JAY-Z in the producer's chair. Definitely worth keeping an eye on.
The Eyes of Tammy Faye
Look, RELEVANT is a faith and pop culture outlet. We cover the intersection of faith and culture, and have been for 21 years now. So of course we're excited about a movie that hits the bullseye like this. The story of the rise and spectacular collapse of the Jim and Tammy Faye Bakker empire is ripe for a good film, and getting a filmmakers of Michael Showalter's caliber behind the camera is very exciting. Plus, it sure looks like Andrew Garfield and Jessica Chastain are going for Oscars in their performance of the first family of the Moral Majority, and they certainly have the chops to pull it off.
[Untitled Paul Thomas Anderson Project]
OK, yes, this one doesn't have a name yet. It obviously doesn't have a trailer. The only images we have of it come from paparazzi and all we know about it is that it was shot in LA, might be set in the 1970s and Bradley Cooper is involved in some capacity. So why are we so interested? Because it's Paul Thomas Anderson, man! This guy made There Will Be Blood. This guy made Phantom Thread. This guy made Magnolia, for crying out loud.
Tyler Huckabee
Tyler Huckabee is RELEVANT's senior editor. He lives in Nashville with his wife, dog and Twitter account.