The Co-Creator of Rocket Raccoon From 'Guardians of the Galaxy' Is Drowning In Medical Debt
Back in 1995, a man named Bill Mantlo was struck in a hit-and-run that left him with severe head trauma, which his brother Mike said left him "trapped in a world of confusion and despair …The cognitive deficits he suffered have left him unable to reason or understand his situation, and he struggles daily to maintain any control over his own mind."
Mike has been struggling to provide Bill with the necessary care his brother needs, and that care has left him drowning in catastrophic debt.
"I have been attempting to bring my brother home from the nursing home he has been placed in for the last 10 years," Mike wrote on a GoFundMe page he set up. "It has been a difficult struggle, filled with numerous pitfalls and obstacles, but I gave my word to him that I would do everything in my power to make it happen so that he could live out the rest of his life with dignity and peace."
There are many such sad stories about the overwhelming costs of healthcare in the United States, but this one has a particularly sick bite. Bill is the co-creator of Marvel Comics' Rocket Raccoon, a member of the Guardians of the Galaxy and CGI-star of the upcoming Avengers: Endgame. Endgame is projected to shatter box office records when it opens, hauling in a predicted $800 million in its first weekend alone. Given the unfortunate state of how comic book character rights worked in the 1970s, Mantlo will see virtually none of the money his co-creation makes for Disney.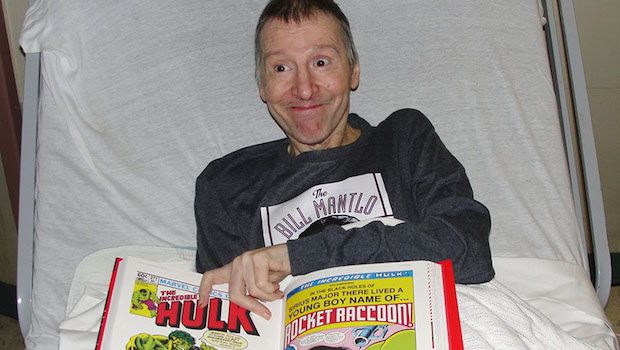 Mike Mantlo has set up a GoFundMe to alleviate some of the debt he's incurred over the last few years. He's set $100,000 as his goal, saying "I have never been one to beg, and I'm having to swallow hard on my pride here, but if any of you can find it in your hearts to help me, I would be eternally grateful."
In addition to Rocket, Mantlo also created Cloak & Dagger (a televised adaptation of that comic is streaming on Freeform) and spent some time writing Incredible Hulk, Iron Man and Micronauts. Back in 2014, Marvel Studios arranged a special, private showing of the first Guardians of the Galaxy so Bill could see his creation onscreen. Mike told reporters that it was probably Bill's "greatest day of the last 22 years."
You can donate to Mike's GoFundMe page here.