'Toy Story 3's Perfect Ending Captured the Joys and Pains of Growing Up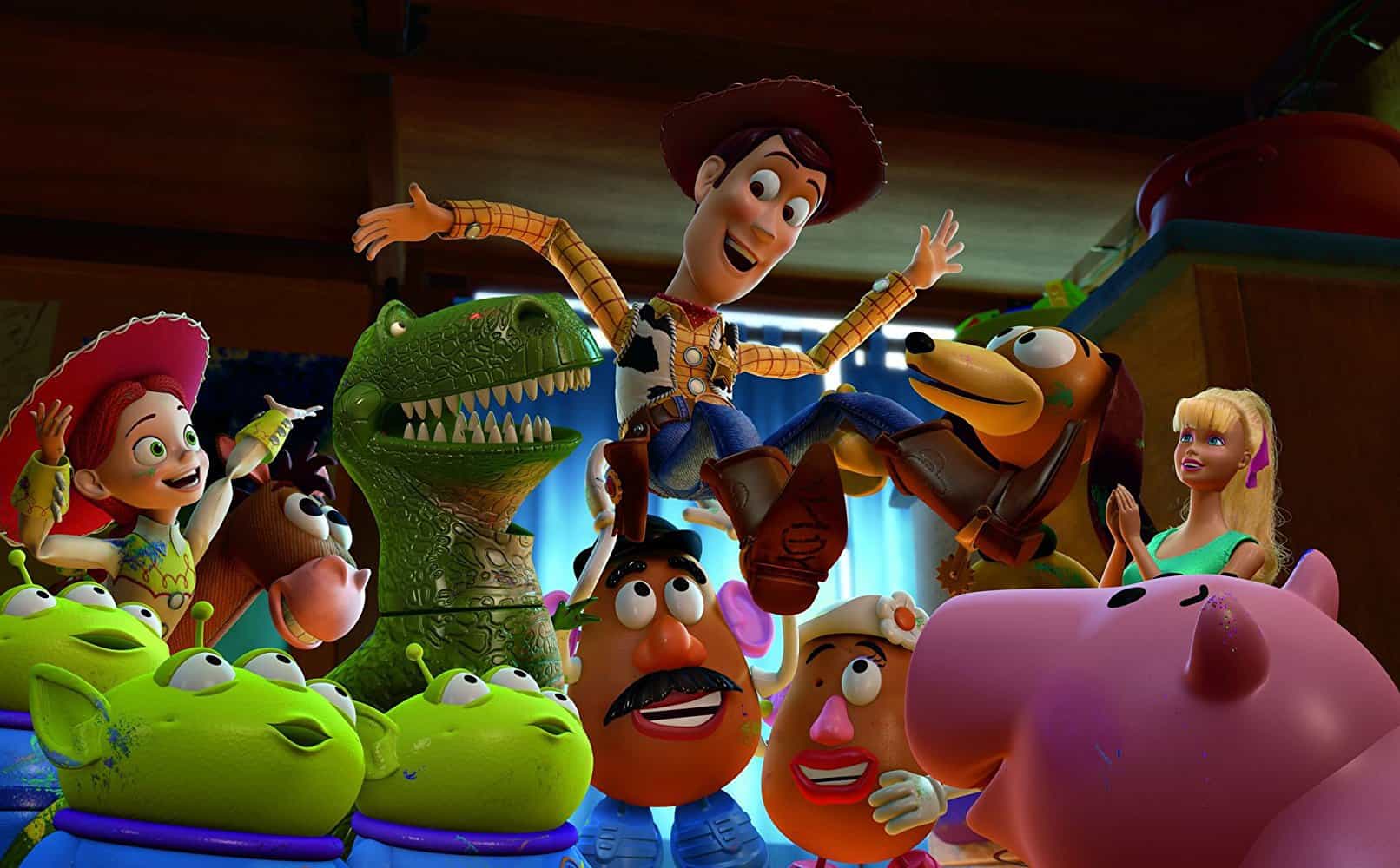 With the release of Incredibles 2 on Friday, RELEVANT is celebrating all things Pixar. From Toy Story to WALL-E, Monsters Inc. to Coco, these were our favorite movies growing up, and somehow, they still are.
---
Great endings are marked by permanent, irreversible choices. Harry Potter walks into the woods to face Lord Voldemort. Michael executes the hit in The Godfather. Brad Pitt pulls the gun on Kevin Spacey in Seven. Final choices mark transformation within a story's characters and pave the way toward thematic resolution. Toy Story 3 has one of the greatest endings in modern movies. It makes you cry, yes, but it's also marked by life-altering choices, and those choices hit home because, it turns out, they're our choices, too.
The ending of Toy Story 3 begins not with Andy's drive to Bonnie's house, but the toys' fiery and harrowing trip through the trash compactor. It's one of the bleakest, most memorable scenes in the Pixar canon. Abandoned by Lots-O'-Huggin Bear amid a molten incinerator, Buzz, Woody, Jesse and the rest of the gang stop trying to escape and turn to face the fire. They clasp hands. Some of them close their eyes.
It's been called dark, but that label ignores the sharp profundity manifesting within the characters. The toys have spent the entire movie trying to make it back to Andy, to their home, to the attic, but at the critical hour they don't turn to those things but instead to each other. It's beautiful. Toy Story 3 is about a lot of things, but in part it's about how we define our belonging in relation to other people. It's about home, really. Here—with hardly a single line of dialogue—we see the toys affirm their home is with each other, not a house or a boy. They make a decision to accept their fate, side by side.
Of course, The Claw comes to the rescue, and that means the truth of this decision will be tested upon reunion with Andy. For most of the toys, the decision in the incinerator is permanent and life-changing—they climb into the attic box right away—but for Woody, it doesn't stick in the same way. He hops back into Andy's college box, alone, and waits to go to school. While he's there, hiding, Andy's mom comes into her son's room for one last goodbye.
It's the most overlooked part of the ending. Andy's mom breaks down and gives Andy a hug. She says, "I wish I could always be with you," and Andy says, "You will be, Mom." Woody watches from the box. You see something stir in his eyes. He looks around at the other collectibles he's stored with, and there, with a touch of sunlight shining on it in the most perfect Pixar way, is a photo of him and Buzz and a boyhood Andy. It's right here that Woody makes his ultimate decision, too, and he leaps from the box, dashes off a note to Andy, and joins his fellow toys.
Woody's arc, from Toy Story to Toy Story 3, is complete. His identity has been linked to Andy from the moment we meet him in the original movie. He's the favorite toy. He has the name on his boot. That's his purpose. Over the course of the first two movies, Woody learns to share that identity with others, then protect that identity from outside forces. He's always wrestled between his loyalty to Andy and the truth of his toy-box existence, but here, he ends that conflict and finds his purpose.
But there's one final choice, and it comes from Andy himself, one of the most unlikely characters to put a punctuation mark on this trilogy. Andy reads Woody's note and takes the box of toys to Bonnie's house. At first, it's an easy rite of passage to hand over all our beloved characters, and for a moment, the scene is little more than sentiment, one final roll call of all the characters we love. Then Bonnie finds Woody in the bottom of the box, and Andy is forced into a conflict of his own.  
The key moment: Andy pulls Woody's catchphrase string, and when Bonnie laughs and reaches for the cowboy, Andy pulls him back. He won't let Woody go. Seeing Bonnie's disappointment, Andy looks into the face of his favorite childhood toy. He's caught between nostalgia and moving on. He makes his choice. Then the monologue to Bonnie: "Woody's been my pal as long as I can remember. The thing that makes Woody special is he'll never give up on you, ever. You think you can take care of him for me?"
When we grow up, we learn how to cherish things, confront change and leave things behind. So much is contained in Andy's decision to hand Woody over to Bonnie. It's a transition, but it's a transformation, too. It's a relinquishment, but also a sacrifice.
The bridge Andy crosses at the end of Toy Story 3 appears on every path of life. It sits at the moment when this idea of play goes from a given to a luxury, from something personal to something inclusive, from an act of imagination to an act of generosity. It's a perfect ending because what would have been framed as something karmic and wonderful for the toys—they're played with one last time—becomes something innocent, fleeting and fun for Bonnie. It's about her now.
It's sad, for certain, but the scene eases a fear the movie placed in our hearts all the way back in the incinerator: The toys aren't gone. They're still around, and that means even though they belong to someone else, we still have them. Plus, now, we can share them. We can watch a new generation grow up with Toy Story, and there's something affirming about that. It gives the moments of imagination we felt with our favorite toys growing up a legacy. In some form or another, our modes of play will come back, be redefined and reinterpreted, made into memories and ideas that, as adults, we can't conceive anymore.
Toy Story 4 comes out in 2019. Choices make endings, but they also make beginnings. Toy Story 3 was poetic and sad for us because it felt like the end of something. We didn't realize it was the beginning of something, too.
Tyler Daswick
Tyler Daswick is a senior writer at Relevant. Follow him on Twitter @tylerdaswick.