What's Really Going on with the 'Unplanned' Movie's Twitter Account Getting Suspended?
There's been a lot of drama over the last few days concerning the official Twitter account of Unplanned, the latest choir preacher from Pureflix. There's a lot to take in, including a third-act twist, so stay with us.
To set the table, Unplanned tells the ostensibly true story of a former Planned Parenthood worker who left her job and is now a pro-life activist. Despite, withering reviews, the movie had better-than-expected box office returns over the weekend, making $6.1 million and taking a top-five spot in America. However, the movie's success hit a brief hiccup when its Twitter account was suspended without warning on Saturday.
Twitter just suspended @UnplannedMovie during the weekend of its theatrical release.@jack why are they suspended? You've banned both my & @LiveAction account from all promotions simply bc we're pro-life. Have you banned this account because it challenges your pro-abortion bias? pic.twitter.com/TBarDx2sU4

— Lila Rose (@LilaGraceRose) March 30, 2019
The suspension fit neatly into a certain narrative about the evil progressive establishment out to squash conservative truth tellers, but the Unplanned account was shortly reinstated after some high-profile conservative voices like Southern Baptist Convention President J.D. Greear, Fox News journalist Shannon Bream, MyPillow CEO Mike Lindell and even Vice President Mike Pence rallied to its cause
I'm going to see the #unplannedmovie thank you AMC for allowing this important movie in your theaters. Also, thank you for supporting free speech and the free flow of ideas. Please don't ban this tweet @twitter

— Matthew Barnett (@MatthewBarnett) April 1, 2019
Why is Fox (in addition to CBN) the only network that will carry advertisements for the @UnplannedMovie? Why did @Twitter suspend the account on Sat? Why was it given an R rating? Where is the toleration and open-mindedness? It's a beautiful, realistic story of redemption & hope.

— J.D. Greear (@jdgreear) April 1, 2019
#StopTheBias Follow @UnplannedMovie ! Watch it. Spread the word. And combat the Twitter saboteurs trying to silence them. https://t.co/s8C0Wn94JT

— Michelle Malkin (@michellemalkin) March 30, 2019
Twitter told Newsweek the ban was not intentional. According to the company, another account linked to Unplanned had been banned, and Twitter will sometimes ban linked accounts so that trolls banned from one account can't just log into another and keep tweeting. Unplanned's account has been reinstated and even got all its original followers back, after a few initial blips.
But there's another, late twist to the drama. After it was reinstated, the official Unplanned Twitter account tweeted out links to its other accounts and included the phrase "WWG1WGA." That's a slogan for Qanon, the bonkers 4chan conspiracy theory that makes a bunch of wild claims, most centering on the idea that Special Council Robert Mueller was secretly working for President Donald Trump all along as part of a secret sting operation to take down Hillary Clinton and Barack Obama's secret child sex ring.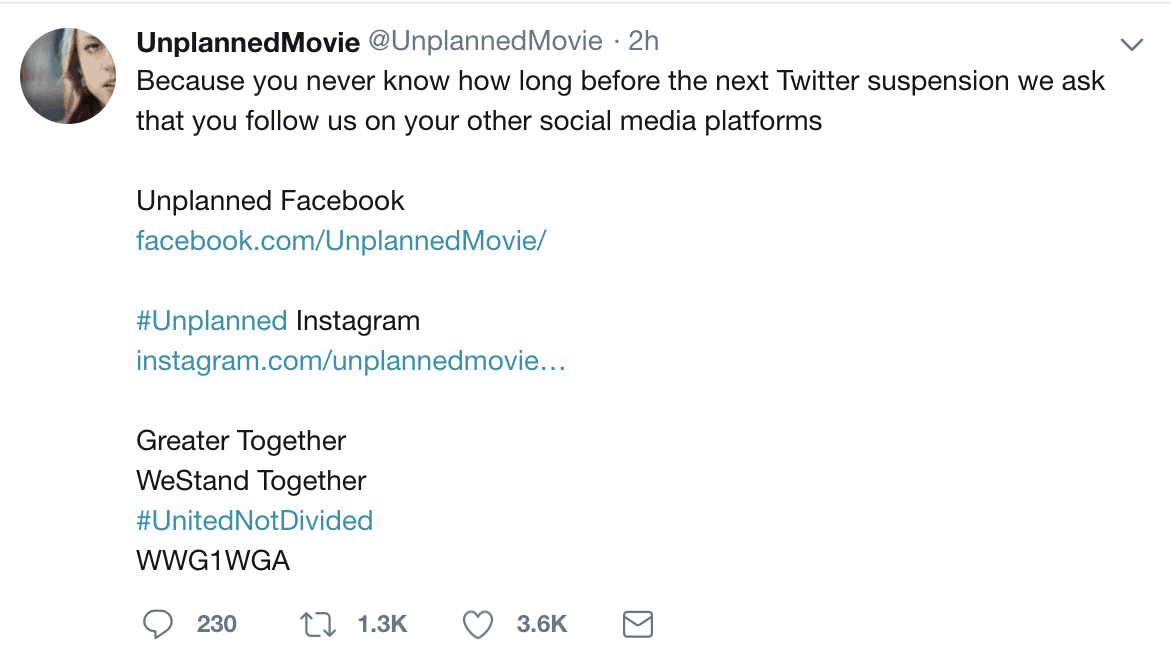 In the replies, the Unplanned Twitter account manager appeared to double down on the original take.
The original tweet was deleted, but not before the account had liked many replies from Qanon truthers thanking Unplanned for its support.
The @UnplannedMovie account, promoted earlier today by @VP, is now liking dozens of tweets celebrating its promotion of the Qanon conspiracy pic.twitter.com/9V9HfmFLc3

— Judd Legum (@JuddLegum) April 1, 2019
So what does it all mean? Well, hard to say right now. The Unplanned movie's original ban remains a little odd, but the latest series of since-deleted tweets would suggest that whoever's running the account is at least sympathetic to a conspiracy theory that began as an offshoot of the notorious Pizzagate conspiracy that led to one man's arrest when he went to the Comet Ping Pong pizzeria in Washington D.C. with a gun.
None of this is a reflection on the movie itself, but if you happen to be put in charge of any movie's social media in the near future, might not be a bad idea to keep your conspiracies to yourself.