Mr. Oreo, the Raccoon Used as a Model for Guardians of the Galaxy's Rocket, Has Passed Away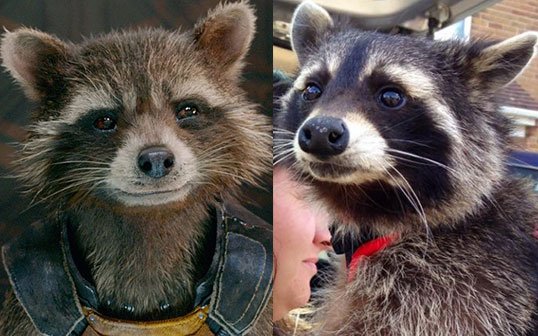 Sad news from the twin worlds of cinema and the animal kingdom. Mr. Oreo, the raccoon who served as the model for Rocket Raccoon in the Guardians of the Galaxy movies, has passed away after a brief illness. Quinta Layla broke the tragic news on Facebook. "Our hearts are broken as we have lost our best friend, our Guardian of our Galaxy Mr Oreo Raccoon. Oreo passed away in the early hours of this morning after a very short illness. Many thanks to our wonderful vets for their compassion and care." You can click through a few photos of Mr. Oreo's brief but beautiful life in the post below.
Mr. Oreo helped animators capture the expressions and characteristics of raccoons and even got to attend the first movie's red carpet premiere with GotG director James Gunn. Rocket was voiced by Bradley Cooper, whose silence on his furry inspiration's passing speaks to just how painful the grieving process must be for the actor.
In the comics, Rocket Raccoon first appeared in a story written by Bill Mantlo and Keith Giffen, inspired by the Beatles tune "Rocky Raccoon." He spent several decades as a joke-y, novelty c-lister until Marvel revamped its Guardians of the Galaxy comics in 2008 and made Rocket a core member of the team which, of course, led to the bazillion-dollar film franchise we know today. And none of it would have been possible without Mr. Oreo, who never asked for a penny of the millions he was owed. That was his dedication to his art. May we all be inspired by his commitment today.
[powerkit_posts title="There's only one way to honor Mr.Oreo… singalong, anyone?" count="1″ offset="0″ image_size="pk-thumbnail" category="" tag="" ids="7520″ orderby="date" order="DESC" time_frame="" template="list"]
Sadly, Mr Oreo the Raccoon, the real life model for "Guardians of the Galaxy" character Rocket Raccoon, has passed away after a short illness at the age of 10. Mr Oreo helped animators capture motions and behaviours for Rocket. ❤️? #RIPMrOreo #GuardiansOfTheGalaxy pic.twitter.com/DVH2XCh016

— Ulrich Janse van Vuuren (@UlrichJvV) February 8, 2019