Eminem Took a Knee During the Super Bowl Halftime Show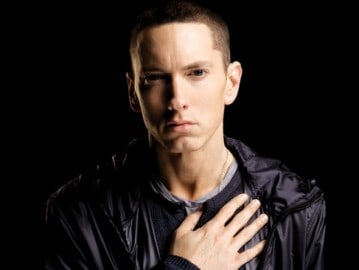 The Super Bowl Halftime Show paid tribute to Los Angeles by unleashing an impeccable cast of West Coast hip-hop royalty on the field, with Dr. Dre presiding over a blistering performance that included Snoop Dogg, Mary J. Blige, Kendrick Lamar and surprise guest 50 Cent. Eminem was also there, and he raised eyebrows for taking a knee after "Lose Yourself" — a gesture many considered to be an act of solidarity with Colin Kaepernick.
Eminem kneels during the halftime performance, after NFL officials reportedly shut down the idea #SuperBowl https://t.co/sHMyZB1FuW pic.twitter.com/UigAAEqemu

— philip lewis (@Phil_Lewis_) February 14, 2022
Kaepernick attracted an enormous amount of criticism for kneeling during the National Anthem while he was playing quarterback for San Francisco. The protest was Kaepernick's way of drawing attention to police brutality and racial inequality, though critics — including former President Donald Trump — accused him of simply hating America. Kaepernick would later accuse the NFL of colluding to black ball him from playing, and a suit against them was settled in 2019.
There were reports that the NFL had warned Halftime show performers about taking a knee, but league spokesman Brian McCarthy told the New York Times that the NFL knew Eminem planned on doing so since they had "watched it during rehearsals this week."
Neither Eminem nor Roc Nation has commented on the act but if it was intended as a nod to Kaepernick, it was hardly the only criticism police took during the show. Lamar unleashed his "Alright" anthem, though the line "we hate po-po, when they kill us dead in the street fo sho" was conspicuously absent (the camera angles left it unclear whether networks censored the lyric or Lamar just opted to skip it). Dre rapped about "still not loving police," which was not censored.
All in all, the terrific performance was also a fascinating look at the nation's complicated relationship with the NFL, and the NFL's fraught relationship with race. The show came just a few weeks after former Miami Dolphins head coach Brian Flores sued the NFL for what he called discriminatory hiring practices. The NFL is attempting to give a platform to Black voices, while also sidelining those who call attention to the League's own history of racism. If the NFL thinks it can have it both ways here, it will sooner or later be in for a rude awakening.