Kendrick Lamar Says a New Project Is Coming Soon: 'I've Prayed for You All'
It's been four years since Kendrick Lamar gave us a new album, the latest in a nigh-unprecedented run of unbroken excellence. And then, when the world needed him most, he vanished. Well, not vanished entirely. In a new statement, Lamar reveals that he's mostly been vibing. "I spend most of my days with fleeting thoughts. Writing. Listening. And collecting old Beach cruisers. The morning rides keep me on a hill of silence. I go months without a phone."
Though the statement mostly seems to be a declaration that he's OK, it does offer a few key notes. First, his next project will be his last with Top Dawg Entertainment. Second, he says he'll "see you soon enough," which suggests something is imminent.
Finally, and most importantly, it sounds like Lamar's soul is doing well — far from a given, considering the titanic spiritual struggles the Pulitzer Prize-winning rapper has chronicled in his music. "Love, loss and grief have disturbed my comfort zone, but the glimmers of God speak through my music and my family."
"As I produce my final TDE album, I feel joy to have been a part of such a cultural imprint after 17 years," he continued. "The Struggles. The Success. And most importantly, the Brotherhood. May the Most High continue to use Top Dawg as a vessel for candid creators. As I continue to pursue my life's calling."
There's beauty in completion. And always faith in the unknown," he finished. "Thank you for keeping me in your thoughts. I've prayed for you all."
He signed the statement "oklama." A new album title? A new name? A cipher of some kind? Unclear. We'll just have to wait and see, but it sure sounds like something is happening.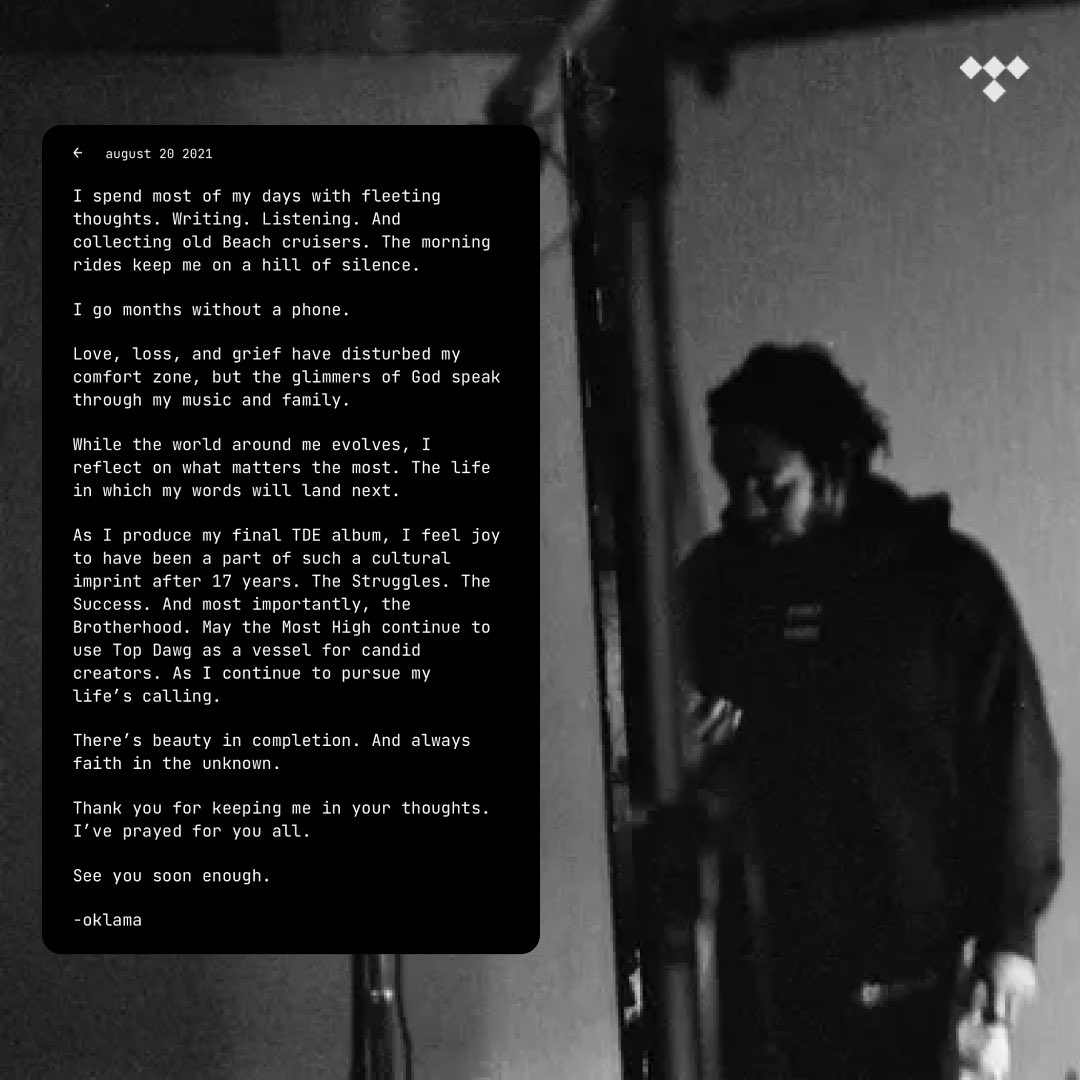 2021 marks ten years since Lamar's debut album Section.80, which he followed up with Good Kid M.A.A.D City, To Pimp a Butterfly and Damn, three albums of startling honesty, poetry and skill. He also released a collection of unreleased demos called Untitled Unmastered and oversaw the production of Black Panther: The Album, a collection of original songs inspired Marvel's hit film. All of them combined to make Lamar one of the most essential and unrivaled artists of his generation. If he's got something new in the works, we'll be paying attention along with everyone else.