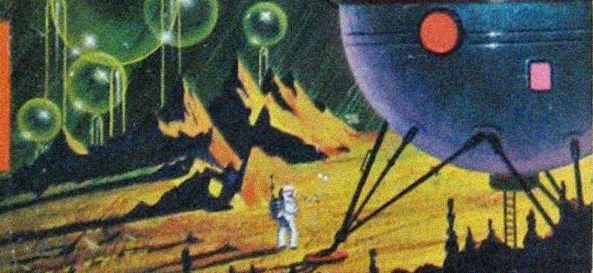 The Space Trilogy, by C.S. Lewis, is perhaps for adults what the Narnia series is for children. It is the transformation of the classical genera story into something new. Whereas the tales of Aslan are classic fairy stories all shot through with the light of the new life of Christ, The Space Trilogy is the science fiction epic subjected to the same treatment. Where Narnia asks what the Word of God would look like in a world of animals, The Space Trilogy asks what our own universe looks like if we question some of our basic modern assumptions.  
The series is, admittedly, strange. Instead of following a single character or group of characters through all three books, the first two feature Professor Elwin Ransom on his adventures to two different planets in our solar system. The third book focuses on Jane and Mark Studdock, an academic couple who end up falling on opposite sides of a conflict involving the dystopian events surrounding Bracton College, a sinister corporation, and a mysterious figure dug up from the bottom of a well. By all accounts, it isn't your standard science fiction series.
Lewis, who reportedly wrote the series as part of a deal with J.R.R. Tolkien (who is supposedly to have written a time travel story as his end of the agreement), uses the trilogy to write a fantasy from his own unique perspective. The same medieval Christian elements that inform Narnia are here, but function on a much more adult level. The adventures are rooted, as much as they can be, in the real world so that Lewis could confront what he saw as misconceptions of his age. What had been, in the Middle Ages, "The Heavens," had become in his day merely "space." Science, not reason, had become the master of thought. Utilitarian ideas of goodness reigned. Lewis' situation was clearly not much different than our own.  

The Space Trilogy confronts these and other generally accepted truths. Confronting the ideas of H.G. Wells, he suggests that the aliens we find on other planets may not be the destructive, inhuman powers of The War of the Worlds. Instead, he presents us with unfallen aliens who all live in peace under a single otherworldly ruler. He juxtaposes their paradisal domesticity with the philosophy of the march of science. But he is careful not to snub science, as if he were afraid of its discoveries. It is a worldview that he is going after, one which draws philosophical conclusions from evolution and physics. He insists that these things can never give us the answers that reason and revelation can give. His idea about unfallen aliens would appear again in 1958 in the essay "Will we Lose God in Outer Space?" (better known today as "Religion and Rocketry."). It may very well be an idea that will set us in good stead if we travel beyond our own little pocket of space one day.
The whole series serves to turn our conception of "space" on its head. Lewis wants to populate our universe with powers, principalities and angels. He proposes that the fall, a local problem to earth, has set our world as a kind of rebel stronghold in an otherwise faithful universe. "Space" is once more "the heavens" as it teams with the powers and intelligences that all serve the One who made the universe.  
The series also confronts some serious philosophical issues in the last book, That Hideous Strength. What does it mean for something to have value? What does it mean for people to step completely outside of traditional values? This should not be confused with the modern rhetoric about "traditional values" that specifically target the meaning of adult relationships. Instead, Lewis is concerned about a larger picture. What does it mean for something to be beautiful? What does it mean for something to be good? Can we say, without nonsense, that a sunset is majestic? What do the people look like who abandon all values whatsoever? Here he is echoing work he did in his non-fiction book, The Abolition of Man, in which he paints a very bleak future for a humanity which abandons all concepts of value. His fiction serves to give life to that vision in a way that makes one truly appreciate the man's gifts. What he can convincingly show through logical argument, he can also masterfully show in fiction.
These more heady topics make the series something of an anomaly. They are not written for children, and do not function in any way as allegories. They are, to be precise, scientific fiction romances (in the old sense of the word).  hey draw on theology, philosophy, medieval writers, and the tales of King Arthur. They make arguments about the nature of humanity, the nature of the earth, and sin. They touch on topics as far ranging as pacifism, spiritual warfare and abortion. It is perhaps for this reason that they have not been as well read as the Narnia books, or Mere Christianity and The Screwtape Letters. They are thoroughly weird.

But Lewis delivers in these books a fantasy for adults that few other Christian writers can match. His prose is powerful, witty and eloquent. His style is easy, familiar and always a delight to read. When he deals with the issues, he does so with something of a light touch. Nowhere does the book bash anyone over the head with the name Jesus, or even "God." Instead, he hints, insinuates and has his own characters speculate as to the meanings of the strange revelations they encounter. It isn't even until the second book that a connection suggested in the first book regarding the Incarnation is confirmed, and then only in a very brief conversation.
The mastery of these books is that they are not merely good Christian fiction, but good fiction. They draw on a wealth of Lewis' own reading and love of the science fiction story, with a good mixture of medieval and spiritual material. Modern readers who grew up with the Narnia books may find that what they loved in Aslan, they will also love in Maleldil the Young.
As a final word, it is also interesting to note that The Space Trilogy technically takes place in the same universe as The Lord of the Rings.  A note at the beginning of That Hideous Strength as well as certain references to Numenor reveal the events to be connected, albeit very loosely, to Tolkien's world.  So for those who might like a connection to that great series, The Space Trilogy also offers this curious feature as well.
Joshua Wise
Joshua Wise is an Episcopal PhD Student of Systematic Theology at Catholic University of America. His study focuses on addressing modern theological issues including Soteriology, Christology, and video games in dialogue with the ancient church, especially the Greek Fathers. His work includes the website The Cross and The Controller and the podcast No Avatars Allowed. His work has been featured on Kotaku and he currently writes for Warp Zoned. He blogs weekly here.