Neon Trees on the Therapy of Pop Music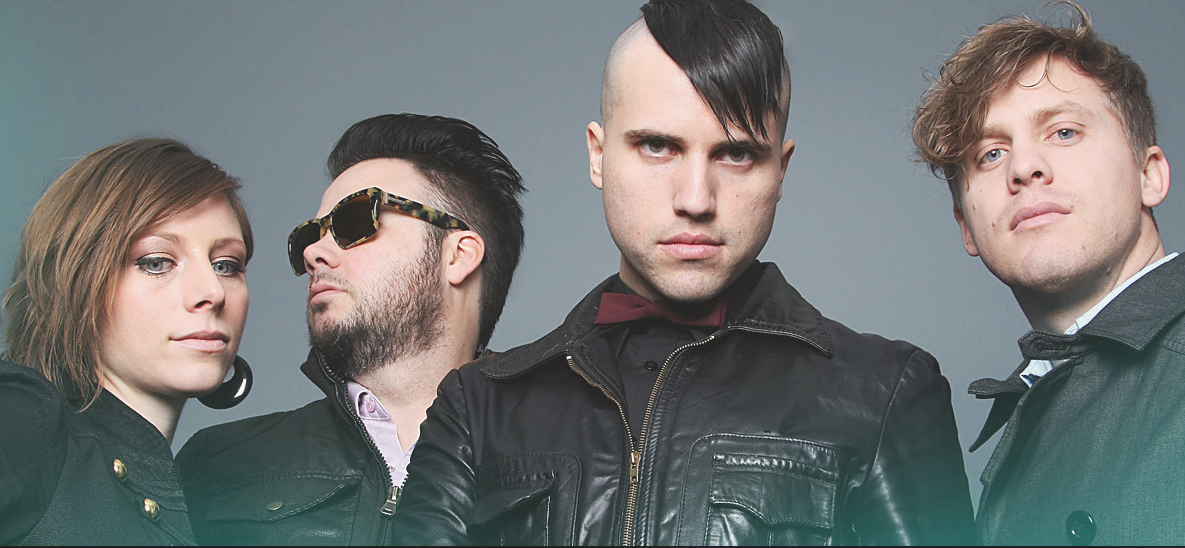 When you listen to Neon Trees' latest album, Pop Psychology, it's easy to see why the mix of catchy pop choruses, dance rock attitude and New Wave energy has caught on. But hiding below the glossy surfaces of the Utah band's distinctive style are heavier themes than the upbeat songs first let on.
We recently spoke with the band's frontman Tyler Glenn. Glenn is a Mormon and, like other famous Latter Day Saint Church members of rock and roll—a list which includes everyone from Killers frontman Brandon Flowers to Arcade Fire mastermind William Butler—has had to balance his religious beliefs with his musical aspirations. Here he is talking about the darker ideas explored on the album and the therapeutic power of good music.
From the album you first envisioned when you started working on it to what you ended up with, how close or how different is Pop Psychology from your original idea?
It's extremely different. I thought I was gonna make a really dark record. But I think by the time I ended up finalizing the songs, and then we ended up recording it as a band, I was in a better place, and I think the band was really refreshed. I think what came across was more of a celebratory sound instead of a dark sound.
It does seem like there's a lot of pretty serious stuff, but it comes across optimistic. You almost don't even notice that you're singing about some pretty heavy stuff on the record.
I think I naturally go to feeling sad. I mean, I've always been that way. I did a lot of soul searching and talked to therapists for quite a while. I still do call her every now and then.
Even though I still want to naturally go to a darker point of view, I've learned to go to the light a lot easier these days.
Do you think it helps to write about sad stuff? Is it therapeutic?
Yeah, it's a lot more fun to play live, I think, because I get to relive it. I think there's a lot of people that need to hear something more than just this song that's the in the club, and it's loud, and we're young and we're gonna die young and we're gonna live while we're alive. That stuff is all nice, but I think sometimes it's nice to hear catchy music that still has a bite to it.
When you think about your favorite songs, it's not very often that anybody's listed their top 10 favorite songs of all time are all happy songs.
I mean, I think even the happiest sounding songs are incredibly sad maybe. Like "Bohemian Rhapsody" has a real melancholy, but it's so anthemic and energetic as well.
I read you did your mission in Hastings, which is actually where I'm from, or just outside of Hastings, Nebraska.
I really love that town.
I don't know how much of an exile being on a mission is. Do you get to listen to non-religious music while you're on those?
No, you're not supposed to. I mean, I would from time to time, I'd sneak it. I guess that's the biggest rule I broke, and I did okay. But it's hard because music was such a—I always sound cliche when I say this but—it was like, it's my world. I was just one of those teenagers that lived for bands and shows and the whole culture and so it was hard to give that up cold turkey.
But as much as I got to sneak it, I still missed what was popular, and I missed what was going on. Because really, when you're just buying a CD on a shelf, you're going with your gut, because I wasn't really able to read a bunch of magazines or find out what my friends were listening to or anything like that. So that part I missed.
So it's fascinating. There's movies and still there's records that friends will say, "Did you ever see this or read that?" and sometimes I won't even know what they're talking about.
Why did you go on it, if you were so into music?
I think because something outweighed it, man. I really had a lot of soul searching to do after I graduated high school. It wasn't an ultimatum, but I think it maybe was a self ultimatum. Like I either have to go to college or find out if this thing is something that I want to do or it's true or it's something I believe in.
So I read the Scriptures more in tune and just—I don't know, there was something that felt right about it.
I think I knew that in my gut it was something that I needed maybe to experience because I was also a very shy, inward kid. I still am a very inward guy. I think it just also taught me a lot about people and human interaction and things like that. Something in my gut definitely told me to go.
It seems like still in 2014 religion and rock and roll just have a weird relationship where they can't quite figure each other out.
It's bizarre. I don't know, I guess, I don't know how to word it, but I am excited that I still haven't thrown one or the other away.