Paper Route Delivers on the Hype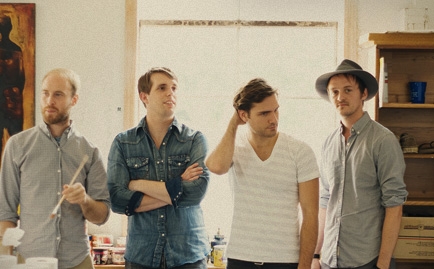 Even though Music City is the setting of their current chapter, Paper Route's story didn't begin in Nashville—instead, it begins in a small, southern Illinois town where the band formed in 2004. The three principal members of the group—vocalist/keyboardist Justin Thomas Daly, bassist/programmer Chad Howat and vocalist/guitarist Andy Smith—all met as students at Greenville College, a small Christian school. "I was an art major that spent way too much time in the recording studio," Daly remembers. "Chad's cousin would always be in the studio, and we'd record stuff together."
It's a fitting place for the band to have begun, as the songs on Paper Route's latest album, Absence, feel like pure studio creations, built from a foundation of laptop-created soundscapes and programmed beats overlaid with punchy guitars and loping basslines. But Paper Route manages to keep their songs from feeling sterile, instilling each song with a beating heart and an intimacy drawn from the members' church upbringings and their own personal take on faith.
"We aren't a Christian band," Daly says. "My personal artistic convictions don't align with that industry. But the majority of what I write about is God. What I need to do is seek out that truth and have it be my own. There's that sense of longing all over this album."
One has only to crack open the album's lyric booklet to see Daly and his fellow lyricist Smith struggling with and yearning for the love of God. The band went to great pains to recreate the sensation of those moments when you feel God's presence. "For the song 'No Sudden Revelations,' I told Chad [the music] needed to feel as if we were being baptized," Daly says. "The water swallowing us and we see God."
He says they worked to achieve this by using a guitar gently feeding back and then mixing in a slow, lingering piano line. Combined with Daly's own murky vocals, the effect is engulfing, and comes as close as anything can to those brief seconds of peaceful submersion before getting pulled back out again.
"It sounds ridiculous, but I've seen probably 100 people baptized in my life," Daly says. "I see their faces when they emerge from the water. I want to feel, hear, see that."
Many of those baptismal experiences come from his childhood in the small farming community of Wellington, Ohio. Daly's dad, a designer by trade, moonlighted in a number of bands and taught choir and guitar lessons. But being in a staunchly religious household meant he was only allowed to listen to Christian music. "My parents had all the right intentions, but it was definitely a struggle to find things that I really connected with."
In spite of growing up in a musical environment, Daly didn't really consider doing his own music until he came across a peculiar (for his household, at least) bit of inspiration. "It wasn't until I heard 'Black Hole Sun' by Soundgarden that I decided I had to be a singer. Somehow that album was family-approved and the floodgates were opened."
Like all good music geeks, Daly listened to and absorbed as much music as he could get his hands on. But what obviously resonated most with him, as suggested by the retro tone of Paper Route's work, is the glossy, gauzy pop that poured out of England during the 1980s.
"I love the harmonies and mystique of a group like Cocteau Twins and how My Bloody Valentine feels like it's from another world. And looking back on the '80s, that was such an incredible time of brilliant songwriters who were not only pushing themselves creatively but also pushing themselves to write a melody. Popular music was also creative music. So, I think it rubbed off on us."
What also comes to the fore is a distinct melancholy that winds its way through the album. Even on the most upbeat of songs, they undercut the music with a haunting keyboard line or, as is often the case, with a plaintive vocal turn by one of the band's two singers. For Daly's songs, this quality comes right from his days singing in his local church.
"I think there's a mournful undertone to a lot of my favorite hymns," Daly says. "Even though the subject might be that of hope, there's still this heavy sobering resonance to it."

He acknowledges a similar strain running through his own material too, but mostly when someone else in the group brings it to his attention. "There have been times when I've turned in a song idea that I've found to be hopeful, and another band member will describe it as haunting or sad. I guess I've blurred the lines a bit there."
See Also
While moving to Nashville has yet to make Paper Route a household name, they are reaping the benefits as citizens of one of the biggest music-minded towns in the world. One such advantage has been the connections they've made with like-minded (though musically very dissimilar) bands, such as Paramore.
The two groups became friends, vocally supporting each other's efforts. And as Paramore's star began to rise, they were kind enough to bring Paper Route along, signing them up as the opening act for an extensive U.S. tour, even though their sounds don't necessarily mesh. Thankfully, such concerns didn't seem to matter to the audience, Daly says.
"What we noticed was that, even though their crowd was a little younger than what we're used to, they were an audience that actually listened. After shows, we'd get people talking about specific lines in songs and how they cried when we sang it."
But, as Daly says, making connections like that is really the goal of any musician—no matter what kind of music they play or what town they call home. The key ingredient? "Authenticity."
"Any audience can tell the difference between what's real and what isn't. When someone is moved at a show or just listening to a song in general, it goes beyond what that songwriter has crafted. It goes beyond his/her/their abilities. It's something spiritual."
This article originally appeared in the Sep/Oct issue of RELEVANT. Photo credit: Oliver Sherret and Steven Abraham. All rights reserved.