Q&A: Ice Cube (In Actor Mode)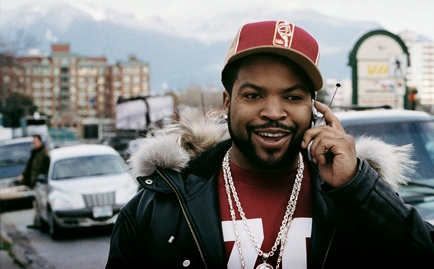 Since exploding on the cultural scene as a member of the notorious rap group N.W.A. in the late 1980s, Ice Cube has formed one of the most unique and eclectic careers in pop culture. While engaging in sometimes vile, always tough and what some would say truthful tales from the 'hood and thug life in both his N.W.A. days and subsequent lengthy solo rap career, Cube also crossed over into acting with a stunning performance as the conflicted gangbanger Doughboy in 1991's classic film Boyz N The Hood.
In the two decades since, he's managed to keep his rap career going without losing much of his street cred, while expanding his filmmaking presence far beyond acting and well beyond 'hood movies. He's starred in, co-wrote and produced the rare feat of a comedy trilogy with the Friday series of films, while also managing a two-film franchise and even a new TBS sitcom led by the family film Are We There Yet?
He's only made one other outright classic, 1999's Three Kings (in which he played a devout Christian soldier caught up in a monetary escapade during the original Gulf War). But while he 's had his occasional duds (The Longshots and XXX: State of the Union come to mind), his percentage of winners is much higher. Now he's taken his experience and put his Cube Vision production company behind the new film Lottery Ticket, an amiable comedy that's set in the 'hood but which—like Boyz—carries some mixed moral messages but overall offers positive characters with solid grounding in their lives.
Asked recently about his career, Cube offered some extensive thoughts on his past and present and the often-winning formula that's the secret to his success.
You've really racked up a lot of films over the years.
People always talk about how many movies I've done, but I don't look at it like that. Each film is special to me and I'm just happy that we have Lottery Ticket out now and that's what my focus is on, that our stamp is on a good movie.
What's the Cube Vision stamp? What's the formula of your company?
Paying attention to detail, knowing our audience, catering to them and delivering an upbeat reality that I think everybody loves. Everybody loves to see their world with that energy that they believe constitutes a good time. We put that energy out there and people respond to it.
Was this always the goal, jumping into the movie industry?
It was a goal to do the movies I want to do, and not just be a slave to Hollywood projects. I am an actor for hire, I'm not turning that down, and I don't mind acting on other people's projects, but I want to make movies that I know will satisfy my audience and that I know where we're doing things that Hollywood might shun or overlook some of the talent I use. Guys like Mike Epps, Terry Crews and Katt Williams never would have got a shot if we wasn't dedicated to doing these upbeat 'hood movies.
Lots of people want to know how it's done. Can you literally go to a studio with an idea on paper and say, "This is what I want to do"? How is that process done?
It's as hard as trying to go and ask people for millions of dollars for any idea in life. At the end of the day you're saying, "Loan me millions to do an idea." You can't come in with a blank piece of paper with an idea, you have to write the movie—it has to jump off the page and excite the reader to where they want to make it, and [you have to write it so it's] not so expensive [that it's] harder to make. Instead of an explosion, throw a guy out a window. Make them say, "I'll spend a little money on this and see what happens." Come up with an idea that's not that expensive but is a great piece of writing.
How often are you told "no"?
No more often than yes. It has to be a perfect storm, with a director they want to work with, a great script, actors they believe in, and everybody's got to be available for the same two months, and pay enough to keep people satisfied. All this synergy has to come together for a movie to get made. Some might come together, but not one big piece. If you can't get the actor the studio wants, but everything else is great, it still doesn't get made.
Has your success made that process any easier?
I hope so. But you never know what they say when you leave the room! You hope they say, "This dude makes money, not loses money, and he puts it all on the screen." That's what you want them to say, but they might say, "I don't want to make another one of them Friday movies." There's a lot of pressure and it all runs downhill.
Where did the idea for Lottery Ticket come from?
It was brought to us by [production company] Alcon, and that's where our history benefits us. They brought it to Erik White [the director] but they knew it [urban-based films] wasn't their expertise. You should admit what you do well, don't do well, and bring it to others that can do it. At Cube Vision, we're not above that. If we need help with special effects, we ask for it. They said, "This is in your guy's wheelhouse," and so the motor started turning and [we] thought there was enough juicy parts for everyone we liked.
Talk about the casting of Bow Wow.
Bow Wow is the epitome of a kid like this—he went from rags to riches. He's the perfect age, perfect time, look and feel. He can relate so much more than others.
What's your all-time favorite black romantic movies and why?
I'd say Claudine because it shows a real struggle for love. I liked Love and Basketball, felt it was so relatable and you really wanted those two to get together and it was nice. I'm even a fan of Boomerang, about a player who gets played and has to find the one who's right to him.