Q&A: Jennifer Aniston & Jason Bateman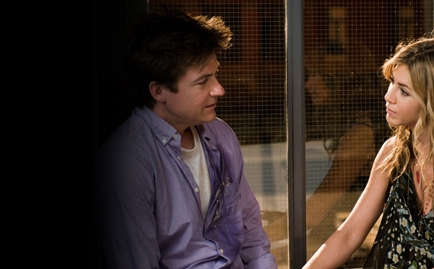 Jennifer Aniston and Jason Bateman are two of the most appealing actors around, and both have built long-running careers on their innate charms in Everyguy and Everygal roles. In their new movie, The Switch, Aniston and Bateman team up and their chemistry as best friends is palpable. It also helps make what could have been an unseemly premise for a film—about a single woman who wants to be artificially inseminated, and her male friend who drunkenly switches his own sample as a replacement for her intended donor—into one of the year's most pleasant (and surprisingly family-value oriented) surprises.
Speaking separately about their first effort together, the two stars discussed how great chemistry is formed, the unusual experience of working with two directors on one film, and what it's like for a former child actor to see a new kid who can nail a role.
This movie makes an interesting set of comments on the state of the family, and the trend in single women trying to have a child completely on their own. What drew you to this role?
Aniston: When we meet Kassie, she's at a time in her life when she's ready to have a child and doesn't feel she needs a man to do it. She's in her 30s and alerts her best friend that she's going to do this on her own. She really feels she wants the child more than she needs the man—which I found quite interesting. I don't know if I'd do that, but she does, and a lot of women do, so it was great to represent.
If she's going to take this route, why is she trying to find an unknown man to be her donor when her best friend is a guy anyway?
Aniston: The story is that she tells Wally that she's going to do this on her own, needs to find the right donor and asks him to help her. He's instantly offended that he's not asked to be the donor and doesn't understand why his genetics are not worthy. And of course she's like, "You're a little neurotic, a little this and a little that." In her mind it had to be this sort of perfect DNA. And then a lot of crazy stuff ensues, that you can't give away because it's too brilliant.
Wally is her best friend. They had a moment of love many years ago, but it was not meant to be. Now they're just best friends. Did the great friendship between Kassie and Wally carry over into real life with Jason Bateman?
Aniston: Jason Bateman is just one of the sweetest. I've known him for so many years, since I was 25 years old when a friend was doing a TV show with him. He was in a much different mental space back then, but still lovely and great and I've just always adored him. He's just delightful. There's nothing about him that isn't squeezable.
How does a child affect the machinations of Kassie and Wally's relationship?
Aniston: She has a kid, so there's somebody else involved. There's a third party there. Her undivided attention was usually with Wally, and now she has to share that. And she moves away for awhile, which makes him sad.
Jason, how would you describe your character, Wally?
Bateman: I'm a guy who is a little bit complicated and a little in his own head and is not the most free-spirited, fun-loving kind of guy. He's got a lot of complications to his personality and is a little more of a girlfriend to Kassie and not a perfect candidate to be a sperm donor.
As a former child actor yourself, what did you think of working with Thomas Robinson, the kid in the movie?
Bateman: Working with a 6-year-old was challenging and great. Thomas was amazing at doing his work. I started when I was 10 and it was tough at 10, so I don't have any idea how he did it at 6. For him to learn all his lines and then also manipulate those lines and try and find some nuance and all that actor crap was amazing. That was pretty cool. It could have been a whole lot more difficult with someone less talented.
It's rare to work with two directors at once on a movie, but you do it here with Will Speck and Josh Gordon. How does that relationship play out on a set?
Bateman: Working with two directors was great. Will and Josh are a lot of fun and they share the same sensibility. It was like doing a film with two really good buddies. They're doing that job and you're doing this job and together you're making one really good thing and in their dynamic, Josh spends a little more time on the technical sides of things, the aesthetic side of film, and Will focuses more on the actors.
You have a real chemistry with Jennifer, and she said you met years ago. How do you apply knowing her to a role like this?
Bateman: Jennifer Aniston, she and I have been friends for a very long time, so it was nice to have a chance to do some real work together, doing more than one or two scenes in The Breakup. Doing a whole film with her was as great as I hoped it would be. We used that part of our familiarity and hopefully you can benefit from it. Especially since we're supposed to be best friends, it was nice to have that friendship beforehand.