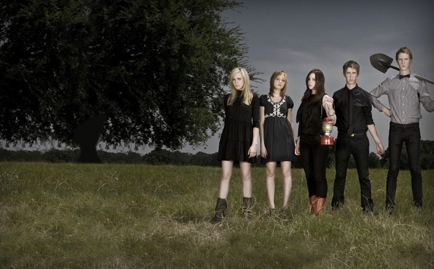 An artist's best work is often borne out of personal tragedy.
In the case of the three DuPree sisters from the alt-pop band Eisley, such inspiring heartbreak took the forms of a painful breakup, a broken engagement and a divorce. The entire band, which includes brother Weston DuPree and cousin Garron DuPree, also recently experienced the calamity of a professional divorce with Warner Bros. Records/Reprise Records, who released their first two albums and several EPs.
The sisters, Stacy, 22, Chauntelle, 29, and Sherri, 27, huddle close together on a couch and—as sisters are wont to do—they speak over each other, finish one another's sentences and cast knowing looks when thorny subjects come up. When they speak, they do so as if they're on the other side of it all. They've made it through the worst of times. Their easy camaraderie and obvious care for one another suggests they haven't escaped pain unscathed, but the events of their lives have had the positive effect of pushing them closer together than they've ever been.
Marking this milestone is the release of Eisley's third full-length album, The Valley. The project chronicles the myriad low points the band experienced in the four years since their critically acclaimed Combinations, and the new direction they've been given as a result. What Eisley was has passed away. But there is also the promise of something new.
"It's kind of like the end of an era for us," says Sherri, who sings and plays guitar. "We're starting over with a new label and everything. It's going to be different."
Love Lost … and Found Again
The Valley, which came out in March, is a continuation of Eisley's trademark bittersweet pop-rock, but presented in a more grown-up tone. The mature viewpoint is largely the result of Sherri's divorce from Chad Gilbert, guitarist for New Found Glory.
"My songs kind of follow a story of finding out that I was going to be divorced, accepting that and moving on from that and then falling in love again," says Sherri, now married to Max Bemis, frontman for the band Say Anything. "My part of the record is kind of a concept and takes a journey."
Stacy, the band's other chief lyricist, singer and keyboardist, couldn't help but feel her sister's pain as she penned her lyrics.
"I think I drew a lot of inspiration from Sherri, honestly," says Stacy, who married MuteMath drummer Darren King in mid-2010. "There are some really deep emotional things going on, but then there's also a lot of love and romance."
Though Sherri admits the band's style and sound are still cloaked in whimsy and childlike awe, the DuPree sisters have reached new levels of directness and vulnerability in their art. Their latest songs explore the band's darkest and most trying times, while sharing elements of their strength, patience and perseverance. It's no surprise this darker subject matter has led the band to be more straightforward—and sad—than they have ever been.
Sherri admits the extended time between projects proved beneficial for her. It gave her time to heal and move forward.
"It's allowed me to step away from it all and see that—wow—it was a crazy time in my life, but now it's in the past and I'm ready to get it out to the world," she says. "I can sing the songs live now and not feel all of the heartache and pain that I went through. It sounds really dramatic, but had we released it right away, I don't even know if I would have been able to sing those songs live."
Although the recent challenges—both personal and professional—have taken their toll, the DuPrees have moved on.
"We're not bitter people," Sherri adds. "Everyone goes through terrible things and people get divorced. People have it worse than us. It's relationship crap that happens to everyone."
"We don't like to stir up drama either," laughs lead guitarist Chauntelle, as she switches to a sarcastic, gossipy tone. "'Did you hear Eisley's record?'"
It's another mark of maturity that an album borne out of so much pain isn't written like a jilted lover's diary.
Out with the Old, In with the Indie
Eisley's label troubles sound like every stereotype you've ever heard. The band announced their departure from Warner Bros. on their website in February 2010. Nine months later they signed to Equal Vision Records. The move was meant to allow them more freedom to chart their own course and not become something they didn't want to be.
"I don't think we were the right type of band that they're used to developing," Stacy recalls of Warner Bros.
"We don't have the radio pop songs," Sherri adds. "Major labels need that right now because they're all kind of sinking."
"Not that they ever asked us to, but we weren't willing to ever go in the pop direction of it being all about your looks, showing more skin and stuff like that," Chauntelle says.
"They did try to get us to tour with Hilary Duff and we said no," Sherri adds. "No offense to Hil Duff, but that just wasn't the direction we were going in."
Family and Faith
While the trials of the last few years left their mark on the band, the DuPrees' well-documented faith remains intact.
"We grew up in a family that was really rooted in faith and we grew up in church," Sherri says. "That's always been such a big part of our lives. It didn't affect that. That's always there for us."
Eisley (even before they were named Mos Eisley, after the Star Wars spaceport town) began as The Towheads, a house band for BrewTones Coffee Galaxy. The venue—operated by the DuPrees' parents, Boyd and Kim—is part of the family's church, The Vineyard Church of Tyler in Tyler, Texas. Members of Eisley have lent their talents to the church's worship, which Kim leads. Boyd, in turn, is the band's manager and graphic designer.
After Eisley formed in 1997, Christian labels approached the band, ready to deem them the industry's next big thing. Eisley, however, opted to take a different route and seek a broader, secular audience. The DuPrees have said they feel Christian music is for Christians and they want to play for people outside the Church, too.
The band's bigger reach has allowed them to work with both worlds. Stacy and Sherri appear on Bright Eyes' Cassadaga, as well as David Crowder Band's Church Music. They've also opened for Coldplay and The Fray.
Having reached the secular, the sacred is still important to each member.
"That's always the constant, solid thing in our lives other than our family … and that is what holds our family together," Chauntelle says about the bands' faith. "There's just nothing more constant than that."
The trials of the last few years have strengthened the family bond within the band.
"Anything like that that you go through—any hard thing as a family—if you push through and help each other get through it," Sherri says, "you always come out closer."
After spending more than half of their young lives in this band, the DuPree sisters say the turbulent times have increased their dedication to their art.
"I think we're braver now," Stacy says.
"We're definitely more confident in what we've been given and what we do," Chauntelle adds. "That makes it even more fun."
"We love music, and nothing can stop us from doing it," Sherri says. "It definitely made us stronger."
How that will play out remains to be seen. But one thing is certain: Eisley has changed—and there really is no going back now.
---
This article appears in the May/June 2011 issue of RELEVANT. To read more articles like this, subscribe by clicking here.