RELEVANT's Top 10 Movies of 2015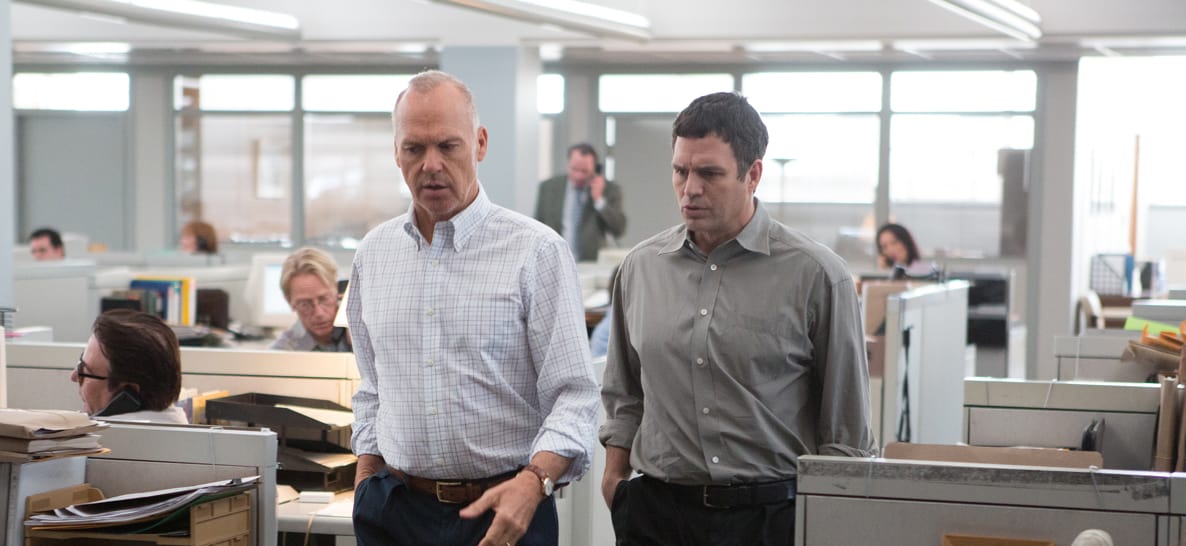 Even in the era of on-demand entertainment and hours of binge-watching options, 2015 showed why some of the most important art happens on the big screen.
This year, movies took us everywhere from post-apocalyptic road chases, to inside our own heads, to a galaxy far, far away. It was a fun, fast-paced year in theaters, but also often surprisingly insightful.
Here are our picks for the best movies of the year:
10. Bridge of Spies
Bridge of Spies reunites director Steven Spielberg and actor Tom Hanks (who've collaborated on films including The Terminal, Catch Me If You Can and Saving Private Ryan) to tell the true story of an American attorney entrusted to negotiate a high-profile prisoner exchange during the Cold War. Sure, Spielberg and Hanks reuniting for a based-on-reality drama isn't really anything new, but what the movie lacks in innovation, it makes up for in filmmaking mastery. The movie shows why Hanks and Spielberg have been so influential, and why some of their best work might still be ahead of them.
9. Mad Max: Fury Road
This long-awaited addition to the Mad Max franchise is basically a two-hour car chase scene. On paper, that may not sound very enticing, but on screen it's a marvel to behold, with masterfully crafted stunts and special effects that are somehow both believable and completely insane. Sure, Fury Road is somewhat light on plot, as most of the dialogue is shouted over revving engines, but it's revolutionary for an action movie in both its artistry and its strong female characters.
8. Steve Jobs
Take two for a biopic of the Apple mastermind didn't make much of a splash in the box office, but it's brilliantly executed nonetheless. Rather than hitting all the major plot points of Jobs' life, the film presents fictionalized versions of behind-the-scenes looks at three product releases from 1984 to 1998. With Aaron Sorkin (The Newsroom, The West Wing, The Social Network) writing, Danny Boyle directing and Michael Fassbender in the starring role, it all comes together to show both the brilliance and the messiness of Jobs' real life and legacy.
7. Going Clear
HBO's documentary that uncovered the creepiness of Scientology was so revealing, the network hired a team of lawyers to make sure they wouldn't get sued for airing it. The film is an incredible work of investigative journalism, centered around interviews with former members of the "church" as they painfully recount the abuse they suffered under the group's leadership. But beyond just the stories of victims, Going Clear is a fascinating look at how a science fiction writer launched one of the most notorious cults of modern times.
6. Creed
Creed managed to do something that few reboots and sequels can successfully pull off: It was able to revisit what made the original story so compelling, while still managing to feel fresh and inspired. Though it's the seventh movie in the Rocky franchise, it's the first where Stallone takes a backseat to another fighter. The movie—starring Michael B. Jordan as the long lost son of the late Apollo Creed—is a look at what it means to maintain a legacy, and start a new one.
5. Star Wars: The Force Awakens
The Force Awakens had a lot riding on it—from the billions Disney poured into acquiring the franchise to the dizzying anticipation of Star Wars fans. In the hands of director J.J. Abrams, it lived up to the hype to become not only the biggest box office hit of the year, but also one of the most fun action movies we've seen in a long time. From our original review:
Abrams sets about crafting a film that is, in every way, true to the spirit of what made the original trilogy such a delight. It's a hero's journey with a sparse, understated first act that gently unspools into grand, galaxy-spanning operatics … In truth, there are times when the film feels less like an addition to the franchise than it does a remake of the original movie. A less forgiving analysis might call this playing safe, but I just call it playing. There's a palpable sense of joy to the proceedings, and everyone from the scriptwriters to the actors themselves clearly have great fun at being given such hallowed toys. Their playful spirit is infectious. It's impossible to not smile along.
4. Amy
Amy is not an easy watch, but in a culture that has elevated the idea of celebrity and has made fame into its own sort of idol, it's an essential one. Through personal footage and interviews, the unflinching documentary tells the story of late pop star Amy Winehouse and her tragic struggle with fame, addiction, notoriety and stunning talent.
3. The Martian
Cutting edge CGI capabilities have brought on a new era of beautiful, well-crafted space travel movies. The Martian features mind-boggling scenery and space scenes, but they take a backseat to the characters. The film takes itself less seriously than other space travel films like Interstellar and Gravity, but still manages to make viewers gasp in awe, sit nervously enthralled on the edge of their seats and cry all within a two-hour time span. It's an enthralling human survival story for modern times.
2. Inside Out
It's amusing to imagine the writers of Inside Out pitching the movie idea to Pixar execs. After all, a story of a girl's anthropomorphized emotions journeying around her brain to help her navigate her family's move sounds pretty heady for a kids movie. Inside Out is literally an emotional rollercoaster. Like most Pixar movies, it's irresistibly fun, funny and touching—but it's also one of the most insightful movies of the year, challenging viewers not to vilify any of their feelings, but rather emphasizing the importance of allowing room for the full range of emotions.
1. Spotlight
Spotlight tells the true story of the team of Boston Globe reporters who helped expose a massive sexual abuse scandal among Catholic priests. But beyond a look at how church officials covered up the abuse of dozens of young boys by priests, the film is about dedication to the reporting process itself. It's a look at the tedious nature of investigative journalism, and why—even in the age of quick-hit Internet news—traditional newspaper reporting is still so critical.
Dargan Thompson
Dargan is a former RELEVANT editor turned freelancer. Find her online at darganthompson.com or follow her extremely random train of thought on Twitter @darganthompson.