Let's not have another Shape of Water situation. Movies are snapshots of a moment, and that means the wrong pick on a year-end list like this will stand out stark and irritating in retrospect. Television is broad enough to the point it's excusable to opt for something unusual or different or niche on a retrospective list, but movies? Get it right. There are "correct" choices here.
That's why it's important to pay attention to those movies that—no matter what comes along afterward—just won't go away. They refuse to be sifted from the bunch and they just kept sticking around no matter how much you want to argue and no matter how much you use words like "urgency" or "artfulness" or—gag on this word with me—"craft" to justify something else. Some movies are too strong to be forgotten.
Certain movies of 2018 are just going to matter more a year from now, and five years from now, and a decade from now. This list tries to anticipate what those will be.
10. Crazy Rich Asians
Crazy Rich Asians wasn't just the best rom-com in a year that revived the genre, it doubled as a Hollywood milestone, blending playful humor with a lavish, culturally-specific love story featuring one of cinema's most beautiful weddings and that thrilling mahjong finale. Crazy Rich Asians was the coronation of a summer that—along with Searching and To All the Boys I've Loved Before—proved not just demand for Asian representation at the movies, but the legitimate talent already eager to tell those stories.
9. A Quiet Place
The 2010s horror renaissance continued this year, with everything from the arthouse Hereditary to the B-level Halloween bringing more than just scares to the table. A Quiet Place will have the most legs of any of them, with a central concept so ingenious it transcends gimmickry and communicates something thematic, hopeful and unexpectedly (in this genre) pro-life. Emily Blunt's bathtub scream is the enduring sound of the year. It's raw and agonized but—in 2018 especially—you find so much relief in it.
8. Annihilation
This might be the year's most re-watchable movie—if you can endure the strain. Annihilation wrings your brain like a bath towel, twisting your expectations and conceptions into patterns that don't just confound, but inspire, too. As Natalie Portman, Tessa Thompson, Gina Rodriguez and Jennifer Jason Leigh venture deeper into their world of sci-fi distortion, their purposes only become cloudier, and the monsters only become more grotesque. You thought a bear that screams like a woman was the worst it would be? You had no idea.
7. Spider-Man: Into the Spider-Verse
Right now we're comfortable calling this the best animated movie of 2018, but catch us tomorrow and we might be ready to say Spider-Man: Into the Spider-Verse is the best Spider-Man movie ever, or maybe, one day, the best comic-book movie ever made. Spider-Verse contains two rapid pulses, one of electric action, humor and visuals and the other of a strong, inspired heart, full of love for its genre and a sense of compassion that hits you like a low-swinging kick to the stomach. This is a triumphant, two-fists-in-the-air-type movie. It taps into the parts of you that want to be a hero. Better still, it assures you those wants aren't just allowed, but encouraged. Heroes are in short supply, anyway.
6. Minding the Gap
Artists are sometimes caught between the story they want to tell and the story they need to tell. That's the tension in the middle of Minding the Gap, the year's best documentary. Filmmaker Bing Liu set off to make a movie about his childhood skateboarding friends, but the movie he finds in the process is more self-reflective and personal, and when he leans into that, Minding the Gap becomes—paradoxically—more inclusive. The most wrenching moments of the movie see its central figures confronting traumas, questions and realities they've ignored for decades. That we're allowed to watch those confrontations—and the subsequent healing processes—feels like a privilege. Maybe we can share in that healing ourselves.
5. Widows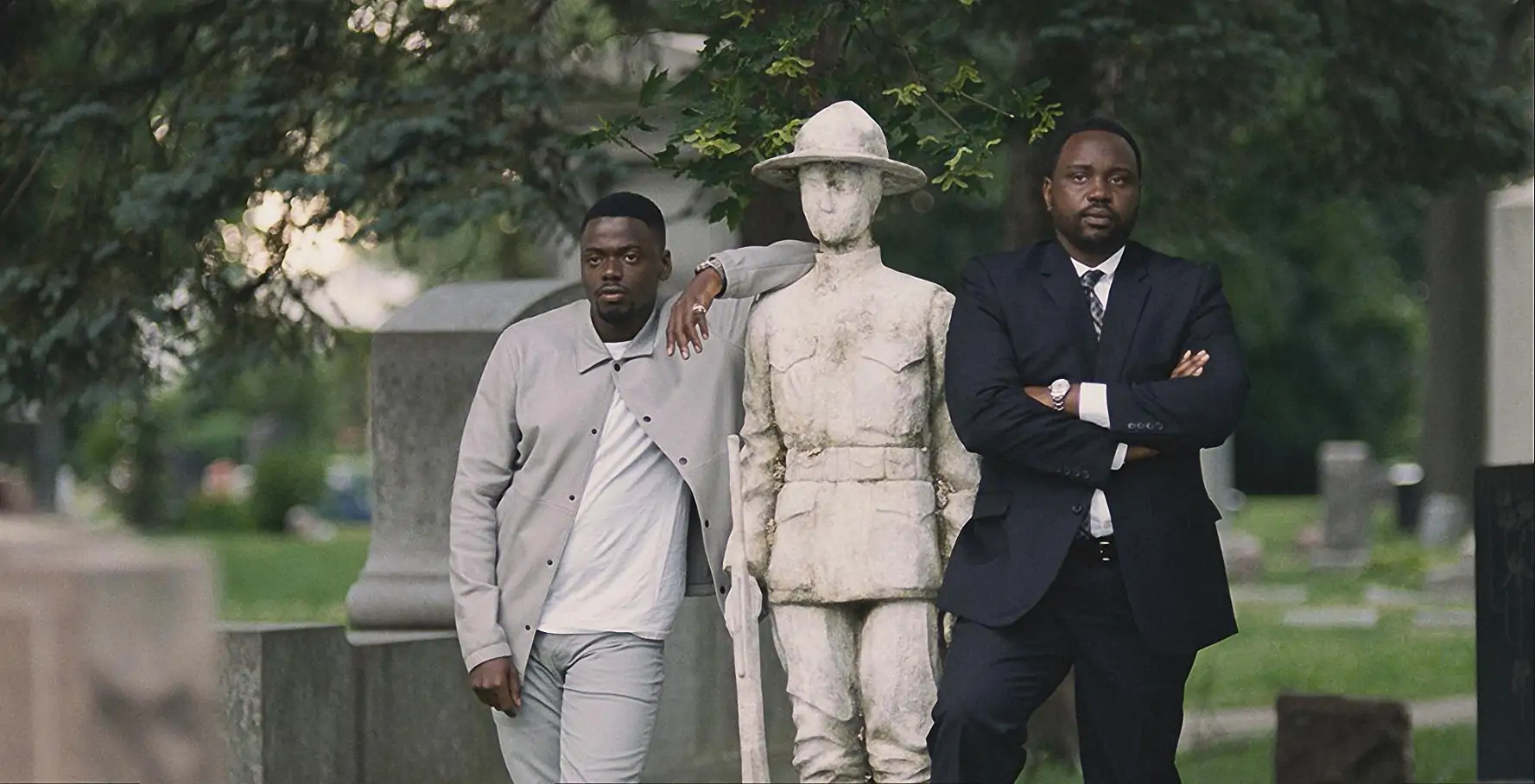 Sometimes you just have to pick a banger. Widows is the year's most under-seen flex, a supreme, hyper-intelligent crime drama from the director of 12 Years a Slave (Steve McQueen) and a cast that includes three of the best TV actors in the world (Viola Davis, Brian Tyree Henry, Carrie Coon) plus Michelle Rodriguez, Liam Neeson, Daniel Kaluuya, Colin Farrell, the legend Robert Duvall, plus Elizabeth Debicki and Cynthia Erivo, who are about to become very, very famous. This is one of the best heist movies in a long time, made better by a no-freaking-way script from McQueen and Gone Girl writer Gillian Flynn, who together pack ideas of race, class and gender into a movie that, despite all of these components, never stops humming.
4. Eighth Grade
No movie captured the collective anxiety of 2018 like Eighth Grade, which took an uber-specific slice of life approach to dissecting some of the world's basest insecurities. Breakouts Elsie Fisher (the lead) and Bo Burnham (the director) bring all the empathy you'd hope for in a coming-of-age story, but they ultimately use humor to bring home the movie's ideas. Yeah, middle school was terrible, but you're laughing, so doesn't that mean you're okay? A time capsule of a movie that, if we're lucky, could become timeless.
3. Roma
This is our surefire award-winner. Roma might be called Oscar-bait if it wasn't so obviously driven by passion. Alfonso Cuaron (Children of Men, Gravity) assigns purpose to his ambitious, highly-technical directing style, letting wide shots and layered sounds fill the senses until the feeling of watching Roma becomes not just voyeuristic, but participatory. This feels like a movie you can walk around in.
Thank goodness that technical wondrousness was employed in the service of such an intimate, beautiful story, too. For all its grandeur, Roma holds you close, and rising star Yalitza Aparacio delivers a performance that doesn't let you go. Everyone has a story, but it's when those stories are placed into context that they gain resonance, impact and power.
2. First Reformed
Faith movies don't come better than this. First Reformed was conceived and delivered by unlikely sources (Taxi Driver writer Paul Schrader and Gen X surrogate Ethan Hawke), but that outside-in perspective has finally delivered a movie that touches on spirituality with as much conviction as it does reverence. Here, the holy meets the profane, but it's not blasphemy. It's the church as it is now.
About a maligned priest whose revelations on climate change and religious institutions bring on an intense crisis of faith, First Reformed is an austere examination of a man who finds tension between what he expects of the church and what he sees in practice, and while that exploration would be revelatory enough for faith movies, watching Hawke's priest go to desperate, radical lengths to repair the brokenness he sees lets us access a whole other spectrum of dialogue. The ending, too, is the best of the year, a release so intense it feels like sin.
You probably saw this next movie, but if this list compels you to watch anything in 2018, make it First Reformed. A terrific movie, and essential for anyone who calls themselves a believer.
1. Black Panther
It's really this simple: No movie mattered more in 2018 than Black Panther. No movie had a broader reach, impacted more people, inspired more conversations and generated more joy and excitement and memes and celebration. Black Panther is the movie we will remember most from this year and the movie we will talk about most going forward. It will have the most lasting legacy and it will prove to have created the largest cultural footprint. This year saw a bonafide Black Panther moment, and if we're lucky, we will look at superhero movies and blockbuster movies in the light of a pre- and post-Panther world.
Arguments might come from those who say there were better pure movies this year than Black Panther, and while that might be true, Black Panther is still exceptional, and not just for a Marvel movie. There is so much more on director Ryan Coogler's mind in this movie than CGI-heavy action. Black Panther and Killmonger have distinct, grounded ideologies that represent more than the standard good vs. evil conflict. We're talking about isolationism, nationalism, racial pride, privilege, role modeling and leadership here. Black Panther is about representing as much as it's about representation. It's uncommonly smart and blessedly dignified.
We have a new standard for superhero movies because of Black Panther. Thanks to this movie, we demand better villains, artistic vision, diverse casting, complex themes and aspirational escapism from our big-budget spectacles. Don't just give us two hours to check out of reality. Give us two hours that provide a place we can hope for, dream about and work toward in this reality. Give us two hours in Wakanda.
It's that shift in thinking that makes Black Panther the best movie of the year. It's not just about having a moment; it's about having a moment that positions the culture toward something positive, productive and greater. Plenty of movies revelled in the darkness of 2018, but not many had the strength to shoulder all of 2018's issues and carry them toward the light, and that was the power of Black Panther. It empowered us to go forward and be strong for the world, and that's how we come out of this. That's how we endure. That's forever.