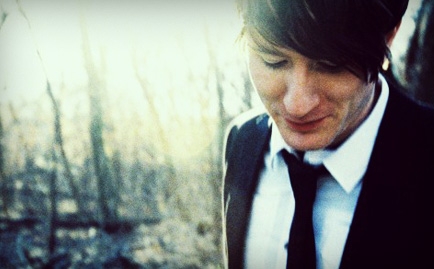 In 2009, Adam Young (better known as Owl City) seemed to come out of nowhere. His hit single, "Fireflies," was all over the radio, but no one seemed to know where he came from—or how he'd made a platinum-selling album. Young comes from a small town in Minnesota, and his music was the result of insomnia and a lot of time in his parents' basement. He's also a vocal and committed Christian. His new album, All Things Bright and Beautiful, hits stores today, so we recently spoke with Young about the new record, his dream collaboration, his faith and if he ever has a bad day.
Your last album, Ocean Eyes, was a platinum-selling success. What can we expect from All Things Bright and Beautiful that might be new or different for you as Owl City?
I think overall this new record, when you play it down from top to bottom, aesthetically, tonally it feels a little bit more conclusive, or a little bit more resolved than Ocean Eyes. I think mainly just because I spent a lot of time polishing my craft; just because everything I do comes out of my basement, and I always forget how much work it takes to make a record when you're just one guy in a basement. I spent a long time working with gear, and with lyric variations, and all around I think this new record sounds a little bit more older and wiser.
You've always had a lot of imagery in your songs. With this new album it seems like it's even more descriptive, especially songs like "The Yacht Club" or "Plant Life." Why do you think you gravitate toward this imaginative style of writing?
I'm from a very small town in Minnesota, southern Minnesota, basically Iowa. I'm an only child, so no siblings around. None of my friends were really that into music, my parents aren't music connoisseurs, per se. I always wrote music from my imagination more than anything else because I'd never been anywhere. We never really did the whole family vacation thing, and I was very much tied down to the Midwest, the farthest thing from any of the oceans, so Ocean Eyes kind of stemmed from that. It all started in my parents' basement, and I would just imagine and daydream, just block everything out. I was always working jobs I didn't particularly love in high school, so daydreaming and my imagination was always my escape, in that respect. Writing about things I'd never experienced was suddenly so inspiring in and of itself because suddenly I could go anywhere, and I could do anything, and I could be anyone and kind of craft this whole reality through this music.
The first single from this new album is "Alligator Sky," featuring rapper Shawn Chrystopher. Do you think collaborations like this will become more common in your music?
I think so, yeah. It was a really fun experience all around, and I think that song in particular was just kind of a fun flavor, a fun experiment to do. I think there's something about coming up with a given song and then going out and finding somebody else who might add some wonderful texture or some beautiful flavor to what's already there, and I think that's really inspiring to me in and of itself, just to see how someone else will take what's there and mold it, kind of turn it into something else, and I love being there to witness that.
What is your dream collaboration? If there was a dream duet you could do, what would that be?
There's a film composer named Thomas Newman, and he's done a lot of the Pixar films. He's scored a lot of films and there's something about his melodies. I can flip on TV or walk by someone watching a movie and if they're watching a movie that Thomas Newman has scored, I don't even have to see the credits, I can tell that that's one of his melodies. I guess it would be featuring a lot of strings, and a lot of orchestral elements, but yeah, that would be my dream.
A lot of musicians try to keep their faith separate from their act, or keep it as a layered aspect of their art, but you're very upfront about the fact that you're a Christian first and an artist second. Why do you think it's so important to make this kind of statement with your music, even when you're not singing about faith directly?
I've always just asked the Lord that this music be useful more than anything else, and really beyond that my job is just to remain steadfast in my relationship with Him, and just kind of let these songs write themselves more or less, and ultimately never be ashamed of my faith and of my personal relationship with Jesus Christ. So yes, it's never been my intention to really overthink, "Well, am I going to write up tons of Christian songs, or am I going to try and skirt away from it a lot?" I've always just kind of prayed for like, "God, just send me the songs you want me to write, because once they're written and recorded, I'm going to send them all back to you and point all fingers back up to you." It's like, it's almost none of my business in a funny way. Once these songs are done, I just want the Lord to use them however He chooses.
Your music, in both melody and lyrics, is just consistently optimistic and hopeful. Does Owl City every have a bad day?
Yeah, for sure. And it's kind of a funny way for me to escape from those bad days by writing and by imagining and by creating these very optimistic songs. That's always been my way to kind of deal with the average bad day or if I'm frustrated about something, or if I'm feeling down about whatever. Music has always been my way to forget about that, so yeah, that's my way of dealing with a lot of things.
You got your start on the Internet, through MySpace and YouTube. Now you keep in touch with 500,000 followers on Twitter. How have you seen the Internet change the game for musicians?
The Internet, for me, was certainly the biggest piece of the puzzle in terms of marketing, in terms of movement, all things business and all things aesthetic. The way this whole thing started was just me simply writing five to seven songs and putting them on MySpace to say, "Check this out," or whatever, and kids discovered this stuff and spread it around, and suddenly labels are calling and people are asking me if I want to fly out to New York or L.A. to take label meetings, and I'd never been on a plane before. I'm just a shy kid from the Midwest and suddenly this whole storybook thing is opening and unfolding and I'm just hanging on for dear life and just saying: "God, what do you want me to do? I just want to follow you, and really stay strong no matter where this crazy roller coaster goose chase takes me."