Rob Bell Takes on Suffering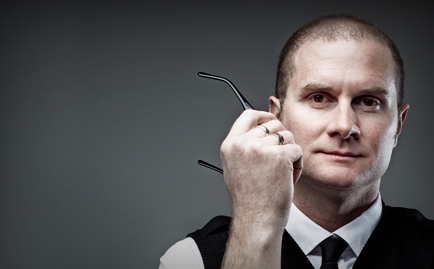 Rob Bell is currently on a book tour for his new book, Drops Like Stars [check
out our review here]. We had the opportunity to talk to the author and
pastor about suffering, his new book and how we can recalibrate our
thinking when we feel completely broken (part of this interview is also on our 10.12.09 podcast)
In your new book, Drops Like Stars, you say that "Our suffering
forces us to imagine." Can you elaborate on that? It seems like you're
pushing us to the idea that dreaming again might be just as violent as
grieving.
A blank page of any sort can be terrifying—a
blank screen or "they're not going to be around anymore tomorrow or the
next day or the next day" or "we worked together for however many years
and now we're not going to work together anymore."
[Or
there's] the person who lost their job yesterday: What am I going to
do? That terror can be read another way as well. Which can be deeply
insensitive to say to someone, "Hey, you lost your job, think about what
tomorrow may bring." But the truth is, given a larger perspective,
"So … well … what do you want to do now?" The whole book is about a
paradoxical gift, a sort of bloody, traumatic, awful, strange gift.
In
the Jewish tradition, the first thing you do when someone dies is you go
over to their house. So the first thing you can give people is your
presence. Perhaps in that sense the book is step two or three as
opposed to, "Oh, something horrible just happened? You need to start
reading." It may be a while.
I just got a text from a woman who
had a relative who took his own life and it wasn't that long ago and
for her the book spoke to her exactly where she's at. I was interested
that she was able … 'cause sometimes you're in enough pain and you're
like "Okay, the good side of this? C'mon." Even the idea of a good side
[seems impossible]—but the book isn't like "Hey there's a good side"
it's more like "in the midst of this agony are all sorts of interesting
paradoxes, let's just sit in them." I've tried to be very respectful of
people and hopefully what people come out of it [with] is real and not
sort of manufactured, "Hey you should buck up." It might be a while.
Drops Like Stars is all about suffering. How has Rob Bell experienced suffering?
First,
on a less personal note, as a pastor over the years the interesting
thing is that you end up being invited into peoples' really intimate
moments of suffering. So you barely know these people and all of a
sudden you're at the hospital standing over this plastic box with them
that has their kid in it who's gonna die in nine days. And then you see
them three months later, and then a year later, and then you see them
two years later when they got pregnant again and have a healthy kid.
Or
you do funerals: I've had numerous times, especially when we first
started the church, [when it was] me, the casket and the family at the
funeral home in a [small room] and we have to come up with an order of
service. A family friend of ours died a couple of months ago, so we got the closest relatives together in a room to talk about what
they wanted for the funeral service. It turned into their first chance
in a room together to actually talk about him.
[But] I would not be
who I am if it wasn't for relationships that didn't turn out and people
that really, really, really hurt me. When your work has a sort of public
dimension to it, people feel free to say whatever they want. So
everything from your family to your motives to your integrity to your
weight, people feel free to comment on. Over time, you either become
cynical and hard and bitter, or you learn to forgive and somehow for
some strange reason keep your heart soft.
I
hesitate to talk about it, but when you do what you do and there's a
public dimension to it you are exposed and vulnerable and out there and
there are ways that people react and things that people say that are
very, very painful. And you're just kind of, if I could use the word
"faithful," you're just trying to be true to what's been put before
you. That is a "wow, I was just kind of doing my thing." That does
produce a sort of pain.
And how do you respond to that suffering?
Well,
I think the simple truth is that I have an invitation here to choose a
well-worn path of closing down and contracting within myself and just
"This person said what? I think all people are horrible." What am I
going to choose to believe here? Will what this person did now in my
mind define them? Are they now what they did, so I will no longer be
able to see them without thinking of what they did?
Or will I
somehow absorb that pain and experience a sort of death and rebirth
where I can see them again as a person who says nasty things just like
me? And obviously a church and having been at the center of a church
that has been on a wild ride: "How do we get along, we have issues and
they're going to come out."
When you're in a season of suffering, how does art speak to you in those moments? What art in particular?
A
lot of books in Drops Like Stars are in there because they've helped me:
There's a series of novels in there that helped my wife and I through
some very hard [times]; Irving Stone's novel on Vincent Van Gogh; [and] the new Muse album will get me through the apocalypse.