Science: Dolphins Love Radiohead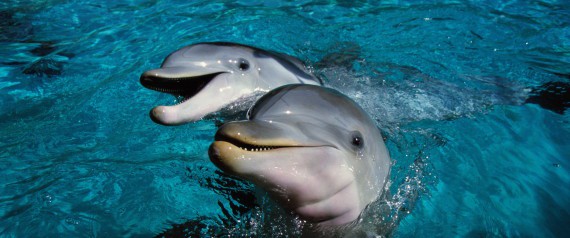 Dolphins are the best. There's no argument about that. We've talked about dolphins being the best around here a few times. And yet, every new scientific discovery about dolphins just seems to confirm what we already knew. It's like, with every new discovery, you're like, "Of course dolphins are that cool." Case in point: they love Radiohead.
There's science behind it, but it starts out pretty loose. A woman named Willow Withy works as a Yoga with Dolphins instructor at Siegfried And Roy's Secret Garden And Dolphin Habitat in Las Vegas (stay with us.) She noticed that whenever she played Radiohead's "Lotus Flower," the dolphins' moods got significantly more positive. That all may sound a little, well, anecdotal, but Tori Cullins of the Wild Dolphin Foundation substantiated Withy's claims. "Different types of music different effects. The percussive tunes seem to provoke the most interesting responses. It is a tell-tale sign when they look into the windows that the sounds are changing their behavior." So, in short, different types of music improve dolphins' moods, and they've got great taste, because they love Radiohead.