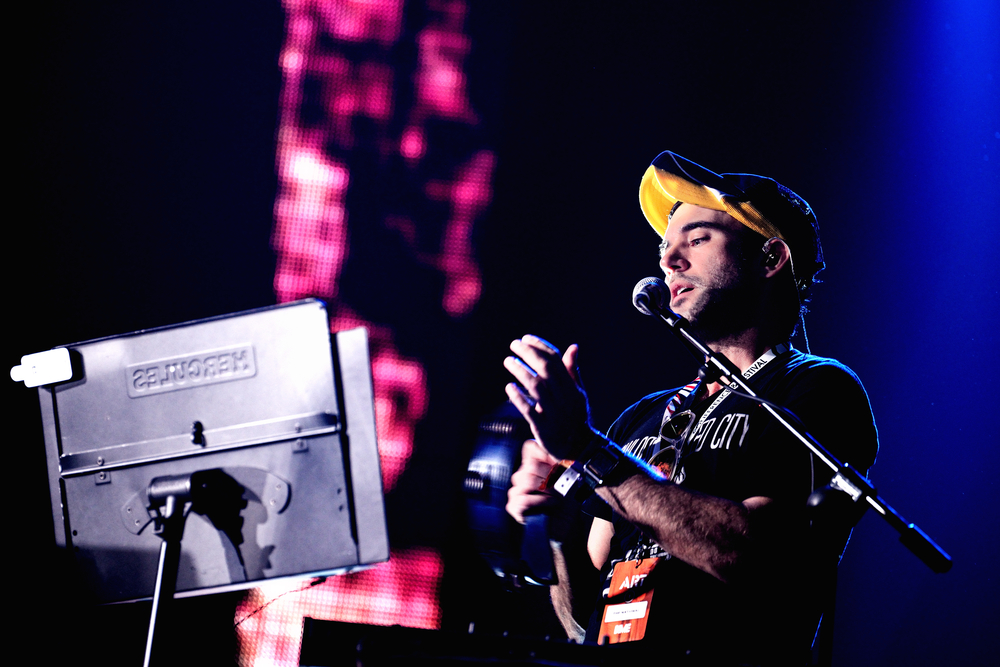 With Sufjan Stevens' announcement of a new album dropping later this year, here's a reminder of why he's ideal quarantine listening.
Sufjan Stevens' music is full of birds. Swans, hawks, doves, loons and other avian witnesses to human toil and struggle. Like Stevens, birds can take a long view of their surroundings — soaring miles above it, untroubled by the granular details. But also, like him, they largely choose to be a part of it, poking around in the soil for sustenance and substance. You can scratch your head and wonder at why pigeons hop across the street instead of flying over it or you can be grateful for the sight.
I think that's why Stevens has been such a valuable part of this self-isolation season. COVID-19 has, like nothing else since World War II, given everyone on our planet one, single, terrifying context. Every single living person you have ever met is going through some version of the same thing. That's the bird's eye view. But more immediately, the details of our individual lives have been upended. The places we walk. The people we kiss. The meals we make. These are the minutiae. The little things, suddenly torn asunder.
Stevens is gifted at not just seamlessly floating from the macro to the micro but exploring the relationship between the two. His Illinois tribute album Come On! Feel the Illinoise! is famous for unwieldy song titles like "Decatur, or, a Round of Applause for Your Step-Mother!", but there's an important point to this clutter. The town of Decatur and Sufjan's stepmother existed in relationship with each other. The macro and the micro.
This is why Steven's music is good coaching on understanding the ways your personal wellbeing is connected to the common good. That's always been true; it's just more obvious now. But there's another reason Steven's music has been such an important balm for me the last few weeks: its treatment of death.
I was in college when Stevens first alighted on the then-burgeoning indie music scene, with his 50 State Project and everything-and-the-kitchen-sink approach to recording. Refreshingly, for that time, he didn't seem to take himself too seriously until he, suddenly, devastatingly would. He predated the modern internet's knack of saying important things with silly aesthetics. I was living in Chicago when Illinoise came out and I loved it dearly, as any young, music-loving Chicago resident would. I didn't know I, a Christian, was allowed to publicly admit that sometimes praying means "nothing ever happens" until Sufjan sang about it on "Casimir Pulaski Day."
I was younger then and kept death in my peripherals like most of my friends did, but Stevens has always been much more comfortable with the grim specter over his shoulder. That was clear then but became much more apparent on 2015's Carrie & Lowell, where death became the main player following the loss of his mother. The album's sparse instrumentation suits its sad subject, with achingly pretty melodies about death, depression and, ultimately, acceptance. "Every road leads to an end," Stevens sings on "Death With Dignity" — just one of many lines that can float by on a dozen listens before it catches you in your guts. Particularly now.
In America, we are experts at sanitizing death into a cold calculation — a distant, sterile finale unsuitable for polite conversation or any conversation at all outside of closed-off hospital rooms. But in Stevens' music, death is the unavoidable context of our lives. "Make the most of your life while it is rife, while it is light," he charges on "The Fourth of July" before slipping into the song's repeated refrain — one simple, immutable fact: "We're all gonna die." In his telling, this is neither morbid nor fatalistic. It's a fact to grow comfortable with now, while you still can.
Stevens' perspective rings truer now, with all our efforts to keep death at bay failing in spectacular fashion. In this strange season, death is lurking everywhere — a neighbour's handshake, a doorknob, church. Paranoia and panic are obvious responses. But Stevens models a more human and necessary posture: "All things go."
That's why Stevens' music has been both a comfort and a challenge. Comforting, because his music seems so comfortable with our present reality. Challenging, because this is the only sane way to think about death, really. "Jesus, I need you, be near me, come shield me from fossils that follow my head," he sings on "John My Beloved." "There's only a shadow of me, in a matter of speaking: I'm dead." If this season doesn't get that into my skull, nothing will.
When will things go back to normal? I know what people mean when they ask that, but the reality is that there will be no going back to normal. The pandemic has raised enormous questions about the fragility of our lives at the macro and micro levels — the delicate, life-and-death ways we're all connected to each other via a labyrinth of local businesses, healthcare systems, trusted (and not so trusted) news sources and minimum wage workers, as well as smaller things like hugs, concerts and restaurants. Shame on us if we refuse to re-evaluate our attitudes and actions about these things post-quarantine.
But likewise, it's important to not let this collective familiarity with death go to waste and take advantage of the unique wisdom that is, for a time, looming over us like a shadow. "Now I am about to go the way of all the earth," Joshua said in his lovely farewell address to Israel. "You know with all your heart and soul that not one of all the good promises the Lord your God gave you has failed. Every promise has been fulfilled; not one has failed."
Stevens strikes a similar attitude about death, welcoming it neither as a friend nor fearing it as an enemy but accepting its inevitability and drawing logical conclusions about what that means for his life. "Lord," he sings on "My Blue Bucket of Gold", "touch me with lightning." Is this a call for death or sanctification? In the Bible's view, they are not always so different. As 2 Corinthians 5 says: "For we know that if the earthly tent we live in is destroyed, we have a building from God, an eternal house in heaven, not built by human hands."
That's not easy to remember. But during my time in quarantine, Sufjan Stevens' music has helped, a little, to both soar over some of the mess but also poke around in the messes of it and find "the only reason why I continue at all …blind faith, God's grace."