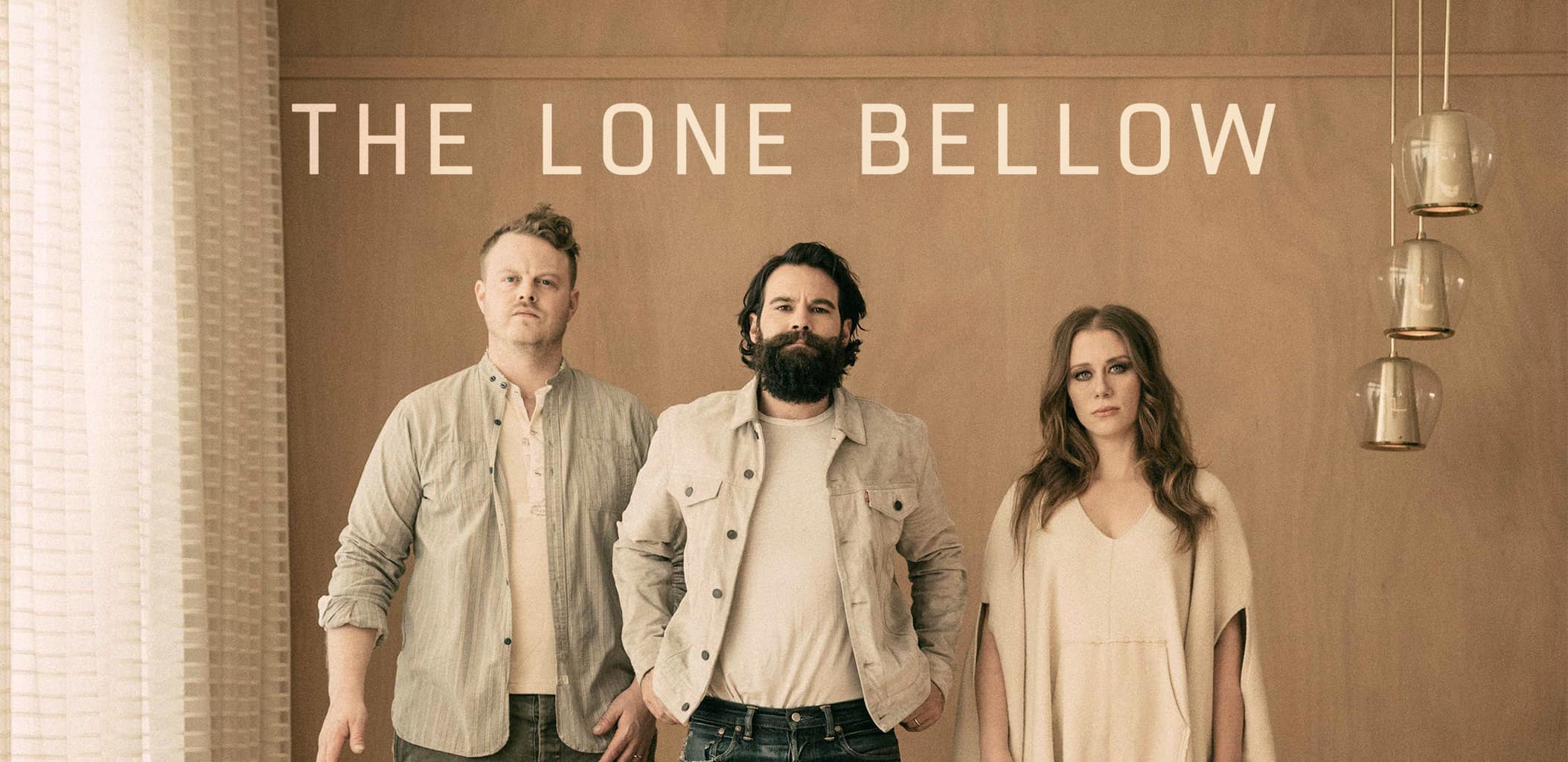 "Are we still enjoying this?" Zach Williams asks this question about The Lone Bellow, the band he has been at the front of since 2012. At the time of this conversation, he's just a few days shy of the release of Walk Into a Storm, the band's third studio album. It's another terrific achievement in a relatively brief career full of them, but for Williams, it's not enough to simply be good. He wants The Lone Bellow to be meaningful.
"We don't want to just go through the motions," he says. "We really want to make sure we're doing this, and doing it right."
By almost any definition, Williams is doing this right. Their 2013 self-titled debut album landed on the Billboard charts along with a slew of "best of the year" lists. Their follow- up, Then Came the Morning, was produced by famed indie-rock kingmaker Aaron Dessner of The National. They've made the late-night television rounds and were nominated for an Americana Music Award. It's hard to imagine many bands in their position taking time for self-reflection, but The Lone Bellow isn't most bands. They go to great lengths not to be.
A DARKNESS UNDERNEATH
"I like beautiful melodies telling me terrible things." Tom Waits said that, and it's an ethos Williams carries with him.
"That's what country music has been good at for a long time," he explains. "It's just a nice kind of dichotomy of sorts; it has the good with maybe the not-so good.
We don't think people are always paying attention to the lyrics, and then maybe a few months down the road, they're humming it to themselves, singing it, and they're like, 'Wait a minute. What is this talking about?' So I've always really strived for that in songwriting."
Take the first single, "Time's Always Leaving." If the song is playing and your foot isn't tapping, you should seek medical attention. It's a boot-stomping, hand- clapping, grin-inducing riot. It's so much fun, in fact, that you could be forgiven for not realizing just how forlorn the lyrics are.
Time's always leaving, sneaking peeks at her watch / Always whispering sweet little lies about her thoughts …
I'm afraid of the morning, morning / And I dread the sunset.
"It's kind of wrestling with that thing that's on all of our backs," Williams explains. "Is time passing too fast? Am I living with my eyes wide open and my heart wide open? Did I just go through the motions today? You know, just that ancient, old fear humans have always had."
For Williams, that fear is a little closer than usual, and it's led to some big changes for the band.
GO WEST, YOUNG BAND
If you know anything about The Lone Bellow, you know how fond they've been of referring to themselves as a country band by way of New York City and, to be sure, you can hear a lot of Waylon Jennings and Hank Williams Jr. underneath the band's muscle-y Brooklyn folk.
The band has thrived in the five boroughs and made it as much a part of their identity as Snoop made Los Angeles a part of his, so eyebrows were raised when they announced they were relocating to Nashville.
"I mean, I consider [us] a Brooklyn band forever," Williams says. "That's the foundation that was built for us. That's our initial family-base. [Famed NYC radio station] WFUV was one of the very first radio stations to believe in us. You know, like that was our thing."
But while Brooklyn can be a great place for music, it can be tough for families. That's a tension Williams and the rest of The Lone Bellow started to feel as children came into the picture.
"I was like, 'I love New York with all my heart, but kids grow up fast. I want to be home as much as possible,'" he explains, describing the conflicted decision to move from the city he loved. "And I basically, I was like, I can't just stay in New York just because we love New York so much if that is actually taking away time. I couldn't argue with time."
The move has been good, Williams says. He likes the "creative energy" of his new home and how it's brought him into contact with famed country music hitmaker Dave Cobb, the man behind the work of artists like Jason Isbell, Sturgill Simpson and Chris Stapleton.
"He's got these couches set up and this beautiful record player and these like incredible sounding speakers, and a table and notepads," Williams says of Cobb's recording studio on Music Row, sounding genuinely awed. "And you sit at the couches and basically tell him why you want to record the song that you're about to record. And then you all just kind of wrap your heads around [it] like, here's what it's gonna sound like."
Cobbs' studio was built half a century ago by Chet Atkins and has served the likes of Elvis Presley and Dolly Parton. Given that pedigree, the members of The Lone Bellow were justified in feeling fortunate
to record there, too. Williams speaks of Cobbs' production skill with a reverence that transcends politeness, but he's also appreciative of the rest of his band and their cooperation on the album.
"There were definitely some times [when] we were, you know—just like creating anything with humans—there's big arguments or whatever," Williams recounts. "But when conflict is handled the way it's supposed to be, it's a beautiful thing."
All this seems to have helped provide a measure of stability to the rest of Williams' life—but that's something not everyone is happy about.
THEY SHALL OVERCOME
Stability, it seems, is a good fit for his band. There's a popular notion that all great art is rooted in tragedy, and it's a notion Williams rejects wholeheartedly.
"I remember in like 2010 I was talking to some punk at a label," he says. "And he was like, 'Well, I don't want to have to wait around for the next tragedy to happen to you for you to be able to write another song that I like.' I was just like, 'Screw you.'"
There's a reason the comment elicited such a strong reaction. Some of the original songs Williams wrote for the band were inspired by journal entries he'd written in the Shepherd Center, a spinal cord and brain injury rehabilitation facility.
Back in 2005, his wife, Stacy, was temporarily paralyzed after breaking her neck in a horseback riding accident. Doctors first thought she would be a quadriplegic.
However, the couple clung to hope, and miraculously, Stacy eventually recovered.
It's hope, not darkness, that now inspires much of his writing. If you listen to his songs, and really dig into their meaning, you can begin to hear that Williams has a deeper perspective and sees beyond the circumstances.
For years, he served as a worship pastor at Trinity Grace Church in Brooklyn's Park Slope neighborhood. Maybe it's those spiritual roots that have led him to lean not on tragedy for inspiration, but instead look for the light at the end of tunnels.
The mentality of just focusing on darkness can breed an unhealthy pursuit of chaos, Williams says, noting that he has seen first- hand what pushing artists to actively seek out negativity in hopes that it will result in a new creative spark can do to people.
"I'd met a lot of musicians in particular that, after the shows, we would just kind of go a little dark together," he says. "Whether it was like hanging out playing pool at a bar or whatever. I think that there's just like this monkey on our back, this pressure."
However, for the latest album, that's a pressure Williams has seemed to have kicked, and he writes about it on "Between the Lines":
What I'm here to tell you / You don't need the hurt / To make something you love / To tell you what you're worth / And you don't need regret / To guide you through the night
"I wanted this album to say that … to whoever is standing in front of us listening, you know, 'May your heart be open. Whatever changes the wind might be blowing,'" Williams says.
And if there's something that's defined Williams' stance so far in his journey with The Lone Bellow, it's just that: keeping an open heart.
HOPING FOR HOPE
The world is chaotic, and Williams is mindful of that, particularly at the band's live shows. Whether dealing with the stress of day-to-day life or the divisiveness of a contentious political climate, The Lone Bellow knows their fans live in a stressful era. "It's at the place now where I don't think you can dodge it and be honest with yourself at the same time," he says.
The question then, is what The Lone Bellow has to offer to these people and when it comes to that, Williams has one goal: hope.
"I would love it if this album could be kind of like a stop sign in someone's mind," he explains of Walk Into a Storm. "Just pausing for a minute to think about the things that really matter to them. That's my hope at the shows, so it's [the] same thing in the record."
Which brings us back to the question Williams started out with: "Are we still enjoying this?"
Offering hope to people, getting them to consider deeper, more important truths, working through tragedies, seeking healing and providing a bit of respite from the rest of the world is a pretty enjoyable job, and it's helped Williams answer in the affirmative.
"I love the record," he says. "I believe that music is a really weird, mysterious thing; like why do humans like certain sounds and noises and notes? I think the three of us singing together, I hope it can be inspiring," he says.
And with that idea—inspiring people to hope in difficult times—Williams is finally able to answer his own question.
"I love this work we get to do."
Tyler Huckabee
Tyler Huckabee is RELEVANT's senior editor. He lives in Nashville with his wife, dog and Twitter account.