There are a few characters within Christian culture that everyone knows about. Biblical characters first, VeggieTales characters second. The colorful cast of vegetables were a staple in most Christian households of a certain generation and even if you didn't grow up Christian, you were probably familiar with these guys and their Silly Songs. With dozens of episodes — and two movies! — kids everywhere knew about all about the VeggieTales.
The characters have stayed with us over the years, and we at RELEVANT have taken a closer look at them before. But recently, we came across an interesting fact about one character which lead us down a bit of a rabbit hole. Apparently, on Big Idea's Wiki page, each character has a list of canonical fun facts that are just frankly absurd. After some time fact-checking and researching, we've compiled and ranked the most insane but true facts about each main VeggieTales character.
Laura Carrot
Junior Asparagus's BFF is around enough to be on our radar, but she's just obscure enough to have a bit of mystery around her. As it turns out, she just prefers to live a simple life. If she weren't an actor, she says she'd be "scootering around town on her scooter."
Petunia Rhubarb
Petunia is known for her kindness and encouraging presence. So it should come as no surprise that in The VeggieTales Show, she is the president of the VeggieTales fan club. Which, we believe, means she's in a fan club for herself? It's a bit confusing, but hey, self-love is important so we can look past this.
Larry the Cucumber
It's safe to say that Larry is the most intriguing VeggieTales character. He's a musical prodigy who can play nearly a dozen different instruments — an impressive feat for someone with no arms! He enjoys Chicago hot dogs, sardines and chocolate. And according to his official bio, if he weren't an actor, he would've been the world champion at Candy Land or be clerking in the Supreme Court. That's simply the duality of Larry.
Mr. Nezzer
Mr. Nezzer has a reputation for being a villain, but according to his bio, he is not actually not a bad guy: "It's only his performance and usually a nice guy in real life. George mentions this: 'Mr. Nezzer's not a BAD man, he's just too big for his britches.' Which means the first time that Mr. Nezzer was portrayed as Nebby K. Nezzer (as a villain) and it didn't mean that he is a villain in real life." Got it.
Pa Grape
Where would VeggieTales be without Pa Grape? The elderly grape is an essential cast member bringing wisdom and fun to the group. He's pretty youthful at heart, which might be explained by the fact that he was held back in the second grade for 13 years. Being a 20-year-old elementary student is something that probably keeps you young for the rest of your life. He also is among the first non-vegetables to break into the VeggieTales scene — quite an accomplishment at his age.
Archibald Asparagus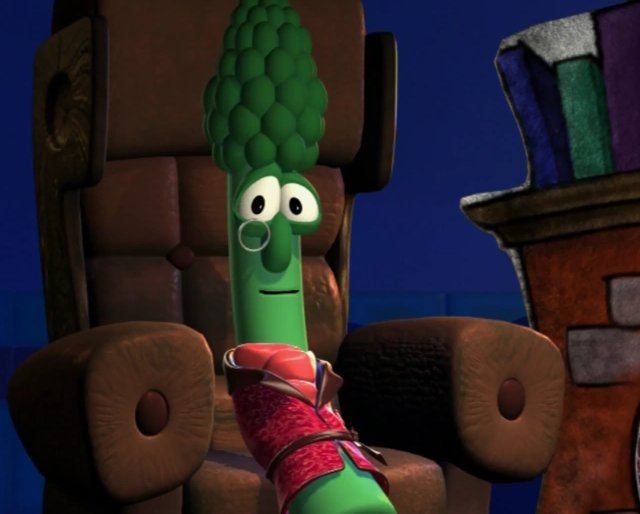 Archibald is the sometimes snooty, patronizing character who reveals his more positive qualities over time, the more you get to know him. He's a bit quirky, sort of like the real-life human he is loosely based on: John Cleese of Monty Python fame (although he definitely gives off John Oliver energy now). His favorite foods are roast beef, Yorkshire pudding and oatmeal raisin, without the raisins.
The French Peas
The small but mighty army of peas, lead by Jean-Claude and Phillipe, are the stars of every battle scene. And in a "behind-the-scenes" commentary for Jonah: A VeggieTales Movie DVD, it's revealed by Larry the Cucumber that the French Peas are actually Swedish and speak in their native Swedish accents when they aren't filming. This, of course, leads to more questions than answers. Why are they pretending to be French? Who decided to do this first? Are their names actually Jean-Claude and Phillipe?
Junior Asparagus
The youngest vegetable at just 8 years old (side note: can you imagine a vegetable living in your fridge for 8 years and looking as cute as Junior? We cannot), Junior is the spark of positivity we all need in our life. And how does he maintain his happy, positive attitude? By playing with his DOG named Kreme. Impossible to picture.  
Mr. Lunt
Mr. Lunt — and according to VeggieTales creator Phil Vischer, his first name is really "Mister" — is a wealth of surprises. He doesn't have any eyes, but he does have a gold tooth. The Little Mermaid supposedly inspired him to become a filmmaker, while The Black Cauldron inspired him to attend the Culinary Academy of Louisiana. And he spent "some time" at the famed Second City improv club in Chicago, Illinois. That time is paying off, Mister!
Bob the Tomato
The iconic host, who is likely a Hot House tomato based on his appearance, has many official bios floating around the Internet. They're full of interesting facts, like his favorite Ken Burns' documentary (Tomatoes Who Changed the World), his favorite food (pasta with white sauce), even his allergies (shellfish). But by far the most interesting face abut Bob the Tomato is his favorite pastime is practicing his acceptance speech for the Nobel Peace Prize. We have to say, if there were any vegetable worthy of this award, it'd be Bob.
Madame Blueberry
Talk about an interesting fruit. Madame Blueberry's wikipedia page is absolutely fascinating. Her late(?) husband Monsieur Blueberry was a World War II pilot. She might have feelings for Bob? She wears a wig! And because she is seen as a similar size to Bob, she might be the biggest blueberry in the world.