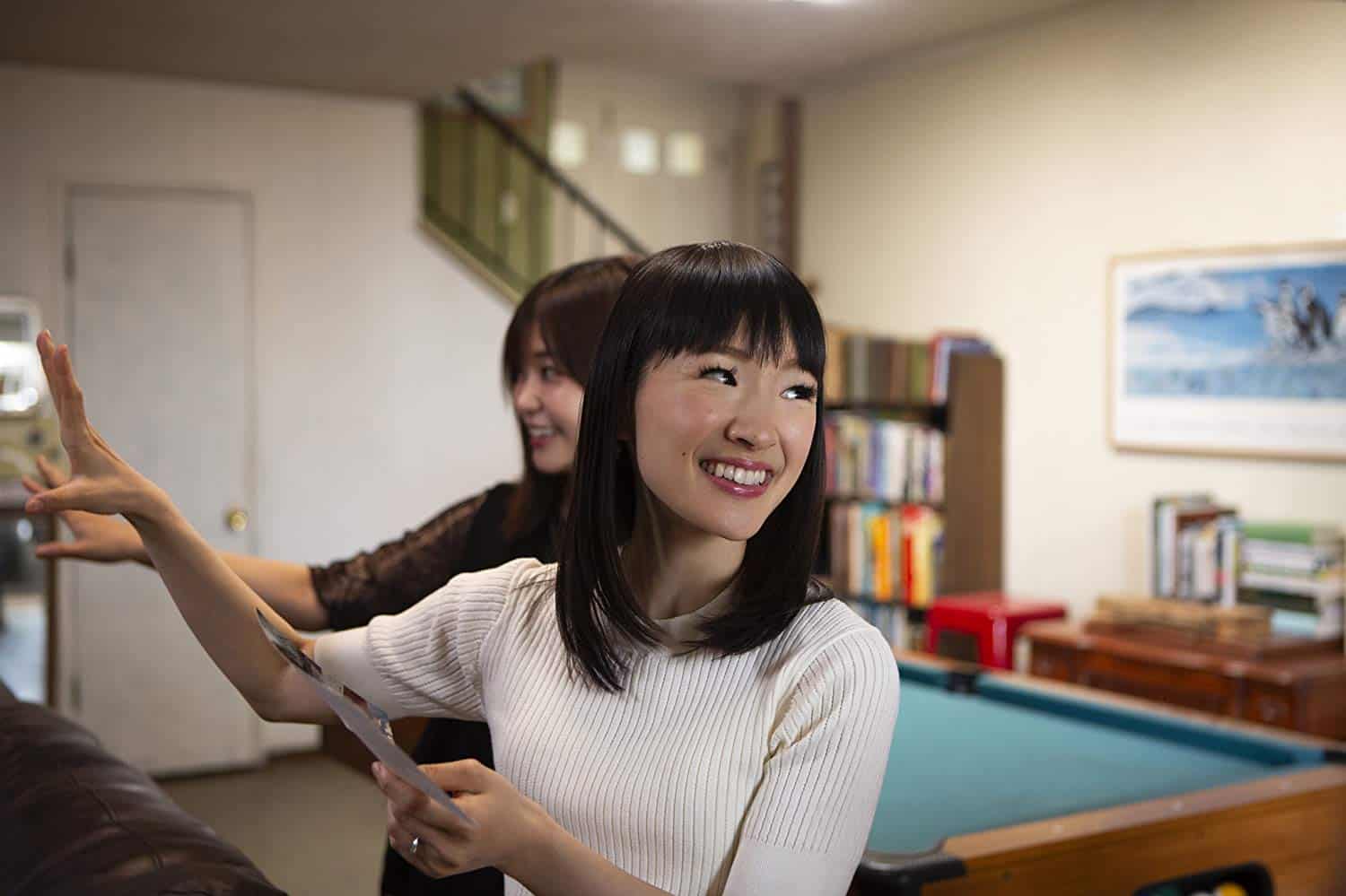 Unless you already live as a minimalist in a tiny house, you're bound to see some of your more disorganized habits reflected in Tidying Up with Marie Kondo, a new limited series from Netflix. From busy stay-at-home moms to idle empty-nesters, from headstrong young professionals to boundary-exploring newlyweds, everyone has some areas of their home (and life) that need a bit of joyful guidance.
While organizational gurus aren't new to American TV, Marie Kondo teaches viewers how to recognize and change bad habits without shaming them, and that makes her unique #KonMari method of decluttering massively appealing. KonMari (first introduced in Kondo's 2014 book, The Life-Changing Magic of Tidying Up) acknowledges belongings can and do evoke strong feelings. The key concept is to determine which items hold the most joyful significance for you, then—with gratitude—let go of the rest.  
On each episode of Tidying Up, Kondo takes a brief tour of her client's bulging closets and chaotic garages, then seeks out a specific location in the home to introduce herself to the house itself. Given most Americans tend to shy away from talking to inanimate objects, the reactions to this introduction range from pleasant surprise to downright incredulousness.
One can only guess what Kondo is praying for or meditating on as she kneels for her introduction, but her moment of peace sets a positive tone for the daunting task at hand.  Decluttering can be a sterile experience, so before throwing away a single item, Kondo prompts each family to imagine a future of warmth, love, and harmony for their home.
Throughout the tidying process, Kondo teaches families how to decipher whether to keep clothes, books, papers, komono (miscellaneous objects) and sentimental items. She provides clear instructions on how to let go of unnecessary clutter: Every household item should be compiled, held individually, and if no joy is sparked, discarded with a heartfelt "thank you." Kondo explains the joy you feel should equal the natural elation of holding a puppy or newborn baby. Within those parameters, many of the families are onboard with eliminating clothes and books, but nostalgic items often present a struggle.
When the decision to say goodbye to something is especially tough, Kondo asks the owner if they want the item to go forward in life with them, and this often settles it. With her cleaning skills and wisdom in tandem, she's basically an adorable cross between Mary Poppins and Yoda.
The goal of Tidying Up isn't to condemn consumerism, as you might see on Extreme Couponers or Hoarders. Rather, Tidying Up's distinguishing quality is Marie's graceful ability to guide people through the rehabilitation of their bad habits.
She doesn't judge anyone's obsession with Christmas décor, baseball cards or clothes that don't fit anymore. She doesn't even flinch when a family insists on keeping an engraved sippy cup (for their 13-year-old) or 50 pairs of never worn shoes. Kondo's purpose is to be an organizational conscience until families figure out how to discern the difference between joyful ownership and complacent gluttony. Once joy is established, the compulsion to hold on to things tends to disappear, as do bags full of donations and trash. Less stuff usually does mean fewer problems, and each episode of Tidying Up teaches that relationships ultimately spark the most joy in our lives.
While we fuss over broken belts, blurry photographs and books we'll never read, Tidying Up reminds us the items collecting dust on our shelves and in our closets don't serve us well in the pursuit of a joyful life. The series is gentle in emphasizing, too, that we aren't bad people because we buy things. In fact, everything we buy, find and inherit plays a part in our journey. However, our belongings reflect our thoughts and values, and tidying up requires us to consider which values we want to reflect in our homes. Kondo's lighthearted and profound message is not to purge our homes with a shameful vengeance, but to be joyful stewards of both our tangible and intangible blessings.
In this season of resolutions and high hopes for a better future, give yourself some grace. Before starting a new cleanse, workout regime or home renovation, take a moment to close your eyes and imagine a future devoid of bad habits.
When you open your eyes and see the mess, return to that grateful attitude and remind yourself why you're making a change. While we should strive to live with less clutters, Kondo demonstrates that finding joy in the present chaos is actually the crucial step when making big life changes. So enjoy the eradication of hole-ridden socks and stained Tupperware, but don't forget to thank your stuff on its way to the trash.