To Honor Nic Cage, This Film Festival Is Lighting a Man on Fire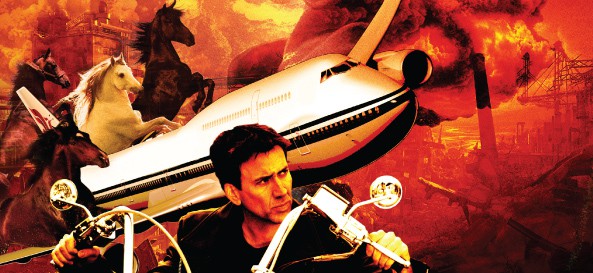 If you've been around our corner of the internet for a while, you know our love for Nicolas Cage can tilt toward the extreme. That being said, we've been outdone by an improv theater in Michigan.
Planet Ant not only celebrates the actor each year with a Nic Cage film festival called Nicolas UnCaged, they're headlining the festivities this year with an insane, Cage-worthy stunt.
If the theater can crowdfund $13,000, they will light professional stuntman Schuyler White on fire for a Guinness World Record-breaking attempt at "longest full-body human burn." White is a known Cage stunt double and a seasoned special effects technician. In fact, he already holds 11 Guinness World Records to his name.
The money will be spent as follows: $3,000 for the burn itself (the GoFundMe page simply says "cost of the burn") and $10,000 to fly in Guinness World Record representatives from England. The website elaborates:
[lborder]
First, the cost of the burn. Just to burn a man, it will cost $3,000 in supplies, materials, and safety measures.
The second chunk of donations, $10,000, will allow us to fly out the Guinness World Record folks from England so that they, like you, can witness the Guinness World Record for the longest duration full-body burn and put Hamtramck and UnCaged Fest on the map. If we do not meet our goal or should we surpass it, we will donate the full/remaining amount to the Hamtramck Fire Department. Either way, folks, we are setting a man on fire.
[/lborder]
The burning will take place February 23, between viewings of two Cage classics: Ghost Rider: Spirit of Vengeance and Drive Angry. Checking flights to Michigan now. (h/t Vulture)