In 'BoJack Horseman,' the Unexamined Past Is a Cancer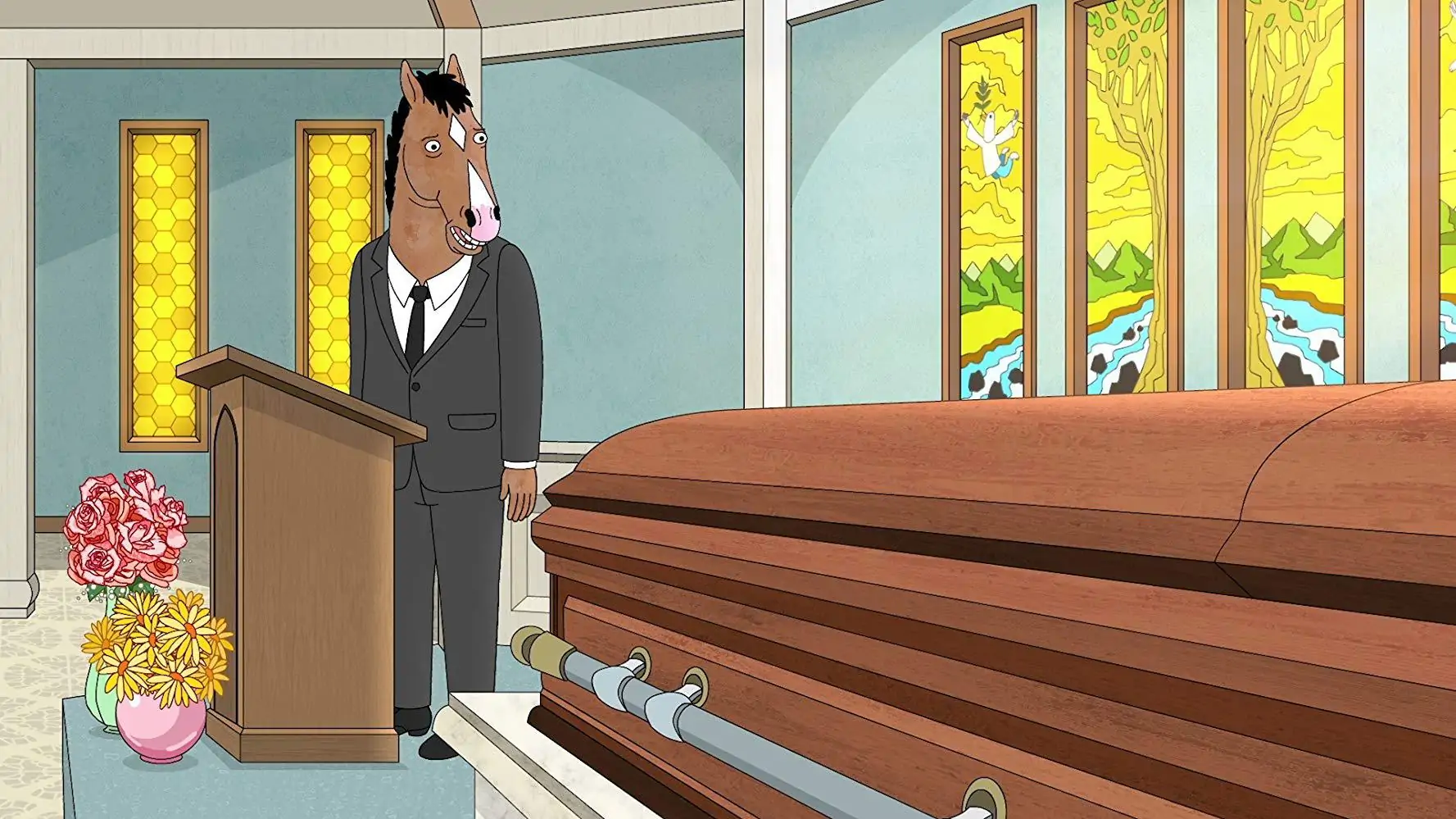 A few years ago, I was waiting tables when a face from my childhood showed up. We had grown up together in a small, rural town, and she recognized me before I recognized her. We'd never been close as kids but it was fun to reminisce about cheering on the high school football team and that old haunted restaurant outside of town. I brought up the church I'd gone to—that just about everyone I knew went to—and she made a face that surprised me.
"That church was weird," she said. "It ran the city."
I was 11 when I'd moved away, and never had a reason to question that church I'd been raised in. It had employed at least three members of my immediate family. But here was an outside opinion that, for the first time, forced me to ask questions about where I'd come from. I had a sense I wouldn't like the answers.
That's the thing about your own history. You are, by necessity, a poor judge of it. But you're also the only judge you've got.  
I've struggled to get my friends to watch BoJack Horseman, if indeed I still have any friends after my repeated attempts to get them to watch BoJack Horseman. I understand their skepticism. It's easy to go on autopilot every time a friend makes a TV recommendation, because you've already got too many shows on your list and, frankly, you're happy with the ones you're watching. In any case, you're certainly not going to make time for an animated Netflix comedy about a talking horse.
So I don't begrudge anyone for tuning me out, but I won't stop either, because reader, you should watch BoJack Horseman. Not just because of its tour-de-force comedic razzle dazzle or its mesmerizing creativity, but because for all its outlandish concepts, the show is never better than when it's exploring one of its core concepts: our past.
BoJack Horseman, the character, is an aging actor in a world where animals talk, live, dress, date and work right alongside humans. Think Narnia, but set in Los Angeles. On BoJack Horseman, humans marry dogs and cats wrestle with the complexities of adopting other species. It sounds ludicrous to type out (again, I'm running out of friends) but BoJack Horseman is strong in how it plays its wildest concepts with committed sincerity.
"Sincere" is not a word you'd use to describe BoJack himself. Voiced with Will Arnett's poisonous sardonicism, BoJack has been worn down by his years in the television industry into an ingratiating cynic. He soaks his dull, lonely L.A. existence in booze, and he's incapable of getting close to anyone without deliberately sabotaging their relationship. This isn't exactly a fresh characterization. Many sitcoms have some version of the bitter, abusive old fart played for laughs. But the difference in BoJack is both where these barbs go (his cruelty has consequences) and where they come from.
The answer to the latter question has become increasingly central in recent seasons. BoJack is the product of a distant father (also voiced by Arnett) and an emotionally abusive mother (Wendie Malick). BoJack isn't the introspective type, but personal tragedy has led him on a half-hearted quest to explore his roots, including a visit to a woulda-coulda former flame and a rekindled friendship with the child stars of his old sitcom (they've grown into the sort of former child stars you read about on TMZ). Both encounters result in the sort of emotionally devastating ending you associate with movies like Manchester By the Sea, not an animated comedy in which Paul F. Tompkins plays a dimwitted dog named Mister Peanutbutter.
Exploring the past, often romanticized in pop culture, is risky business, which is why it's so rarely done. On institutional levels, for example, it's easier to believe pleasant half-truths about American history rather than confront the reality of slavery. It's not that we pretend slavery never happened, per se, but we'd rather not dwell on the ways in which its still affecting our country today.
On personal levels, the temptation is similar. Few of us pretend we grew up in a perfect home, and many of us are all too aware that we didn't. But the trick is figuring out how the trauma of our past affects us in the present. This requires us to be judges or our own past and, well, we're poor judges.
This is crystalized in episode six of the most recent season of BoJack Horseman, one of the show's most successful experiments in structure and a late contender for best TV episode of 2018. BoJack's mother passes away and BoJack is called upon to give a eulogy. This eulogy makes up the entirety of the episode—one unbroken speech in which BoJack doesn't even pretend to have cared about his mother, instead taking the opportunity to say to her everything he never said in life, unleashing a savage tornado of invective. "She was really good at dispensing life lessons that always seemed to come back around to everything being my fault," he says. He offers one kind memory, in which his mother surprised him with a coat he'd wanted. "Now that's a good story about my mom," he says. "It's not true. But it's a good story, right?"
What BoJack fails to grasp is that observation isn't the same as exploration. Cynicism is not honesty and brutal assessment is not healing. That's the temptation of deconstruction. There's a bitter glee to tearing down our past. You want to keep doing it forever, until you've got nothing left to destroy but the present. It's more difficult to process that trauma, and be honest not just about how it happened but how it's still happening. "The past is never dead," as William Faulkner wrote in Requiem for a Nun. "It's not even past."
Christianity—particularly the Protestant variety—has an understandable focus on the Resurrection. This is biblical enough ("And if Christ be not risen, then is our preaching vain, and your faith is also vain," says Paul in 1 Corinthians) but it's worth noting how much emphasis Jesus himself put on remembering the crucifixion. Indeed, Jesus' last evening with his disciples was spent with instructions on just how to remember His death: with Communion. Different strains of the church have different theologies of the Eucharist, but all traditions agree that the remembrance itself is vital. "This is my body, broken for you," said Jesus, breaking the bread. "Do this in remembrance of me." And so on.
This is not a willful dismissal of the violence Jesus endured, or a simple observation. This is a complete picture of how much trauma had to be endured in order for redemption to take place. Our resurrection cannot be properly understood if we fail to understand the cross. No present can be understood without its past.
Fortunately, Jesus, unchanging as he is, is a good judge of the past.
Remembering Jesus' past is key to understanding His present. The same is true with ourselves, painful though some of those memories may be. There are resources available—counseling and journalism come to mind—that are helpful. Anything is better than nothing, and that's (one of) the messages of BoJack Horseman. The unexamined past is liable to fester and rot, poisoning your present and eventually your future. The only antidote is honest analysis.
It's a great show. You should watch it. 
Tyler Huckabee
Tyler Huckabee is RELEVANT's senior editor. He lives in Nashville with his wife, dog and Twitter account.