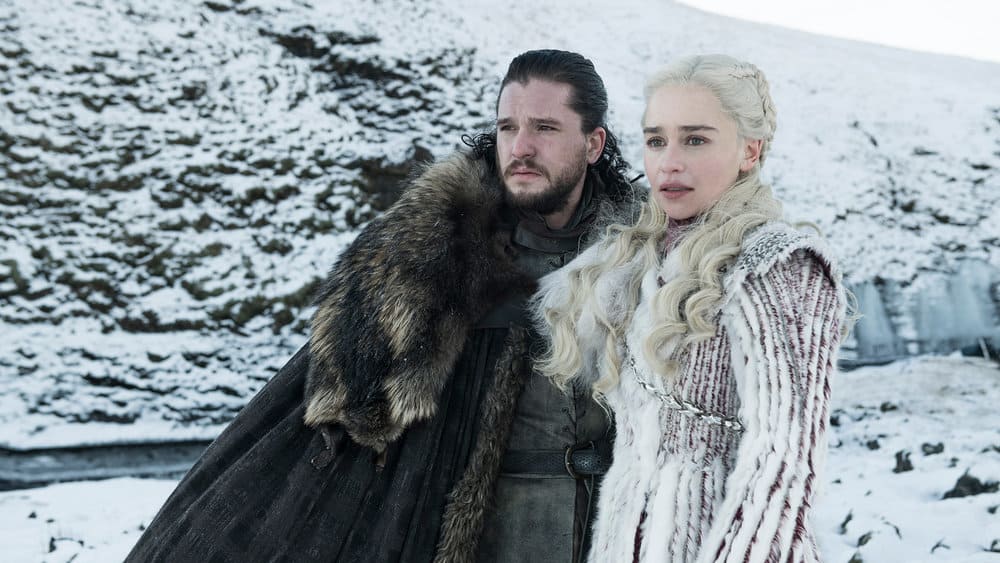 Game of Thrones operates on the other side of a cultural threshold. Most avid TV watchers have stepped past it—Thrones averaged 32.8 million viewers during its seventh season, according to HBO—and either in spite of or because of this popularity, the show holds a distinct reputation among Christians. No matter what happens in its eighth season, Thrones will always exist in the tension of being considered great and being considered profane. It's too late to ask if you should watch it. The more important question is why everyone watches it.
A cultural threshold implies a boundary, and despite being the last mass-watched show of modern television, Thrones has several barriers between its appeal and the viewer. The first, and easiest to clear, is the fantasy element.
Game of Thrones is high-concept fantasy akin to Tolkien. Westeros, the series' fictional world, has a chronicled history going back centuries, and the characters have bloodlines more detailed and complex than a John Smith's 23andMe. This expansiveness made Game of Thrones perfect for television, and the series from the outset held an exploratory appeal that fans of Middle Earth, the Wizarding World, Arrakis or the Dagobah system would understand, not to mention those who had already explored Westeros via the Thrones book series.
But HBO's Thrones pulled millions of people past this barrier because it serviced the fantasy elements with groundbreaking TV storytelling. Thanks to cinema-quality production design, the best visual effects in television history, iconic performances (Lena Headey as Cersei Lannister and Peter Dinklage as Tyrion Lannister in particular) and a writers' room that somehow juggled fifteen flaming chainsaws' worth of storylines, Thrones redefined the scope of modern TV shows. It was always physically and sometimes qualitatively greater than anything we had seen before, and that was more than enough for people who wouldn't otherwise go for dragons and prophecies and witch-birthed shadow babies.
But Thrones went from "emerging success" to "HBO tentpole" to "global phenomenon" because that well-oiled fantasy machine also denied what people expected from a warriors-and-wizards tale. The Game of Thrones world was seemingly made for legendary heroes, but people learned fast that it was a facade. In Westeros, the heroes lost.
Death has characterized Thrones' most culturally pervasive moments. Characters thought to be series mainstays were axed without ceremony or warning, and these storytelling shockwaves were so effective they became the focus of how people talked about the series. After a particular season-one execution or season-three wedding, the question of Who will die next? dominated discussion of Thrones to a point that probably dis-serviced its legacy. It was easy to overlook the show's ambition when there was so much blood on the screen.
As Thrones entered seasons five through seven, the surprise deaths stopped and the spectacle increased. Many say this trade-off hamstrung the show's intricate writing, but the increased number of mass-scale battles, epic dragon shots and long-delayed character encounters brought the show back to its main political question: Who would claim the Iron Throne at the end of the series? That's where we are now.
Those two central questions—Who will die? and Who will win?—tinge Thrones with a curious lack of thematic complexity. These are soap opera questions, not prestige-drama questions. Most TV touchstones can be reduced to a main idea. Breaking Bad was about pride. The Sopranos was about family. The Leftovers was about grief. The Americans was about marriage. Game of Thrones is about…power? It doesn't really explore the nuances of power; it just shows a bunch of people who want it and punishes those who want it for good. Some call it nihilistic, but it's too simplistic to attach to a worldview. On Thrones, power is a matter of plot, not character or theme.
And again, by nature of the show's merciless character treatments, the power struggle on Game of Thrones is morally exhausting even while it's captivating on a minute-by-minute level. You can't root the show in a good vs. evil dynamic because everyone is on a moral spectrum. That's good, complicated character work, but it confuses what the appeal of Thrones is in the first place.
Does Westeros have an escapist appeal? By all accounts, it's full of savage, single-minded backstabbers who operate in a harsh, unforgiving world about to be razed by an army of zombies. You want to see what happens there, but you don't want to spend time in it, like you might at, say, Hogwarts.
Do you want to spend time with the characters, then? With everyone, there's a catch. Jon Snow is the series' only main character whose motives don't seem entrenched in personal ambition, but he's a bit brooding and doltish. Tyrion Lannister is good fun, and certainly funny, but you'll have to convince yourself the blood on his hands is actually wine. Jaime has an inspiring arc, but he pushes a kid out of a window at the end of the very first episode. Your best options—Brienne of Tarth, The Hound, Yara Greyjoy—sit on the show's third tier of importance.
If there is something deeper at work in Game of Thrones, it's not optimistic. This isn't a hopeful show, as established. Can there be a draw to something that presents the world as corruption-rewarding and evil-promoting, or in consideration of the inevitable White Walkers, on a countdown clock? Maybe that feels true-to-life in uncertain times, but that assumes a common perspective for those 30 million people watching, and it doesn't line up with the ravenous appetite people have the show. People want to revel in Game of Thrones. That probably wouldn't be the case if the appeal was its out-and-out darkness.
Game of Thrones' morality is twisted by any standard—not just Christians'—but its popularity proves a wide cultural tolerance for the story despite (or because of, if you're pessimistic) its despicability. You might protest to Thrones' excessiveness and explicitness, but most people don't, and whether that's due to evolving TV standards or greater exposure to antiheroes or some psychological sugar/medicine cocktail that sees the fantasy stuff wash down the vulgarity is beside the point. It's instructive to recognize that general tolerance exists. This is the last massively popular TV show. Most people will remember it for that addictive, WTF story. Some will remember it for that weird paradox of attraction and repulsion. Regardless, for those looking to gauge cultural norms, taste or standards, Thrones' phenomenal reach will be a permanent education.
With five episodes to go, debates over Thrones' final plot revelations will dominate the cultural dialogue, but it will prove one of the few shows defined by its wider run instead of its ending. Love it or hate it, this is the culmination of everything a generation has come to love about TV, and the show's ultimate victor will become the symbol of that. Even culture wars have spoils for the taking.