Wait. Is Mark Hamill Going to Be in the next Guardians of the Galaxy' movie?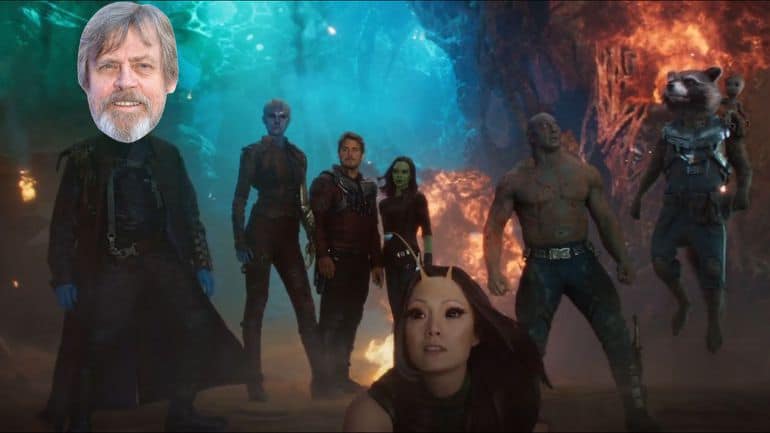 You know how Twitter is. You could be tossing and turning late at night, pull up Twitter and just tweet something inane like "Thinking of making a grilled cheese." And it's not a big deal because you've only got thirty followers and, well, who cares. But when you're James Gunn, director of both of Marvel's Guardians of the Galaxy movies, you've got to be a little more careful with your tweets. You might just end up with Luke Skywalker in your third Guardians of the Galaxy movie.
It all started when Twitter user Ian Fee asked James Gunn if Mark Hamill could appear in a future GotG installment. Gunn, who maintains a lively, chummy rapport with fans over Twitter, said he'd be open to it.
I think @HamillHimself lives around the corner from me in Malibu so he can just come over and we can talk about it over a cup of coffee.

— James Gunn (@JamesGunn) February 26, 2018
In a normal world, that'd be the end of it. But Mark Hamill is also pretty active on social media and seeing as the most recent Star Wars left his schedule a little, uh, open, he decided to take Gunn up on the offer.
I would be happy to do so, both as a good neighbor & an unemployed actor.
All the best, mh

— Mark Hamill (@HamillHimself) February 26, 2018

Then (after a bout of confusion about direct messages) the two apparently set up a coffee date.
DM me for my contact info if you're serious.
(& a good neighbor)
xoxo, mh

— Mark Hamill (@HamillHimself) February 26, 2018
And Nerd Twitter positively exploded.
So, what do you think? We don't have much to go on regarding what Guardians of the Galaxy, Vol 3 is going to be about yet, assuming our heroes survive their upcoming Avengers crossover in Infinity War. But Marvel's cosmic universe is huge, and there's no shortage of characters Hamill could lend his talents too. It would be far from his first foray into the world of superheroes, having served as a both The Trickster in the CW's Flash and voicing the Joker in the beloved Batman: The Animated Series.
Tyler Huckabee
Tyler Huckabee is RELEVANT's senior editor. He lives in Nashville with his wife, dog and Twitter account.