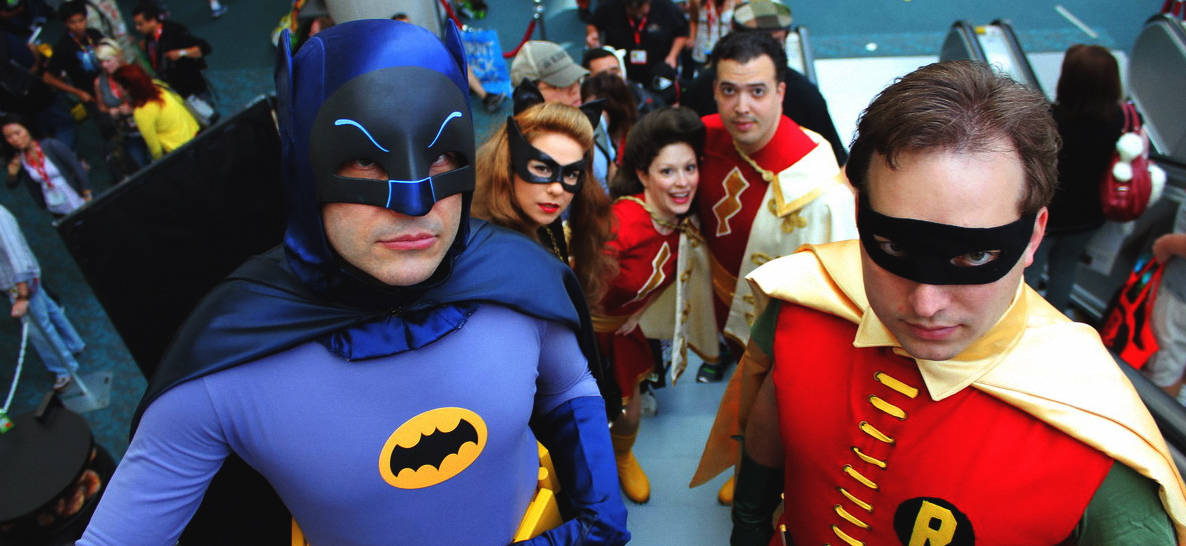 The start of fall marks the end of vacation for some, the finale of warm weather for others; and for people who consider themselves geeks, it's also the end of convention season.
Conventions like Comic-Con, Dragon Con and PAX drew hundreds of thousands of gamers, anime fanatics and sci-fi nerds to their doors over the summer months, and I—equipped with a few dollars to spend on nerd merchandise and a gleeful grin during sightings of Wil Wheaton and Summer Glau—was one of them.
This summer, I had the privilege to attend Gen Con, the largest tabletop gaming convention in North America. The mission I work with (Geekdom House) was invited to speak on a panel about Christianity and Gaming, and I was more than happy to hop on a plane to partake in the smorgasbord of geekery.
On Sunday mornings and at other typically Christian events, I am the odd one out—the one in the room wearing a Doctor Who T-shirt while the rest of my friends are sporting cardigans or sports jerseys. But at Gen Con, things were different. There, I was surrounded by people who loved the same things I did and wore shirts geekier than mine. And I loved every minute of it. I could not help but feel at home amongst thousands of strangers who shared my delight in gaming.
During my time mingling with fellow nerds and testing new games, it dawned on me that this automatic connection with geeks is something I long for with other Christians. However, sometimes I find that bond difficult to attain. At many Christian gatherings, even at my home church, I've felt like I am a forgotten wallflower, awkward and invisible.
So where is the disconnect? What did I experience at Gen Con that I lack in my spiritual community? Why is it so important that Han shot first?
The truth is, Christians could stand to learn from some of the things that geeks excel at.
Geeks Are Immensely Passionate About What They Love
I'm a fan (or the more accurate term, "flan") of the TV show Firefly. This means that should I ever meet another person who loves Firefly, we will immediately grin, possibly jump up and down and start babbling about our favorite characters, quoting pithy one-liners from the show and lamenting Fox's premature cancellation of it. In effect, our shared passion forms an instantaneous bond.
Can the same thing be said about church? How often do I start jumping up and down when I meet another person who loves Jesus? Not as often as perhaps I'd like. This begs the question: why? Why are we, as Christians, so quick to be skeptical and judgmental with one another? Should anything else matter?
To a geek, it does not. The love for geekery is enough.
Geeks Do Acts 2 Better Than Many Churches
Most churches focus their ministry through three primary categories: gender, age and marital status (take a look at the events in a church bulletin and you'll see what I am talking about). Proximity is also a huge factor.
And yet, as a geek, I've met some of my best friends through playing video games. As a single, mid-20s female, I regularly game with several happily married, mid-30s males, a married couple in their early 30s, and some teenaged college students. There is simply no program at a church where we'd ever have met. If I hadn't been introduced to them through gaming, I would have missed out on some important relationships.
At Gen Con, there were geeks young and old, male and female, married and single, all interacting with each other and sharing in what they love. I had as much of a blast playing board games with a grey-haired old man as I did watching a teenager play Dungeons and Dragons for the first time. I think there is something to be said about learning from each other when we are not all lumped in to one category.
Acts 2 talks about all the believers being together and having everything in common for a reason: we all bring different experiences to the table and can help each other grow in our faith.
Geeks Don't Crucify One Another
Evolution, Obama, illegal immigrants, pacifism, infant baptism, annnnd go.
How quickly do we, as Christians, draw our lines in the sand, define who is in and who is out based on beliefs about any and all of the above? I'm not saying we can't hold convictions and identity in Christ, but a quick scroll of many Facebook feeds indicate that we all carry hammers and nails, ready to crucify the Christians who don't step in line.
Now, don't get me wrong … walk into the Star Wars panel at San Diego Comic-Con, insist that Greedo shot first, and you will probably have quite a few plastic lightsabers thrown at your head.
But generally, geeks know how to debate respectfully. Look at the quintessential nerd war: Star Wars versus Star Trek. Each side has passionate stances over why Kenobi trumps Picard and vice versa, but at the end of the day, we know that we are all geeks.
Judging each other is not how God has called us to behave. We are supposed to recognize other believers by their fruit, that is, by the way they act (Matthew 7:16); strangely absent in this passage are the words: "and the specific theologies they hold about these controversial issues of the time."
Paul, in fact, pleads with the Philippians to set aside some of their squabbles and recognize that they may not all agree, but should be united in Christ.
Geeks live in a world where iron sharpens iron, where societal barriers are set aside through the love of a shared passion.
I can't help but pause to consider: how can I make the Christian church around me shine like that? Maybe I should just take them all to Comic-Con? Who's with me?